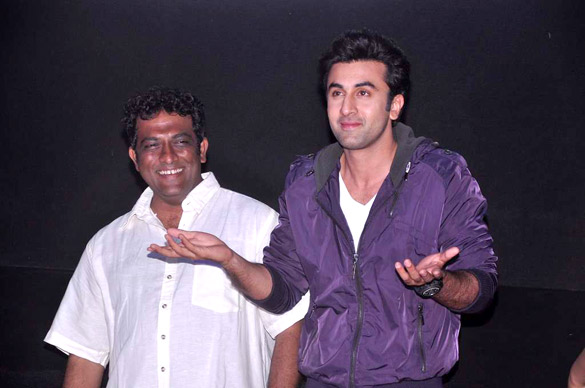 Ranbir Kapoor, who is all set to sizzle the big screen this Friday with his upcoming film Jagga Jasoos, recently revealed that he finds it really challenging to work with Anurag Basu. The actor, who has collaborated with the filmmaker for the second time for Jagga Jasoos after Barfi! says the challenging part about working with the filmmaker is the patience and the time.
"Working with Anurag Basu, the challenging part is not acting, the challenging part is the patience and the time that it takes. Also, you have to understand that he is such a visual director so that he builds your performance visually, through his shots over a period of time," Ranbir said in a statement.
Jagga Jasoos features Ranbir and actress Katrina Kaif as Jagga and Shruti, who are on an adventure hunt for Jagga's father. The film showcases Ranbir as a school boy who is estranged from his father. 
Disney and Pictureshuru Production's Jagga Jasoos directed by Anurag Basu is set to release on July 14, 2017. The film stars Ranbir Kapoor and Katrina Kaif in the lead and the music is composed by Pritam.
Ex-flames Ranbir Kapoor and Katrina Kaif, who parted ways after a five-year long relationship, finally united for a professional commitment. Ranbir and Katrina can be seen gushing and sharing sneak peek about their Jagga Jasoos journey all around.
During many of their TV interviews Ranbir and Katrina were seen mocking and teasing each other. Recently, Ranbir was also seen pulling legs of Katrina for her acting skills. Interestingly, Ranbir not only disclosed several behind the scene moments of Jagga Jasoos but also revealed various unknown facts about himself. 
Revealing a similar unknown fact about himself Ranbir said that it is his big disadvantage that being an actor he can't sing. In an interview with The Indian Express he said, ''I have tried singing, I cannot sing, however there are a few times I have sung in this film, because there are a lot of spoken words and melody was required. I just can't be good at it, and thankfully we have singers. It is accepted that actors do not sing songs in our industry. But Jagga Jasoos is a true musical, and the thing is that the boy, my character, stammers and it is easier to sing than to talk, when you sing you don't stammer. It is a very new concept in India, so I don't know if it will be accepted in India.''
(With IANS Inputs)
Read More 
Ranbir Kapoor: Feels sad that Fawad Khan's name was dragged into a controversy
This picture of Katrina Kaif with Muammar Gaddafi goes viral, check it out
For more entertainment stories, click here