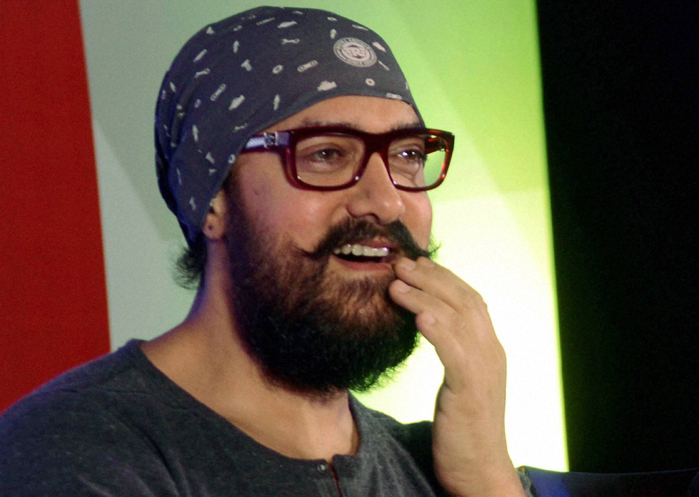 Aamir Khan, one of the biggest stars of the Bollywood, has said that he never felt like a star that he lacked the aura usually around stars like Salman and Shah Rukh Khan. 
"I do not have the aura which is around Salman Khan and Shah Rukh Khan. They have stardom in their style, in their DNA and this stardom is seen in their actions. When they enter, it actually feels like that a star has arrived," Aamir said on being asked what was lacking in him as compared to the other two superstars.
Speaking at the Bhaskar Utsav here organised by daily Dainik Bhaskar, the "PK" star said that he had become less judgemental over the years and has learnt "there is a lot of grey between white and black". 
Also present at the event was director and choreographer Farah Khan who quizzed the 51-year-old actor on his career, first love and personal life.
"Earlier, I was too judgemental. I was very clear about what was wrong and what was right, but I learnt from experience that different situations define right or wrong," he said. 
The actor said that his role in "PK" was the most challenging.
"I was expected to deliver something very different in the role of an alien. It was a challenging task and this was my best. During the shooting, I imagined that I am on some other planet and delivered my best," he said. 
Responding to a question from the audience, Khan said that he tries to maintain a balance in personal and professional life, but sometimes ends up involved in his craft way too much.
Aamir, whose latest film Dangal is all set to release on December 23, said the society should stop discrimination with girl children and provide them equal opportunities. 
"This discrimination is the root cause of the problems prevailing in the society. My upcoming film Dangal also deals with this issue," he said. 
Dangal is based on the life of wrestlers Geeta Phogat, Babita Phogat and their father Mahavir Singh Phogat.
(With PTI inputs)