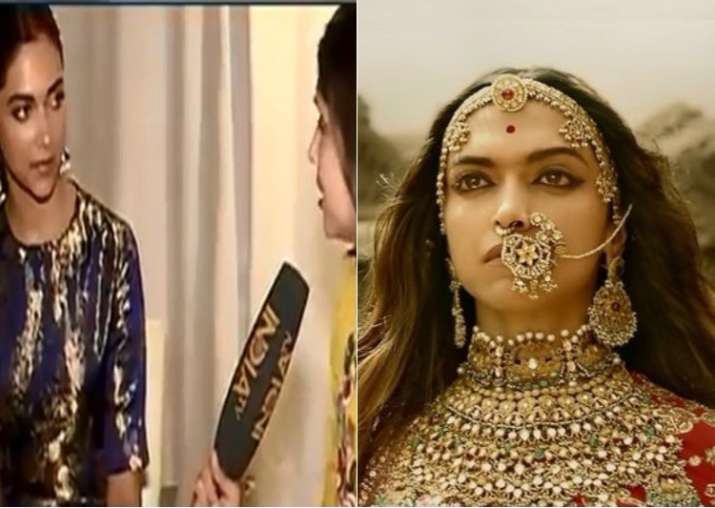 From the past few months, Padmaavat has been at the core of several controversies. But, despite that the Sanjay Leela Bhansali magnum opus stood out to be a phenomenal film, with actors Deepika Padukone, Ranveer Singh and Shahid Kapoor getting praises from across the world. 
The film that released on 25 January has raked in over Rs 150 crore at the box office and is still going strong. In an exclusive interview with India TV, Deepika talked at length about the movie- the controversies it got entangled with and a lot more.
At the beginning of the interview, the Padmaavat actress says she never thought that the movie won't release. Though, she wasn't sure when will it release, she was sure that it will surely release one day. Deepika stated that all the love that Padmaavat received, she was quite confident about that love.  
However, the dimpled beauty showed her disappointment towards the amount of hatred that the film and Sanjay Leela Bhansali had to face in the initial days.
When asked about the death threats that she received- one claiming that Deepika's nose should be chopped off, Deepika said she was never scared of those threats. Deepika expressed that she and team Padmaavat are now in the celebratory mood. On being asked if she'll do any historical film, the lady happily said yes. 
The film Padmaavat marks Deepika Padukone's 7th film that got listed in the Rs 100 crore club. 
When asked about whether Bollywood should make more female-centric films, Deepika said, "I feel really happy when I accept the fact that Padmaavat is the first-ever big budget women-centric film and it's a big achievement. I want in the coming future Bollywood producers make such kind of big-budget female-centric films taking Padmaavat as an example."
Talking more about this, she said, "actresses should take these female-centric movies as an opportunity. I hope that Padmaavat opens the doors for many of these female-centric movies but big budget films also." 
For the uninitiated, right from the beginning, Padmaavat faced protests from various religious groups alleging that Bhansali has distorted the historical facts. Along with Deepika, the film also featured Shahid Kapoor and Ranveer Singh in pivotal roles.