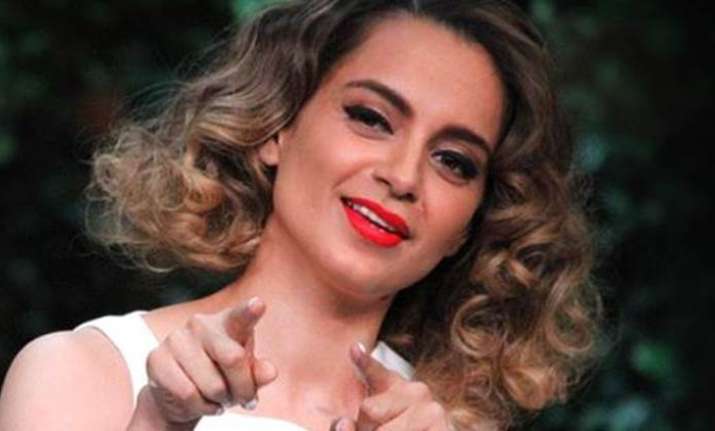 Actress Kangana Ranaut, who recently released the trailer of her upcoming film Simran has stated that she has made her stand clear on nepotism in the open letter and doesn't want to say more on the issue. Lately, filmmaker Karan Johar, actors Varun Dhawan and Saif Ali Khan took a dig at the actress chanting 'nepotism rocks'. People on social media criticised the trio and supported Kangana. Later, the three stars apologised for their remarks and Saif even wrote an open letter.
When asked about Kangana's take on the controversy, Kangana told reporters, "I've written about it. I've said everything on that matter in the letter. It is pretty much that."
The debate first started at Johar's celebrity chat show where Kangana called the filmmaker "flag bearer of nepotism." Post the award function controversy, while Varun apologised on Twitter, Saif claimed in an open letter that he had personally said sorry to Kangana
In her letter Kangana had said that the debate and exchange of thoughts on nepotism is "exasperating, but is healthy."
Quoting a part of her "Rangoon" co-star's letter, where he "emphasised" on nepotism being an investment on tried and tested genes, Kangana had said, "I have spent a significant part of my life studying genetics. But, I fail to understand how you can compare genetically hybrid racehorses to artistes!"
"Are you implying that artistic skills, hard-work, experience, concentration spans, enthusiasm, eagerness, discipline and love, can be inherited through family genes?" she asked, adding "If your point was true, I would be a farmer back home."
The actress was speaking at the trailer launch of her next film Simran. Directed by Hansal Mehta, the film is slated to release on September 15.
(With PTI Inputs)
Also read: Simran trailer: Crazy, free-spirited Kangana Ranaut promises fun-filled experience, watch
For more entertainment updates, follow our Facebook page