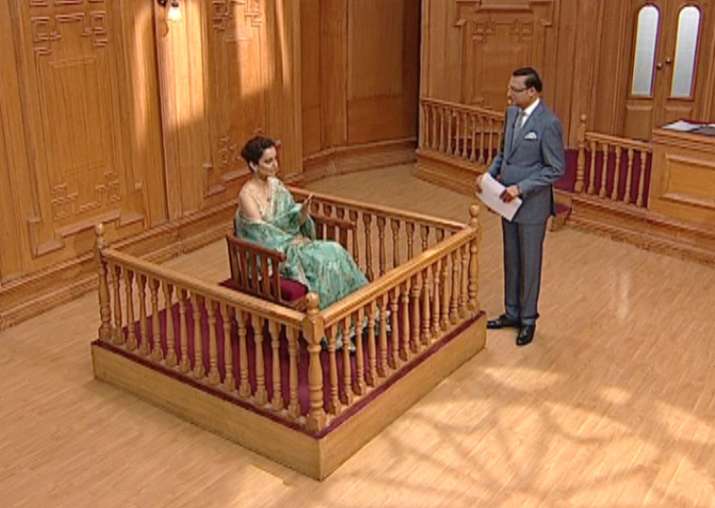 New Delhi, Sept 2: In a no-holds-barred interview, film actress Kangana Ranaut lashed out at Bollywood biggies like Rakesh Roshan, his son Hrithik Roshan and Karan Johar, and demanded that the father-son duo "must apologize" for what she called "maligning me in public". 
Replying to questions from Rajat Sharma in the show Aap Ki Adalat, to be telecast tonight at 10 pm on India TV, Kangana Ranaut said: "I faced innumerous slanders, could not sleep at nights and wept, underwent mental stress and emotional trauma, when they released those cheap, slinky e-mails which people still read via Google, they (Rakesh and Hrithik Roshan) must apologize to me in public." 
(quotes in Hindi: Itni beizzati sahi hui hai jiska koi hisaab nahin hai, raat-raat main roti thi, aur mujhe neend nahin aati thi. Mujhe stress hua, trauma hua, mental, emotional trauma hua, aur har tarak ka mere baare me ghatiya, vaahiyaat mails release kare hue hain, unko aaj bhi lop Google karke padhte hain, chatkhaare lete hain, is badtameezi ke liye maafi chahiye mujhe unse) 
Also Read: Aaj Ki Baat Sept 1 episode: 'Kangana Ranaut exposed the dark secrets of Bollywood'
The actress, who has won the National Award thrice for her acting, admitted that she was into a relationship with Hrithik Roshan, but the latter backed out when she wanted to marry after his divorce from ex-wife Suzanne. 
"He (Hrithik) sent me a legal notice seeking apology at a press conference for my twitter about 'silly ex'. First of all, how did he know that it was he who was the 'silly ex'? He tweeted back saying, I will date the Pope but not her. He also threatened that he would shame me by releasing intimate pictures and videos about me.
"Our lawyer asked him, since both of you have worked in two films in the last seven years, how can you say that I do not know Kangana, and why do you feel that you are that 'silly ex'. He asked on what basis should Kangana apologize, and if he wanted, he was free to fight a legal battle.
"He (Hrithik) then changed track, and alleged that I had an affair not with him, but with someone else. He said, I had only imagined about being in love with him. Well, one imagines only when one does not meet the other. We were meeting on the sets daily, how do you know that I imagined? So he went to Cyber Crime, and said there was an imposter in between. Till today, he has not revealed who that imposter was. He had a single agenda. I had a relationship with him which ended in 2014. 
Watch: Kangana Ranaut's shocking revelations on Aap Ki Adalat
"Before 'Queen' was released, he (Hrithik) said I have nothing to do with you, forget me.  First he said, I am trying to get a divorce from my wife, and when the divorce took place, he said, who are you, I don't know who you are. I said, okay, end this matter here once and for all, but he had mischief in his mind. He wanted to gag my voice. 
"So in 2016 he goes to Cyber Crime, sends a legal notice and mentioned the e-mails that he says, I had sent. Yes, I was in New York, doing a course in screenwriting, when I had sent him 3-4 e-mails. He wrote the rest of the e-mails himself, maintained a file of all those e-mails for two years, and released them in public."
Kangana said: "His father (Rakesh Roshan) told the world, I will expose this girl. It's more than a year, and I am waiting for him to expose me. When will that time come? If you don't find any imposter, then apologize. I have faced innumerous slanders, wept and could not sleep for several nights, underwent mental stress and emotional trauma, all sorts of cheap mails were released about me, which people can read even today via Google. I want them to apologize for this misdemeanour."
The actress also hit out at film director Karan Johar. Asked by Rajat Sharma about her remark about Karan Johar as part of 'movie mafia', she replied: "I am not afraid of him. I worked in only one film, Unglee, for him, that too, for ten minutes, and that was the worst flop in my career. I don't need work from him."
Asked about her remark that Karan Johar was "the flag-bearer of nepotism in Bollywood" and that only four or five families were ruling the film industry, Kangana replied: "Yes, it is true. Actors from big families get good training since childhood, they have journalist friends who pamper them, but to say that they are better than us, is wrong. A person's makeup, hairstyle or training does not make the individual a better actor, its one's attitude towards life that matters. I feel art is democratic. I was rejected several times during audition, but directors like Shekhar Kapur and Anurag Basu appreciated me. "
Kangana disclosed that film director Aditya Chopra had once told her manager that she would take at least 10 years to be successful. " After 'Gangster', I met Aditya Chopra, who offered me Sultan, and said, 'Kangana, I must admit that after the first time I met you, I told your manager you were good for nothing, and he should not waste his time on you."
The actress disclosed how she once jumped from the first floor apartment to ward off Aditya Pancholi, and the latter landed up in a hotel room to meet her. 
Watch: Kangana and Hrithik - the ugly battle
"His (Aditya Pancholi's) daughter is one year older than me. When he started misbehaving with me, I went to his wife and complained. His wife said, whenever he is not there at home, we are happy, because he does not spare even our maids. His wife bluntly said, she would not help me. "
"He (Aditya Pancholi) once got an extra duplicate key made of our first floor apartment in Jubilee Mansion, and tried to enter. I jumped from the first floor, had a bruise on my knee, and barefooted took an auto to Sun-n-Sand hotel to stay the night in a room. The next day, the bell rang, and I noticed from the keyhole that he was standing outside."
"Another time, he rang me up when I was in the midst of shooting, abused me on phone, came in his car, and when I rushed out in an auto, he dashed his car into the auto. I rang up Anurag Basu, for whose film 'Metro' I was working. Anurag Basu and his wife sheltered me in their office for 15 days. His wife helped me a lot."
Kangana Ranaut described film award functions as "No.1 fraud". "There is rank groupism. The CEOs and organisers of award functions do quid pro quo, doling out awards to actors who agree to perform, saving them money. On the contrary, I prefer National Film Awards function, since they are not TRP-driven. " 
Asked whether she would go to Los Angeles if she won an Oscar, Kangana replied "I have no craze for Oscar. Even if I get an Oscar, I will not go to collect. For me, collecting the National Award in my country, from our President is great."
Kangana Ranaut's explosive interview in Rajat Sharma's show Aap Ki Adalat will be telecast tonight at 10 pm on India TV. The repeat telecast will take place on Sunday afternoon at 1 pm , and at 10 pm the same night. 
For more entertainment news and updates, follow our Facebook page