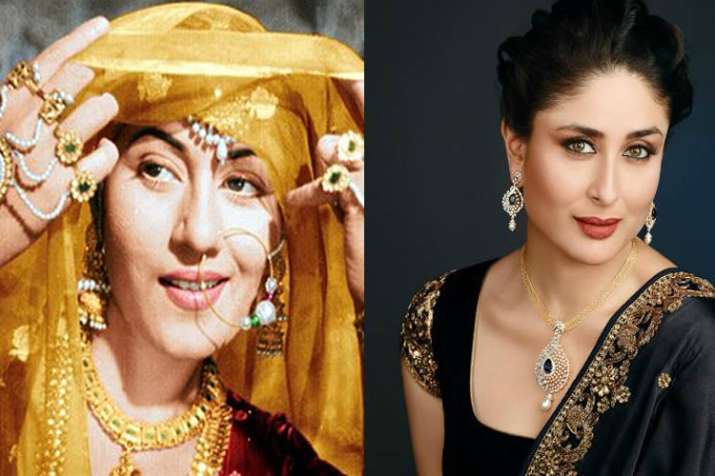 Veteran actress Madhubala was one of the talented actresses of the industry and her sister Madhur Brij wants that actress Kareena Kapoor Khan will be perfect to portray the late actress on the silver screen if her biopic is ever made. She feels that Bebo has the same naughtiness as her elder sister. She was speaking while unveiling Madhubala's wax statute at Delhi's Madame Tussauds.
"There was a time when I wanted Madhuri Dixit to play the role of Madhubala in her biopic but now it has to be Kareena Kapoor Khan as she has the same naughtiness that Madhubala used to have and she is a beautiful actress too," said Madhur on the sidelines of the unveiling of the wax figure of the late actress by Madame Tussauds, Delhi, on Thursday.
So, was the legendary actress equally naughty at home too?
"Madhubala was very simple at home. She was elder but never bossy and she used to encourage all of us to come in films," said Madhur, draped elegantly in a white sari with her head covered by a scarf.
Born in 1933, Madhubala -- often regarded as the most iconic female celebrity of Hindi cinema -- worked in films between 1942 and 1962.
Some of her widely acclaimed films include Mahal (1949), Amar (1954), Mr. & Mrs. '55 (1955), Chalti Ka Naam Gaadi (1958), Mughal-e-Azam (1960) and Barsaat Ki Raat (1960).
Madhubala died on February 23, 1969 after a prolonged illness.
Talking about what is the one thing actresses of today should learn from the late actress, Madhur said it has to be strength and patience.
"The one thing that film actresses of today can learn from Madhubala is to see how bravely a girl fought who knew that she had just two years left to live, she never gave up her hopes and expectations. She always used to think that she will be fine soon, will get her life back and will continue to work," she told IANS.
"The actresses of today are very successful but they should learn strength, patience from her," she added.
Madhur said she was overjoyed at seeing the love and respect Madhubala gets even after her death.
"Very few films of her did good business at box office while the rest of her films didn't do well but I am surprised to see that she was called the Venus of Indian screen," she said and added, "I feel happy looking at this figure but I am upset also from inside as I want to ask God that why he gave her such a short life. This will be my question to God all my life. A girl who was affectionate, nice, beautiful and a good soul has gone so early."
"Had she been alive, she would have worked in much more bigger films than 'Mughal-e-Azam'."
The wax figure of Madhubala is inspired by one of her iconic characters Anarkali from Mughal-e-Azam. Talented artists worked for nearly six months to make the beautiful statue.
(With IANS Inputs)
Also read: Madame Tussauds Delhi unveils wax statue of Madhubala
For more entertainment stories, follow our Facebook page