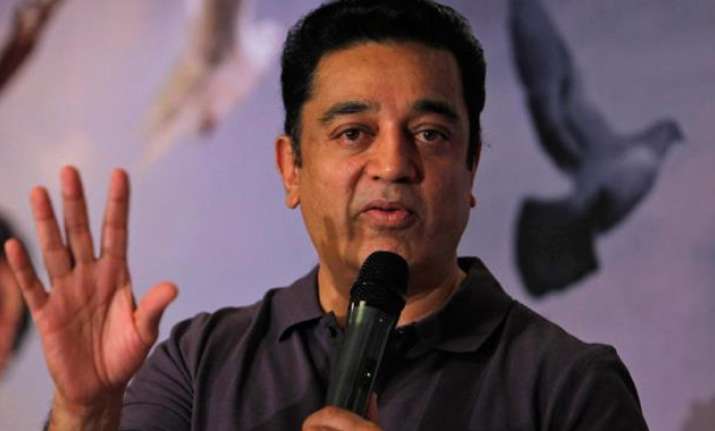 Actor-filmmaker Kamal Haasan, who made his TV debut with Bigg Boss Tamil, has said that he doesn't think the reality show is tarnishing Tamil culture and the people of Tamil Nadu. Recently, Hindu Makkal Katchi has demanded to ban the show and to arrest the actor for hurting the sentiments by depicting obscene content. Kamal stated that he is not worried about the case and has faith in law and government.
"I'm not answerable to those who have filed the complaint. I'm not worried about the case. I have immense faith in law and in our government. I don't think 'Bigg Boss' is tarnishing Tamil culture. I have done kissing scenes in the past. Perhaps, they are seeking my arrest late," Kamal Haasan told reporters here.
"These people perhaps have not watched similar shows. 'Bigg Boss' is as necessary as cricket in India. I'm in a very difficult profession. People who celebrated me while making 'Vishwaroopam' are now against me," he said.
In its police complaint, the nationalist Hindu party demanded that the contestants of the show -- such as Oviya, Gayathri Raghuram, Namitha, Ganja Karuppu and Harathi among others -- be arrested as well.
On the use of cuss words in the show, Kamal Haasan said, "When we cana¿t stop using a bad word called caste, I hope the words used in the show aren't as bad as they proclaim."
Asked about controversies surrounding Rajinikanth's rumoured political entry, he said: "If he joins politics, I will question him if he doesn't act properly in a situation. Irrespective of the government in power, I will continue to voice my opinions."
On another note, commenting on the arrest of Malayalam actor Dileep in connection with a leading actress's abduction and molestation case, he said: "My support is with the victim. I respect the law."
He added that it is duty of every man including him to protect women.
 (With IANS Inputs)