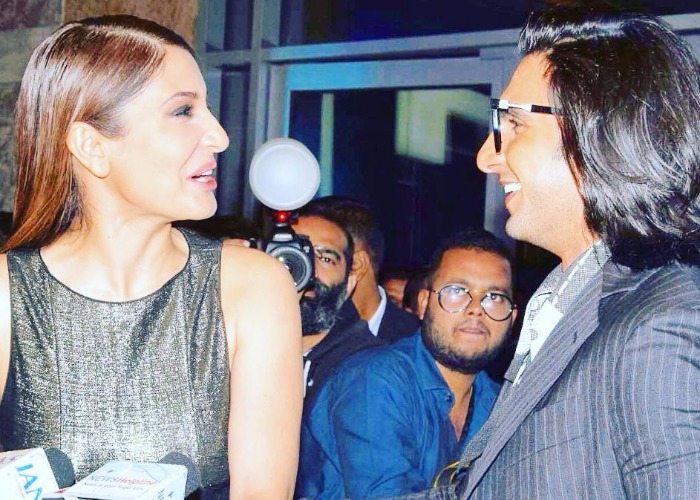 Friday night has been the fun-filled one for the Bollywood celebrities. GQ Men of the Year awards saw an amazing lineup of Bollywood stars on its red carpet. From Aamir Khan to Ranveer Singh, B-town celebs looked fresh and dapper in the award ceremony last night. While Aamir Khan's traditional nose stud is making headlines, his selfie with Ranveer Singh is another show stealer this weekend. But there was another happening at the event which took us by surprise. Ex-flames Anushka Sharma and Ranveer Singh shared a casual moment on the red carpet and the video took social media by storm. 
Sharma and Singh bumped into each other at the red carpet and what anyone could've expected them to do was ignore each other and walk away. But they did the unimaginable. The duo didn't have an awkward moment at all, instead, they gave each other a cordial hug like friends do. It seems like that Anushka and Ranveer have moved on in life and being good friends with each other. 
Anushka Sharma bagged the Woman of the Year title at GQ Awards 2017 while Ranveer Singh becomes Entertainer of the Year. 
Moving over Anushka Sharma and Ranveer Singh, okay, not Ranveer Singh yet. Look at the picture below and try to figure out the conversation Aamir Khan, Karan Johar, Rajkummar Rao and Ranveer Singh are having. Going by the caption, it seems like Ranveer is discussing the sitting arrangement at the venue and asking Karan Johar to go and sit where his finger is pointed at. 
Aamir Khan and Ranveer Singh bonded well over a selfie at GQ Awards. 
Sapna Pabbi and Prateik Babbar can't hold their excitement when they met each other. Watch their slo-mo video. 
And for the record, Karan Johar has bagged the Producer of the Year Award, Sridevi gets an award for excellence in acting and Rajkummar Rao becomes the Actor of the Year at GQ Awards 2017. For the complete list of winners, click here.