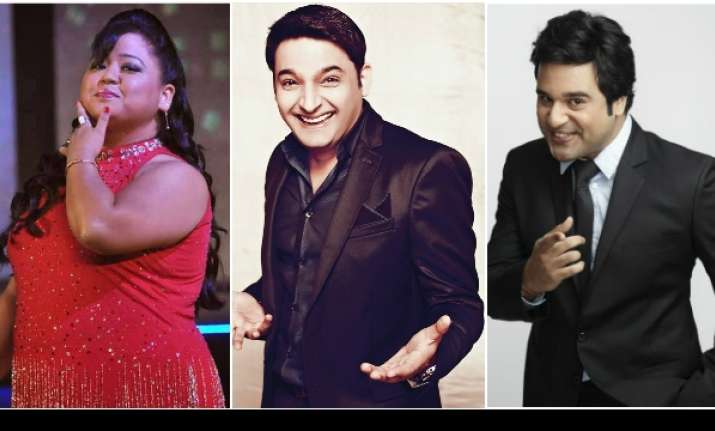 The comic industry is simply dumfounded. The two great comedians Kapil Sharma and Sunil Grover have got into a really ugly spat, which has left everyone in utter shock and dismay.
Post the incidence comedian community, who have worked with both Kapil and Sunil, came forward and spoke their heart out on the on-going tussle between Kapil and Sunil. Some parted with Kapil, a few of them took side of Sunil. While a few said that both of them should burry their differences, and once again start working together.
Well-known comic artists such as Bharti Singh, Krushna Abhishek, Raju Srivastav, Kiku Sharda and Ehsaan Qureshi opened up, and expressed their individual opinion on the heated matter.
Here is what they have to say;
Bharti Singh
The comedy queen Bharti Singh that she would want the fight to end as soon as possible and, she can't wait to see the duo recreate magic onscreen all over again.
"Kapil Sharma ji is my teacher. Without him I wouldn't have been where I am today. For the last six-seven years, I've been really good friends with Sunil too. I've enjoyed working with both of them. I love them a lot. I hope everything gets sorted soon," Bharti said.
When asked about reports that the two might never work together again, Bharti said that both Kapil and Sunil are very chilled out and she felt really bad when she heard the news of them planning to part ways.
"I know they are good friends and together they have given such a hit show. I have a feeling that things will soon be alright between them and they will work together again", the comedian added.
Krushna Abhishek
The "Entertainment" actor Krushna Abhishek said that many people are accusing Kapil of acting "way too smart" but such claims are simply false.
"I won't say Kapil has become too big or success has gone to his head. It's just that even the small things he does are being blown out of proportion", the "Comedy Nights Bachao" star said.
Krushna also said that he has worked with Kapil Sharma for five years in "Comedy Circus" and he know his good and bad points very well.
He went on to laud Kapil Sharma on how he has kept his team intact for over four years now.
Raju Srivastav
The beloved "Gajodhar" aka Raju Srivastav said that Kapil couldn't handle the pressure of success.
"Kapil success ke pressure ko jhel nai pa raha. I don't think he is arrogant, I just feel he can't deal with the pressure that comes along", said Raju.
Raju also took the responsibility of sorting out this issue between Kapil and Sunil. He initially planned to hold a meeting at his place on Sunday, however it could not take place. 
"To make things better, I had arranged a meeting with them at my house on Sunday, and I had even thought of calling Kapil's mom (to mediate). But Sunil told me that he had extended his travel plans and will get in touch with me when he is back," Raju said.
Kiku Sharda
The lovable Bumper aka Kiku Sharda confirmed that he was also a co-passenger on the same flight and said that no fights took place whatsoever.
He said Kapil is a 'sweet guy' rubbishing all the news of his aggressive behaviour.
Ehsaan Qureshi
The 2005 runner-up of the "The Great Indian Laughter Challenge" Ehsaan Qureshi was all praises for comedy king Kapil but lashed out at Sunil in an imprudent statement.
"If you don't have the guts to speak because you think he won't take you again, then that means he is your God. Then leave this nautanki. You are just keeping quiet, he will cajole you and you will be back on the show. Grow a spine. Being a comedian is different but being human is also important", Ehsaan said.
He also called Sunil with labels like 'Selfish' to have returned in the show when his own show 'Mad in India' flopped on the other channel. He even went on to blame Dr Mashoor Gulati solely for whatever happened between him and Kapil.