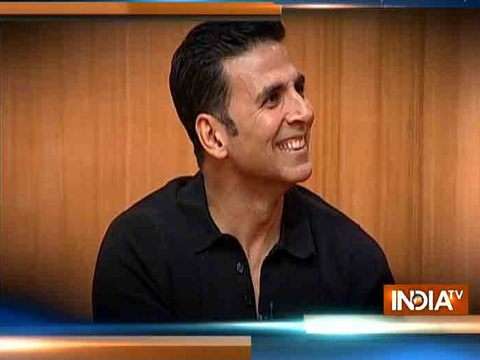 The Khiladi of Bollywood Akshay Kumar graced the sets of India TV show "Aap Ki Adalat" on Saturday and wowed us with his charm and superb sense of humour. His answers were not only awesome but extremely candid and hilarious all the way. Akshay faced tough and tricky questions from India TV Editor-in-Chief Rajat Sharma with utmost ease and charm.
Here are the 10 golden moments from "Aap Ki Adalat" where Akshay stole the show completely:
16 back-to-back flops 
When Rajat Sharma questioned Akshay as to how he felt after giving 11 back-to-back flop movies in the past, Mr Funny Bones said, "Not 11, I had 16 back-to-back flops." However, he survived in Bollywood because of his professionalism.
"You have to be a producer's actor and keep good terms with them. The industry people are Dilwale but you must never ever forget professionalism," said Akshay.
Award...oh sorry reward
The Khiladi said that he isn't worried about awards and critical acclaim. He is happy that his films get good recognition from the public. 
"I get good rewards.  Besides 'Airlift' and 'Rustam', even 'Housefull' got awards oh sorry rewards from people," he said. 
Akshay also revealed that his wife taunts him sometimes by saying, "Look at my dad, look at my mom. They have got national awards and you have not received any". And this is the only time that Akshay feels a bit bad otherwise all is good and jolly and "he is just not bothered about anyone."
I make a film in 40-45 days 
When being questioned on doing four films a year and finishing movies quickly as compared to other Bollywood stars, he said, "I follow my director. I face problems on the first day as I need to step into the shoes of a new character but then from second day onwards, I become more and more comfortable and start playing the characters much faster."
Further the Khiladi added, "When Tom Cruise takes 42 days to shoot a film like "Mission Impossible" then why should I take 90 to 150 days to complete a movie."
Life was not easy 
The actor said that he used to sell Kundan jewellery from Lajpat Nagar to Mumbai and he also worked as a spot boy in Kolkata. "I used to do street fighting in Bangkok and sometimes I lost too. But then you need to get up and start all over again and strive for a win. This is life. Fight for it and you will surely achieve your dreams," said the superstar.
Making people laugh is tough
Akshay said that he has done all kinds of roles in his Bollywood career but comedy is the toughest of them all. "Making people laugh is the most difficult thing but sadly, the industry doesn't give priority to it," said the actor.
He went on to give an amusing example and said, "A fan told me that his son eats only when he watches 'Hera Pheri'. So if my film is helping people to digest their food, then where is the problem?"
Full hot blooded man
On being questioned about his link-ups with Raveena Tandon and Shilpa Shetty, he accepted all the allegations with ease and said, "I am a full hot blooded man. So, why not?"
He also revealed that 'innocent love' happened really soon for him as he fell for his school teacher when he was just 8-9 years old.
 
However, all things changed once he got married to Twinkle Khanna. "I am happily married with two kids now. Change is important in life and I am happy with the changes in me."
No issues with Priyanka Chopra, Farah Khan and Ekta Kapoor
The 'Airlift' star said that he has no issues or any kind of hatred towards Priyanka Chopra, Farah Khan and Ekta Kapoor. He said that he would love to work with Priyanka again if he gets a chance and there are no troubles between them whatsoever.
Role reversal: When Akshay questioned Rajat Sharma
In the 26th minute of the talk show, Akshay started questioning Rajat Sharma and took everyone by surprise. Akshay called Rajat Sharma "the lawyer of the nation" and praised him for his good work. We got to witness the witty and fun side of the actor and it must be said that it was overwhelming to the fullest.
I don't comment, I look for solution
Speaking on the allegation that he comments on each and everything, Akshay said, "I don't comments, I rather give or look for solutions."
The actor said that he reacted to the Bengaluru New Year Eve molestation incident because it was every man's duty to protect women. "Few people know that I run a school where nearly 15,000 girls have been taught martial arts in Mumbai alone."
"Similarly, I welcomed our army's surgical strike inside Pakistan. The whole world wants terrorism to end. I am also going to make a film "Toilet-Ek Prem Katha" on Swacch Bharat mission. 54 percent Indians do not have toilets, it is a shame."
No interest in politics, want to focus on sports and health 
The actor said: "I do not want to enter politics. I have no interest. But I want to work on two key areas in which I have knowledge: health and sports."
Asked by Rajat Sharma whether he was interested to become a minister, Akshay Kumar said: "It is not necessary for one to become a minister to get things done. I don't want to become a minister".