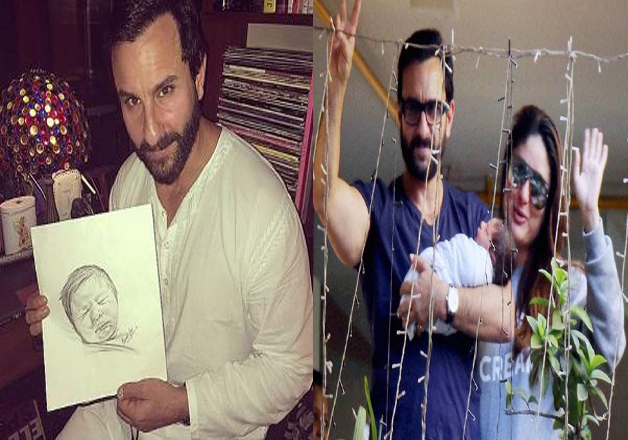 Ever since actress Kareena Kapoor gave birth to her first child Taimur Ali Khan Pataudi, social media was going crazy after him. Though, lots of people slammed the couple for naming their son Taimur, the star couple maintained a dignified silence on the issue. Now, finally Saif has opened up on the issue.
The actor explained that he and Kareena liked the sound of the name, that's why they chose it. He further added that he was well aware of the Turkish ruler whose name was 'Timur' and his son's name was 'Taimur' which was a Persian name that meant iron. He then jokingly said that he should have added disclaimer with his child's name.
Saif said, "Perhaps, I should have added a disclaimer, as they do in the movies, that any resemblance to any person, living or dead, is purely coincidental."
Talking about the flak on social media, Saif stated that social networking sites give freedom to people to speak their minds, but sometimes they crossed limits and say unpleasant things.
He stated, "There is a lot of anonymity from the side of the people who are doing the talking so they feel free to say whatever they like, and sometimes they get very nasty."
Saif lashed out at all trollers who targeted his son saying that it was not right to make judgment by just looking at the history. He went on to say that many people had spoken on his behalf.
The 46-year-old actor said, "The fact of the matter is that if you view the kind of unnecessary drama over Taimur, there were a lot of voices...I felt I didn't have to say anything because a lot of people had spoken wisely and liberally. Voices that kind of vindicated my decision and made me feel that it's absolutely fine."
Previously many B-town celebrities including Rishi Kapoor, Karan Johar and Priyanka Chopra have slammed people for trolling Taimur.