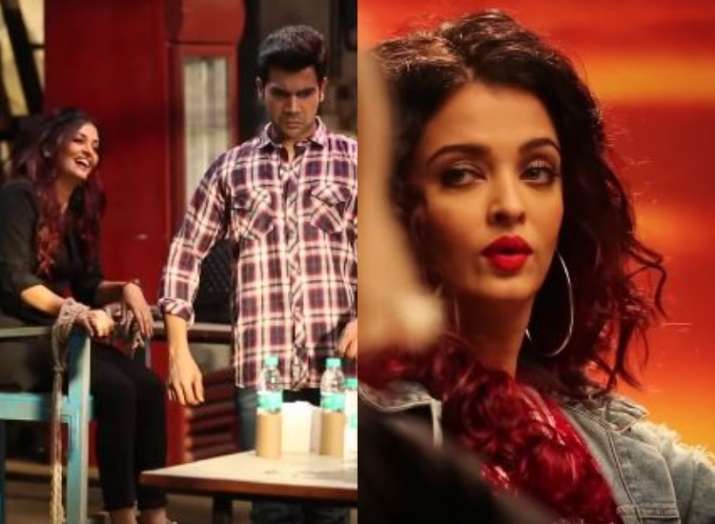 Every Aishwarya Rai Bachchan fan is eagerly waiting for Fanney Khan to release and watch their favourite actress weave magic onscreen. While the wait is already difficult, the actress has further teased her fans by sharing the behind-the-scenes video of her popular song from the movie, Halka Halka. The song has already hit the charts and fans can't help but watch the song on loop.
Aishwarya, who plays a well-established pop singer in the movie, is seen singing and dancing in front of green screens while shooting for the song. The video shows how the actress learned the steps and even gives a glimpse of actor Rajkumar Rao's funny moments. The video also depicts the sizzling yet adorable chemistry between Aishwarya and Rajkumar. With her curly red hair and stylish boots, the actress looks gorgeous and chic. 
Watch the video here-
A few days ago, the makers of Fanney Khan also released the behind-the-scenes video of the teaser of the movie. The video started with the introduction of the movie's true Fanney Khan, Anil Kapoor, who is seen performing on various Bollywood numbers in the middle of what seems to be his chawl. He performs for his neighbours and earns much praise and applaud. But this is obviously not enough to make her daughter's dreams come true. And then the kidnapping happens.
Talking about his character in the film and learning trumpet, Anil Kapoor said, "The trumpet is an integral part of my character in the film. My character, Fanney, plays it when he is sad or happy. So I had to make it look real. I was excited to learn a new instrument and took lessons from Ramesh Kumar Gurung. It was challenging to emote while using the instrument."
Directed by Atul Manjrekar, it is after 17 years that Anil Kapoor and Aishwarya Rai Bachchan are coming together for a film. Fanney Khan will hit the screens on August 3 this year.