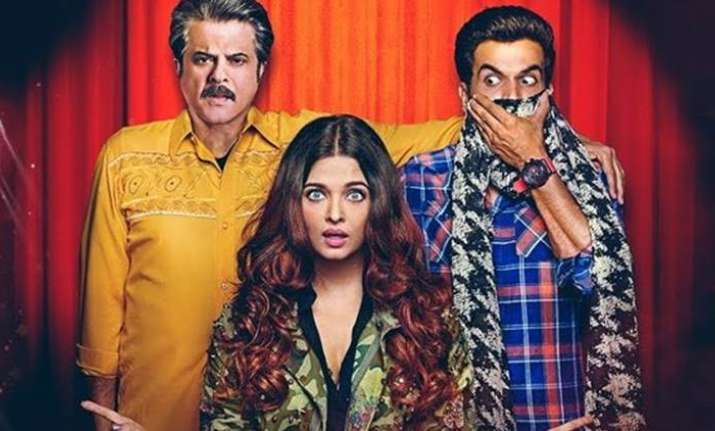 The day is finally here when we're getting to see Aishwarya Rai Bachchan back on the silverscreen. Anil Kapoor, Aishwarya Rai Bachchan and Rajkummar Rao-starrer Fanney Khan is all set to release today. The Atul Manjrekar-directorial is releasing along with two other Bollywood movies including Karwaan and Mulk. While Mulk and Karwaan already got thumbs up from the critics across the country, we'll now have to see how Fanney Khan manages to impress the critics as well as the audience. The film is an emotional story about a father who aspires to see his daughter become the next Lata Mangeshkar of India. In order to raise money for her first recording, he kidnaps popstar Baby Singh played by Aishwarya Rai Bachchan and Rajkummar Rao plays his ally in the task.
Fanney Khan has been directed by debutante Atul Manjrekar. Also, Anil Kapoor and Aishwarya Rai Bachchan are coming together in a film after 17 years. Last time, they came together in Humara Dil Aapke Pas Hai, which released in 2000. Also, it's the first time Rajkummar Rao will be romancing Aishwarya on the silverscreen.
Also Read: From Working with New Director to Bromance, Fanney Khan Movie Actors Rajkummar Rao and Anil Kapoor Bare it All
In an exclusive interview to India TV, Anil Kapoor spoke about his nervousness working with a newbie director. He said, "I was nervous before, however, all my insecurities vanished as soon as I hit the sets. Fanney Khan is a very beautiful film and it doesn't seem it is Atul's first movie."
Also Read: Watch: Shah Rukh Khan and Aamir Khan reveal Fanney Khan of their life
He is truly one of the kindest actor's you will ever meet. That very quality of his makes @iamsrk a #FanneyKhan in my eyes. Thank you for the person that you are and for always being so supportive. pic.twitter.com/rLVOhYq2kC

— Anil Kapoor (@AnilKapoor) August 2, 2018
Everybody knows that he leaves no stone unturned when it comes to the roles he has to portray simply to entertain the audiences. For me @aamir_khan you are truly a #FanneyKhan pic.twitter.com/VFBL0MVig8

— Anil Kapoor (@AnilKapoor) August 2, 2018
Fanney Khan Movie Review on India TV
11:35 am: Atul Manjrekar could have treated the second half more crisply. While the first half was taut, the second half was filled with unnecessary drama. 
11:25 am: Fanney Khan also tells a lot about rich and influential people who use the less-privileged as puppets for their personal gains. 
11:20 am: The climax is gripping, emotional and will make you wonder what will happen next. 
11:10 am: The film also introduces the aspects of dirty game of TRP played in reality shows these days. 
11:05 am: Fanney Khan saw an unlikely pairing of Rajkummar Rao and Aishwarya Rai Bachchan. Though it seemed absurd before, but after watching the film their chemistry will make you believe that opposites do attract. 
10:50 am:  Fanney Khan unfolds smoothly at the beginning of the second half. If you're expecting an overly-melodramatic film, the Anil Kapoor-starrer is not a thing for you. 
10:35 am: Rajkummar Rao never fails to hit the bull's eye. He impresses with his child-like demeanour in the film. All the Rajkummar Rao fans, get ready for his aww-dorable performance in Fanney Khan. 
10:15 am: Nothing like its never happened before. Divya Dutta is phenomenal on screen. She aptly portrays a doting mother and loving wife. Earlier, we have seen her playing a doting mother in Gippi, which was also based around body shaming. 
10:00 am: Fanney Khan has the humour and emotions in the right proportions. It's delight to see when Rajkummar Rao, Anil Kapoor and Aishwarya Rai Bachchan are together on screen. 
09:50 am: Fanney Khan is definitely a musical film. The first hour of the movie itself is loaded with three songs. The generation gap between a father and a daughter is depicted in the film in a relatable manner. 
09:40 am: Fanney Khan also subtly takes a dig at casting couch in the industry. The bromance between Rajkummar Rao and Anil Kapoor is so cute that you won't want it to end. What to expect when two brilliant actors share the screen space. 
09:30 am:  No one could have played the character of Baby Singh better than the ethereal beauty Aishwarya Rai Bachchan. Whenever you see her on the screen, its a sight for sore eyes. She is oozing glamour and oomph in each frame. Fanney Khan gets a good start! 
09:20 am:  Welcome Anil Kapoor, the ever-energetic actor as Prashant Sharma aka Fanney Khan. Sonu Nigam's rehashed version of Badan Pe Sitare is a delight in theatres. The evergreen actor grooves on the song, mimicking Shammi Kapoor's signature steps. 
Fanney Khan Audience Review
There is no metaphor to define #aishwaryarai

She is the benchmark in all dimensions 💕🌅#FanneyKhan all the best 👌

— Aradhya (@iAradhyaRai) August 3, 2018
On a serious note, hearing terrific things about #Kaarwaan, #FanneyKhan & #Mulk! Looks like an awesome Friday, with something on offer for each section of the social strata! Go & have a great time at a cinema near you with your friends, families, date..or even by yourself! 😁

— Akshaye Rathi (@akshayerathi) August 3, 2018
#Mulk and #Karwaan are going to kill #FanneyKhan

— jayant (@jayantsjy) August 3, 2018
Saw #FanneyKhan.beautiful film. A great message and worthy film. Congratulations to the entire team. Leaves a huge emotional lump in your throat. @AnilKapoor, Rajkumar, @divyadutta25 are all so, so good. And the Mrs. continues to be my favourite! Best wishes.

— Vikas kumar Modi (@vikaskumarmodi) August 3, 2018
#QuickReview #FanneyKhan #AnilKapoor is mindblowing. #RajkummarRao is good. but the ungrateful child they do everything for needed OneTightSlap rather than a talent show.

— manishalakhe (@manishalakhe) August 3, 2018
@RajkummarRao Watched #FanneyKhan ... Loved it and what a performance by everyone ... Just wanted to praise your effortless performance... Just like water you mould yourself so effortlessly ... Thank you for joining the bollywood industry ..

— Soorya Sanjeev (@SooryaSanjeev) August 3, 2018