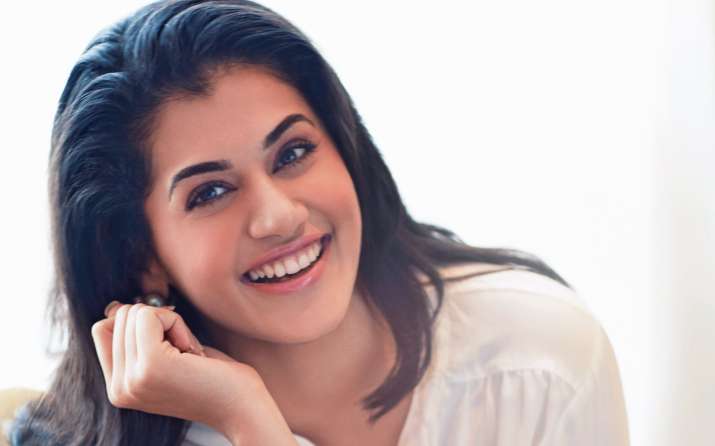 Actress Taapsee Pannu, who is gearing up for the release of her upcoming film Judwaa 2 alongside Varun Dhawan, feels that it is important to work with top and renowned stars as they have higher market value. The actress will be seen shaking a leg with superstar Salman Khan in one of the songs of Judwaa 2. The movie is the sequel to 1997 hit film Judwaa and Salman will be seen doing a cameo in the film.
Recently Salman shot with the cast of team and the pictures were shared on social media. Along with Taapsee and Varun, actress Jacqueline Fernandez will also be seen playing a prominent role in the film.
"It is essential to work with actors or actress including Khans or not Khans as they have a higher market value. They have certain appeal with the masses and we will be able to get that attention from people, we gain from that," Taapsee told PTI.
The actress said she met Salman, 51, for the first time while shooting the song and the actor was sweet to her.


"I got to meet him for the first time (while shooting for the song). He was leaving from his shot and I was going to enter. I just saw him walking pass by me I went up to him and told him 'Hi Salman sir I am Taapsee Pannu' and he said 'Hi'.


I met him again at the IIFA event and greeted him, he was sweet to me," she said. Taapsee, 29, said she gets intimidated when she has to meet top stars as she has grown up watching them.


"I don't go to social do's so I had not met him. It was a very intimidating feeling be it when you meet Mr Amitabh Bachchan or Salman Khan or any of the big stars. It may sound wrong but we have grown up watching Salman so we have this wow image about him," she added.
The Pink actress said she now wants to do a full fledged film with Salman.
Off camera, Taapsee revealed the "Sultan" star often cracked jokes and shared anecdotes of his "Judwaa" days.


"When we were in the room Salman had some really funny moments to share about his experience of 'Judwaa'. We three including me, Jacqueline and Varun were just listening.


"With the life and career that he has, he has some interesting anecdotes to share I hope I get to hear more of that." 
After intense drama films like Pink, Naam Shabana, Judwaa 2 is a welcome change for Taapsee.
"For the last six months I am dancing, getting ready, having fun, big sets, big director, producer, feeling like a Bollywood heroine. I am in Bollywood diva zone. I was enjoying the fruits of my hardwork for these six months. After this I get back to some serious stuff," she said.
Directed by filmmaker David Dhawan, Judwaa 2 is presented by Fox Star Studios and Nadiadwala Grandson Entertainment. The movie will hit the screens on September 29.