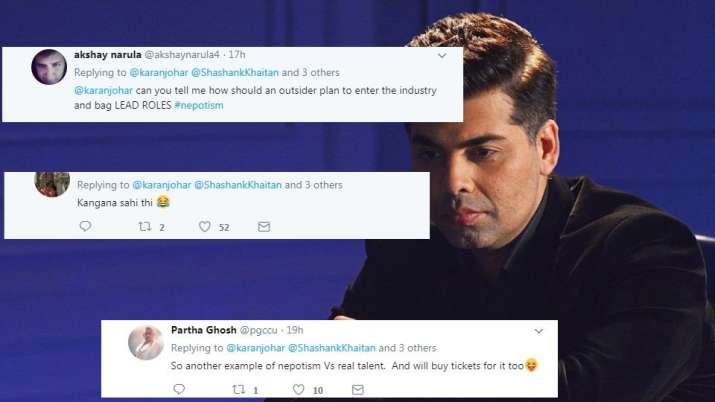 On Wednesday, Karan Johar released the first look of his upcoming Hindi remake of Marathi superhit Sairat. Dhadak stars Sridevi's daughter Jhanvi Kapoor and Shahid Kapoor's half-brother Ishaan Khatter. While some gushed over how Jhanvi resembled her mother and superstar Sridevi, a majority of social media users slammed the filmmaker for promoting nepotism. A number of Twitterati stormed the comment section of Karan Johar's tweet with comments accusing him of nepotism. Here's what they say.
Many resorted to saying that Kangana Ranaut was right and KJo is indeed the 'flag bearer of nepotism'. The debate started when Kangana Ranaut was on the show Koffee With Karan to promote her film Rangoon. Things went south on the show when she accused Karan to be the 'flag bearer of nepotism' and dubbed him as a 'movie mafia'. This gave rise to a months-long debate which we came to know as 'Nepotism Debate'. After a few exchanges of heated arguments, the debate seemed to be settled.
But Twitterati aren't going to let this matter slip. Just as when Karan Johar introduced Jhanvi Kapoor and Ishaan Khatter in his upcoming film Dhadak, they didn't miss to make a remark on what a nepotist KJo was.
Not only on Twitter, people are slamming the filmmaker on Instagram as well.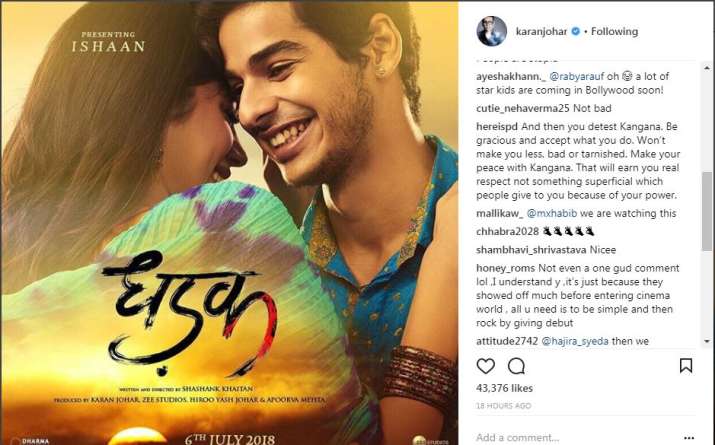 Here are what Bollywood buffs are saying about Karan Johar and his upcoming film Dhadak.
This is called "Kuye Ka Mendak" he can't see beyond his family friends.. There are lots of talent outside.. #nepotism

— Amit Pandey (@ShotByAmit) November 15, 2017
Bahut hi afsos k sath have to agree "Kangana Sahi This"

— Amit Pandey (@ShotByAmit) November 15, 2017
Nepotism Uncle, kabi aam admi k bachon ko b launch kia karo

— ashu (@zafk19) November 15, 2017
Give chance to those who are struggling ...Enough of launching star kids...Launch those who are deserving.agar aapko talent ki qdra hai toh ek outsider ko launch karke dikhao ...#Enough

— Chaitanya (@chaitanyaishq) November 15, 2017
Twitter is also inquisitive as to how long will Karan Johar promote star kids like Jhanvi Kapoor and Ishaan Khatter. They also criticised the filmmaker for never giving the chance to talented actors who give the audition everyday at his studio.
Mr.Karan Johar industry ke bahar bhi talent hai .Isse zyada achha kabhi dekhoge aake ?
Stop launching ONLY star kids always ..Give break to other talented actors ...They are struggling to get chance day n night what the hell these two has done..#Enough

— Chaitanya (@chaitanyaishq) November 15, 2017
😂😂 aur yeh sahab bolte hain hum nepotism nai karte 😂😂

— Manjinder kaur (@khayatkerk43) November 15, 2017
No one could've ever imagined that Dhadak's posters could've rekindled the nepotism debate once again. Seems like this 'N word' is going to stick to Karan Johar forever.
Directed by Shaishank Khaitan, Dhadak will release on July 6, 2018