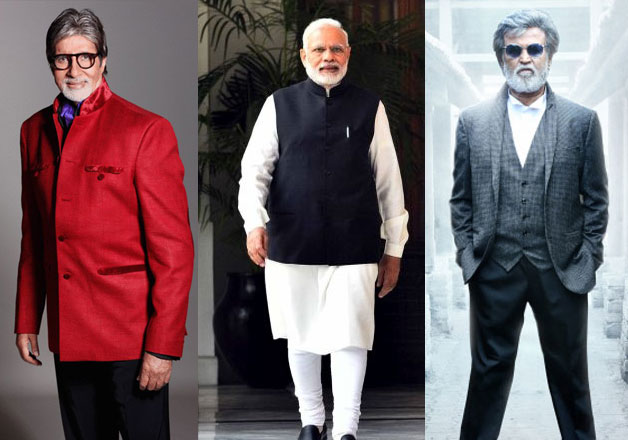 Several B-town celebs took to Twitter to express their respective outlook over PM Narendra Modi's decision to demonetise Rs 500 and Rs 1,000 notes.
Megastar Amitabh Bachchan, took the opportunity to promote his last release 'Pink', considering the upcoming note of Rs 2000 will be 'pink' in colour.
Director Abhishek Kapoor wrote that this move will not just mark a change in the election process in the country but will also change India.
This changes the #election process entirely.. this changes #india #blackmoney #Rs500

— Abhishek Kapoor (@Abhishekapoor) November 8, 2016
Music composer Vishal Dadlani also echoed his voice in support of demonetisation of Rs 500 and Rs 1000 notes.
Great move by the Government, to declare 500 and 1000 rupee notes as invalid. Full support! Should shut down the black-money economy!

— VISHAL DADLANI (@VishalDadlani) November 8, 2016
Rajinikanth also praised the initiative saying a new India is born.
Hats off @narendramodi ji. New india is born #JaiHind

— Rajinikanth (@rajinikanth) November 8, 2016
Besides actress Bhumi Pednekar, Riteish Deshmukh, Jackky Bhagnani, Anushka Sharma etc cited the decision as a bold move and lauded PM Modi for his fight against corruption.
Brilliant brilliant brilliant @PMOIndia ,let's break corruption bit by bit 👏🏻👏🏻👏🏻 No more Kala dhan or Mann #500And1000rupee

— bhumi pednekar (@bhumipednekar) November 8, 2016
Bold move by PM @narendramodi ji as the #1000rs #500rs notes become invalid/redundant. #NewIndia

— Riteish Deshmukh (@Riteishd) November 8, 2016
Bold move against black money Mr Narendra Modi #Rs500andRs1000 #currencynoteban #respect

— Jackky Bhagnani (@jackkybhagnani) November 8, 2016
A welcome bold&courageous step by PM Modiji towards nation building.Each 1of us shld cooperate in d larger interest of d nation #BlackMoney

— Anushka Sharma (@AnushkaSharma) November 8, 2016
Not a fan of this govt. so far but power move on demonetising 500 and 1000Rs. notes to tackle black money! 👏🏾👏🏾👏🏾 #gottogivecreditwheredue

— Swara Bhasker (@ReallySwara) November 8, 2016
Not just B-town, imminent personalities from several quarters have also supported PM Modi's decision including Mahesh Bhupathi, cricketer Harbhajan Singh, spiritual leader Sri Sri Ravi Shankar etc.
Our PM definitely has some big cojones ... more power to you!! Jai Hind 🇮🇳

— Mahesh Bhupathi (@Maheshbhupathi) November 8, 2016
Massive sixer by @narendramodi ji to discontinue the use of 500 and 1000 rupee notes to curb #BlackMoney. Brave move! We're proud of you!

— Harbhajan Turbanator (@harbhajan_singh) November 8, 2016
Two Minutes Of Silence For People Who Are Standing In Queue At ATMs Right Now, Having No Clue About The Ban On Rs 500 And Rs 1000 Notes. ;)

— Sir Jadeja (@SirJadeja) November 8, 2016
I congratulate @narendramodi for bringing in Artha Kranti. This brings a sigh of relief to all of us fighting corruption. #BlackMoney

— Sri Sri Ravi Shankar (@SriSri) November 8, 2016
Meanwhile, several jokes and interesting messages also surfaced on internet about demolishing Rs 500 and Rs 1000 notes.
India got MODIfied, and USA may get TRUMPed !!
It will be HILLARYous !!!
😂😂😂#SayNoToBlackMoney #ModiFightsCorruption #jayhind

— Poojan Mehta PM (@poojanmehta008) November 8, 2016
US: Goodbye Black President
India: Goodbye Black Money

Prime Minister Modi Surgical Strike on #BlackMoney #ModiFightsCorruption Rs 500

— Christmas Grinch (@Dead_Comedian) November 8, 2016
Hath main 1000 ka note leke ''Bhaiyya aapke Yahan tv Nahin hai na?? ''
Bhaiyya: Chal bhagggg!! Sabko pata hai... radio pe sunn liya...

— Sunil Grover (@WhoSunilGrover) November 8, 2016
Let's play poker m gonna use all my 500 n 1000's 👏👏🤓🤓🤓

— Karan Veer Mehra (@KaranVeerMehra) November 8, 2016
Americans Counting Votes,
Indians Counting Notes#ModiFightsCorruption #BlackMoney

— Dr Rajesh Solanki (@Dr_Raj_214) November 8, 2016
As part of sweeping steps to battle black money, the Prime Minister yesterday announced that Rs 500 and Rs 1,000 currency notes will cease to be legal tender from midnight of Tuesday. In a televised address, he said that all the 500 and 1,000 denomination notes can be deposited in banks and post offices between November 10 and December 30. They can also be exchanged across the bank counters by showing government-issued ID proof.