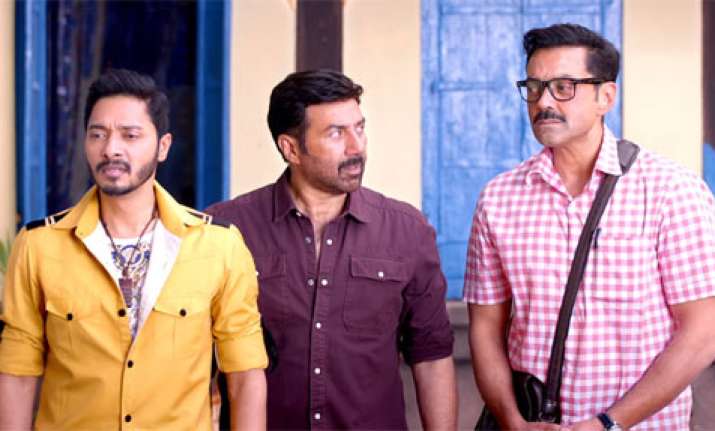 Bobby, son of veteran actor Dharmendra, said that the perception that it is easier for an industry kid to bag roles is wrong and that everyone, be it an insider or an outsider, has to struggle to make a mark in the industry. 
Bobby said that though luck plays an important factor in getting interesting films, an actor has to have a positive outlook to get work. On whether industry kids have it easy in Bollywood, Bobby told reporters, "That's just the way media portrays celebrity kids when they're coming into movies. I don't think it's easy for anyone.'' 
"You can be a kid of a star or be a normal child coming from a non-filmy family but you still have to work hard. Luck plays a part in it but you've to think positive. That positive attitude helps you," he said at the trailer launch of his upcoming Poster Boys. 
The film, directed by actor Shreyas Talpade, is a remake of the hit Marathi film Poshter Boyz that he had produced. The film marks his return to the big screen after a gap of nearly five years and Bobby said that he was looking for exciting projects. 
"I was looking for some great scripts to come my way. When I heard the script from Shreyas I was very excited. I just want to do films which I enjoy doing and the audience will too like it watching. When people watch this film I am sure I'll get some more work," he said. 
Also Read: Poster Boys trailer out: Sunny Deol, Bobby Deol and Shreyas Talpade all set to take you on a laughter riot
Though the 48-year-old actor has been away from the silver screen for a while, Bobby said that one needs to have a positive outlook towards work. 
"As an actor you want to work everyday of your life. You have to work hard, look and think positive and the work just starts coming your way. When I did this film ('Poster Boys') I was so excited because of the story, the character. Everyday was an amazing day. Besides this film, I am also doing Yamla Pagla Deewana 3," he said.  Apart from Bobby, the film also features his actor brother Sunny Deol and Shreyas in the lead roles. 
The film is said to be inspired by a real life incident about three men who accidentally find their pictures on a vasectomy poster. It is scheduled to release on September 8. 
For more entertainment updates follow our Facebook page
(With PTI Inputs)