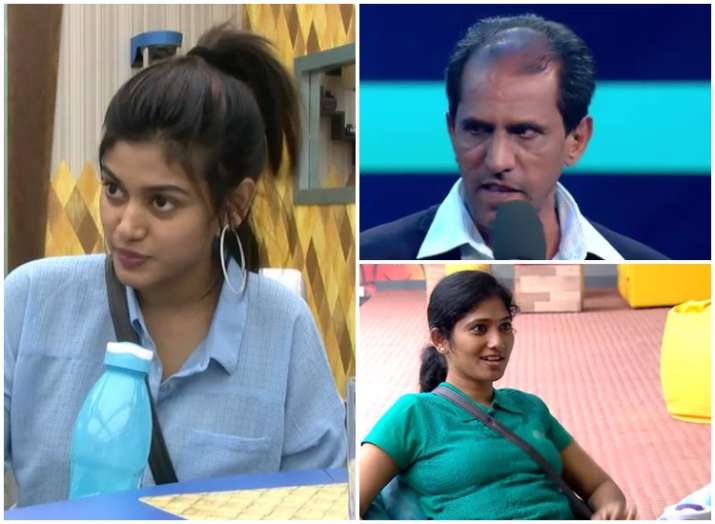 As the wild card entrant Bindu Madhavi makes way to the Bigg Boss Tamil house, a yet another elimination episode took place. The reality show hosted by veteran actor Kamal Haasan is full of surprises and, the names of the contestants nominated for this week's elimination is out. Julie, Vaiyapuri and Oviya are in the danger zone in the sixth week of Bigg Boss Tamil. The show, which airs on Vijay TV, is garnering much attention be it for endless controversies, Kamal Haasan's upbeat personality or Oviya army.
The 36th day of the reality show kick starts with dance as usual and, soon after the nomination begins. The new entry, Bindhu Madhavi starts off with the nomination process. She chooses Julie and Gayathri for elimination. 
Bigg Boss asks the contestants to nominate two people for elimination. Most of the house mates vote against Oviya and she ends up getting a total of 7 votes. The second highest vote goes to Julie In an interesting twist of events, Oviya and Aarav nominate each other for elimination. It seems some minor rift happened between them. Later Aarav is seen discussing about Oviya's childish character to Ganesh.
Once the task is over, it is declared that Julie, Vaiyapuri and Oviya have to face the elimination this weekend. This is the fourth time that Oviya Helen has been nominated. The 26-year-old south Indian actress emerged victorious each time, garnering full support from her fans. Can she pull it off this week as well?
You can watch Bigg Boss Tamil on Vijay TV from Monday to Friday at 9 pm. On weekends, you can view the reality show at 8: 30 pm.
Read More
Bigg Boss Tamil: Contestants list to show timings, latest updates of Kamal Haasan's show
Bigg Boss Tamil: Rs 100 crore defamation case filed against host Kamal Haasan
For more entertainment updates, follow our Facebook page