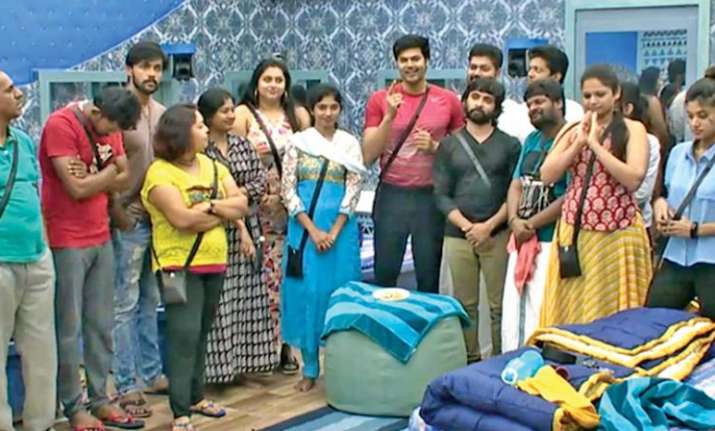 One of the popular and controversial TV shows, Bigg Boss Tamil has entered its 7th week. While Julie was voted out last week, everyone's favourite Oviya Helen quit the reality programme which, left everyone stunned. Aired on Vijay TV, the Tamil version of Bigg Boss is hosted by Kamal Haasan. Now that the eviction list is out, is time to cast your vote and save your favourite contestant. Aarav, Vaiyapuri, Shakthi, Snehan, Gayathri Raghuram, Ganesh Venkatraman and Bindhu Madhavi are competing out this week to stay at the Bigg Boss Tamil House this week.
How to vote online-50 votes a day
• Go to internet browser and click google.com
• Search for Bigg Boss Vote or Bigg Boss Tamil Voting
• You will see pictures of contestants
• You get 50 votes in your quota daily which you can distribute amongst the participants. Alternatively, you can also cast all your votes in favour of a single contestant
• Login to your gmail id andsSelect your favourite contestant
• Click on Submit and your Bigg Boss voting will be completed
Missed call voting details
Besides the online voting method, you can also vote and save Bigg Boss Tamil season 1 contestants by giving missed calls. 
VaiyaPuri- 7210122314
Ganesh Venkatraman – 7210122304
Snehan – 7210122313
Aarav– 7210122301
Gayathri Raghuram –7210122306
Sakthi –7210122315
Bindu Madhavi –7210122316
You can vote till Friday midnight following which one of the seven contestants will have to leave the Bigg Boss Tamil house. This is the fifth elimination for the Kamal Haasan hosted reality show. While Aarav and Snehan are emerging as favourites among the Tamil Nadu audience, some have predicted that either Gayathri or Bindu will be voted out this week.
Your last chance to save your beloved contestant ends on August 11 at 12 pm. Catch all Bigg Boss Tamil episodes on Vijay TV From Monday to Friday at 9 pm. On Saturdays and Sunday, watch the show at 8:30pm. Alternatively, you can watch it online on Hotstar.