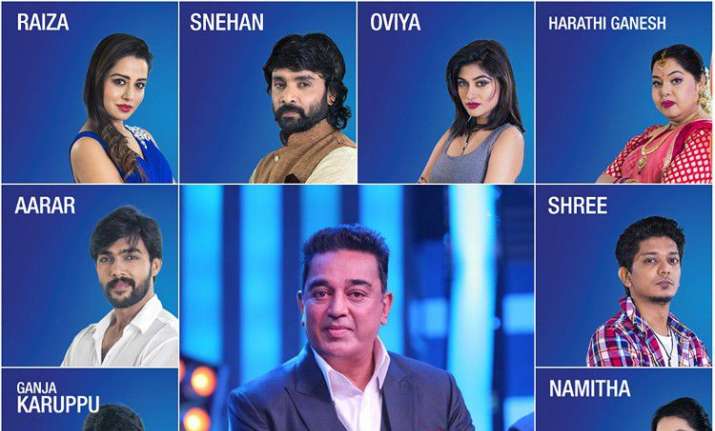 At a time when popular actor and host Kamal Haasan has threatened to quit Bigg Boss Tamil following Oviya Helen's exit, the TV programme has been garnering all the attention. Aired on Vijay TV, the reality based show has hit chords with the Tamil Nadu viewers who are loving it to the fullest. Earlier reports claimed that Kamal Haasan gets Rs 15 crore per episode to host Bigg Boss Tamil. Now, the weekly earnings of the contestants are out, which may surprise you.
It has been reported that the income of the participants varies from person to person. The popular Bigg Boss Tamil contestants such as Namitha, Oviya, Shree ,Ganesh 
Venkataraman and Sakthi Vasu earn three Lakhs every week. Meanwhile, the weekly income of Anuya Bhagvath, Snehan, Vaiyapuri, Aarthi, Gayathri Raghuram and Ganja Karapu stands at 2 Lakhs, reports added.
The remaining contestants Bharani, Raiza Wilson, Aarar and Juliana earn Rs 1 Lakh per week, the reports concluded. 
Recently, a Bigg Boss Tamil episode received flack on social media, where contestants were asked to behave like mentally challenged people. Even host Kamal Haasan criticised the episode and gave threatening to the makers. 
Oviya, on the other hand, expressed her love for her co-contestant Aarav before leaving stating that it was impossible for her to stay away from him. The lady, who was fighting mental issues even consulted to psychiatrists thrice in the week. But, seems that things didn't work for her and hence, she decided to quit Bigg Boss.
You can watch Vijay TV'S Bigg Boss Tamil from Monday to Friday at 9 pm. On Saturdays and Sunday, the reality show begins at 8:30pm. 
Bigg Boss Tamil: Kamal Haasan's threatening to quit the show to Oviya's exit, here's the recap of last week
Bigg Boss Tamil: Oviya quits the show, leaving her fans in tears! Here's how heartbroken Twitterati responded
For more entertainment updates, follow our Facebook page