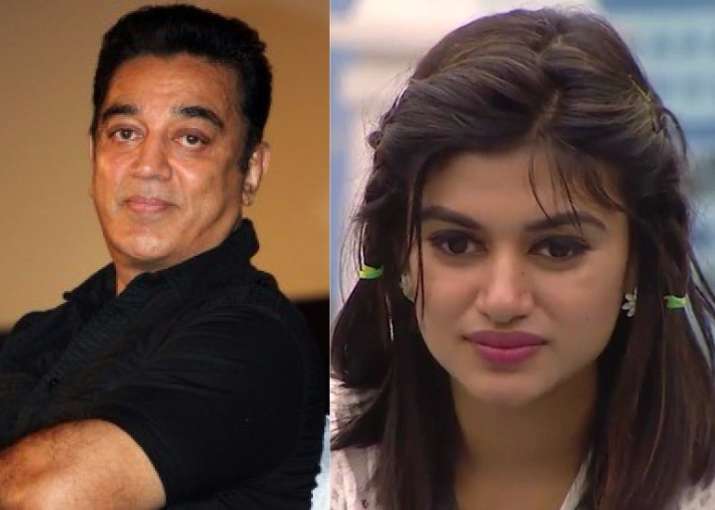 The episode was one power-packed 'dhamaka' for sure. It started with the recap of incidents that took place through the entire course of week. We saw that Oviya and Julie's scuffle took an ugly turn. While Gayathri and Oviya have reconciled, Raiza is not gelling well with her. In the beginning of the episode, Oviya is looking at a frog. She's trying to shoo away the toad, but scared at the same time. The situation seems funny to the audience when Julie comes to rescue the scared Oviya. Snehan and Shakti are seen discussing their eviction and how long it will take to be on the nomination list. 

Oviya, as she's assigned to be the shadow of Julie does the task at her hand properly. She promises Aarav that she won't misbehave with her just like she did a day before. The housemates, discuss the ongoing events in absence of Oviya. 
The task of the day was for housemates to act a scene from Kamal Haasan's superhit Avvai Shanmughi. The scene somehow has a funny connection with the happenings in the Big Boss House. Kamal Haasan wonders if the housemates would be able to understand why they've been assigned the task. The housemates were bifurcated into two teams, Team A and Team B. Both the teams shared their experience enacting the characters with Kamal Haasan. 
Gayathri claimed in one of the episodes that people should watch the edited segments of Big Boss Tamil where Shakthi has behaved really badly. Kamal Haasan interrogated her on the same, that why she thinks that the channel would edit the sequences. He also made it clear that the camera records only what it sees on the camera, plainly and without propaganda. Kamal had a conversation with Snehan about why Julie got miffed by the word hallucination. He questioned Julie whether she would like to watch the famous 5-seconds video to which she refused. 
Oviya laughed out as it was a sarcastic response to Julie, which was noticed by Kamal Haasan as well. Shakthi was taken to task for talking about male ego and not apologising to Oviya when she took the step first to apologise. Kamal questioned Shakthi why he mentioned male ego and even asked if he considered women to be a inferior sex. Shakthi put his stance that he was not a chauvinist. And by the word male ego, he meant only his own ego, regardless of gender. 
Kamal then turned to Raiza and told her that he liked the fact that she spoke to Snehan in private about the way he addressed her. He also spoke about Oviya's careless behaviour when she scared Julie during red carpet task. He tells the housemates that they have a responsibility towards each other. When he turned to Julie, she said that Oviya had confronted her and said that Julie might not be able to go back being in Chennai as people might not respect her anymore. Kamal asked Oviya if she really cared about Julie, to which she replied, 'I do not care about her anymore'.