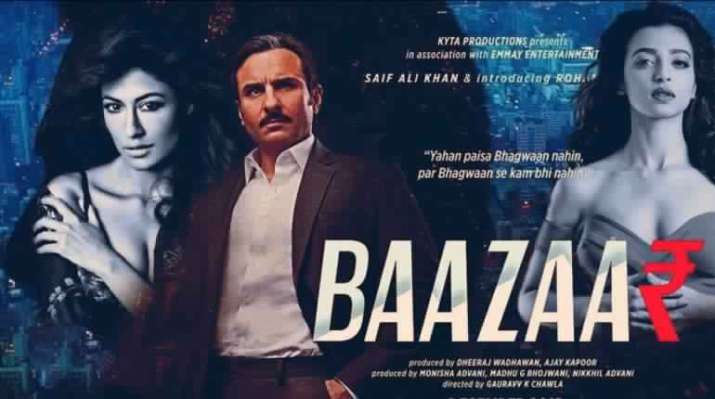 Saif Ali Khan and Radhika Apte starrer Gauravv K Chawla directorial venture Baazaar, released this Friday and the film has managed to make an opening collection of Rs 3.07 crore, which is a slow start.  The story of Baazaar revolves around a young ambitious man who becomes a stock trader for a businessman, after shifting to Mumbai 
Film critic and trade analysts Taran Adarsh wrote, ''#Baazaar had an extremely poor start in the morning shows, but picked up pace during the course of the day... Has fared much better than the recent Saif Ali Khan starrers... Mumbai circuit is driving the biz... Fri ₹ 3.07 cr. India biz.''
Baazaar box office collection:
#Baazaar had an extremely poor start in the morning shows, but picked up pace during the course of the day... Has fared much better than the recent Saif Ali Khan starrers... Mumbai circuit is driving the biz... Fri ₹ 3.07 cr. India biz.

— taran adarsh (@taran_adarsh) October 27, 2018
Baazaar starts with the cliché atrociously handsome and powerful man getting his hands on anything and everything he wants. He never loses and has never learnt anything but to win. On the contrast, Rizwan Ahmed has spent majority of his life with his middle-class salaried father who gets rewarded for his loyalty with only a Rs 2690 watch. Not wanting to spend his life in budget clothes and a small town house, Rizwan leaves the town with gargantuan dreams in his eyes. We've seen so many Bollywood movies around similar premise of a middle-class man trying to do something big. Overnight, his life changes and everything drifts so easily; taking the film far, far away from the cruel ways of real life.
The first half of the film was full of such clichés and one-liners. "Marathon me daudne walo ko duniya yaad nahi rakhti". And so Shakun Kothari, an over-ambitious businessman, wants to double, triple and quadruple his money in whatever way he can. He is so much like the most of the businessmen in India or any other part of the world. They pray money, breath money and their life revolves around money.
Baazaar is produced by Nikkhil Advani, Monisha Advani, Madhu G. Bhojwani, Ishan Saksena, Dheeraj Wadhawan, Sunil Shah and Ajay Kapoor.