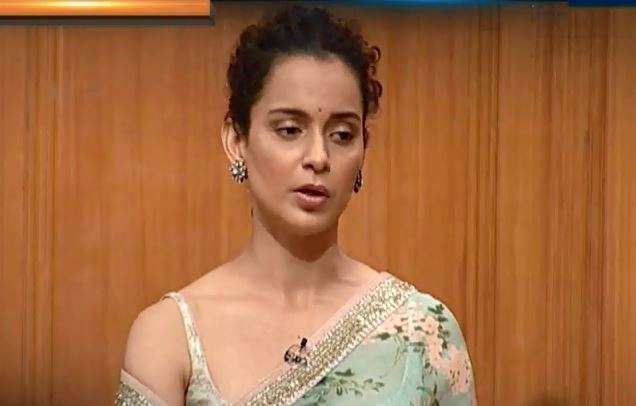 The 'Queen' of Bollywood Kangana Ranaut who is known for her subtle acting skills and straight forward opinions recently appeared on India TV's show Aap Ki Adalat and made some shocking revelations. Opening on all her controversies, she spoke at length on how each one of them impacted her. Undeterred by obstacles, she kept chasing her passion and remained dedicated to her work.
The actress who has single-handedly taken on half of Bollywood also narrated some of her horrific experiences when she met actor Aditya Pancholi. On being asked what all difficulties she faced in Mumbai, the actress said the biggest problem was that she came to Mumbai at a very tender age and started trusting somebody whom she shouldn't (hinting at Aditya Pancholi). Kangana said, "I came to Mumbai at a young age and extremely believed in somebody. I met a person who provided me guidance and because of that I had put myself in terrible situation. I was staying in a hostel. I had a friend Kamlesh ji who was of my mother's age and was from Chicago. I asked him to look for a rented apartment for both of us. He fetched a flat but didn't allow my friend to enter and kept me in house arrest. When I went to meet his wife, she blatantly refused to help me in any manner saying that when he is not at home, they are at peace. He physically abuses their domestic helpers, said his wife. When I said that I'll go to Police because I don't have any other option then she told me, "Do whatever you want but I cannot help you". On knowing I went to Police, that man threatened to defame me and ruin my career."
When Rajat Sharma asked her to reveal the name, she told him to do so. You are talking about Aditya Pancholi, he said and Kangana agreed. She continues, "After lodging FIR my career saw a fall but I revived myself. Whenever any girl goes to Police, society raises question on her accusing her to be the wrong doer. I didn't want this issue to come out in public because my parents would feel bad. However, I lodged complaint against him and police took a stringent action. Police told him "If you will touch this girl or anything happens to her then you will be behind bars." He started giving false statements against me in media and tried to malign my image. He demanded money from me which I gave but despite that he continued. That chapter was closed only because of cops." She asked girls to approach Police because abusers only fear them.
On being asked did she ever panicked and decided to leave the city, she said that things happening around her scared her a lot. "He had an extra key of my rented house and as soon as he inserted the key I jumped off the window. I knowingly took the house on the first floor. I ran bare foot and my knees even got bruised. I checked in into a hotel.. In the morning when I woke up, the doorbell rang and when I peeped through the key hole, he was standing out there. He tracked me even there."
Recalling one more incident of this torturing phase, she says "When I was shooting, he called me up and started abusing. After the shooting got over, he started chasing my rikshaw with his car and rammed into it. Then, I called Anurag Basu, at that time I was shooting for his movie Metro, he and his wife kept me secretly in their office for 15 days. Anurag's wife also brought few clothes for me." 
Watch video: 
"Friends do help but you need police's support," she concluded. The fearless actress who has lived life on her own terms didn't spare anybody and openly spoke against the dark reality and hypocrisy deep rooted in Bollywood.
Kangana Ranaut's explosive interview in Rajat Sharma's show Aap Ki Adalat will be telecast tonight at 10 pm on India TV. The repeat telecast will take place on Sunday afternoon at 1 pm , and at 10 pm the same night.