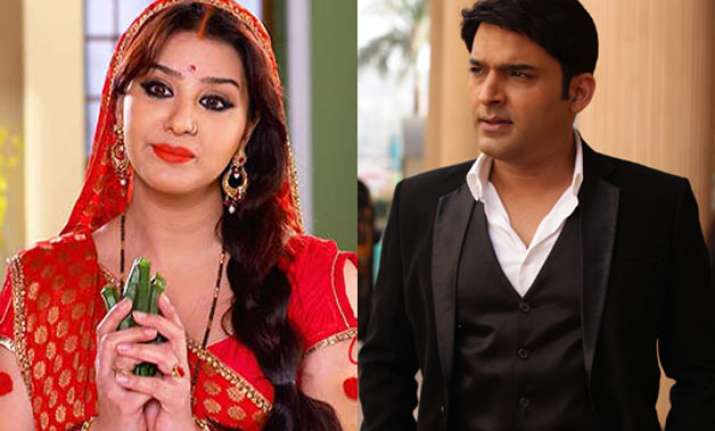 New Delhi: After a season of break-ups look like its raining controversies in the tinselvile. Recently, the acrimonious fight between Hrithik Roshan and Kangana Ranaut took over the headlines. And now this 'big' fight from Television industry is becoming the talk of the town.
We are talking about the spat between the much popular Angoori Bhabhi aka Shilpa Shinde and the producers of 'Bhabhi Ji Ghar Par Hai'.
Shilpa has sent out a legal notice to the producer for torturing her, after which the producer Binaifer Kohli alleged that it is Angoor Bhabhi who has breached her contract with them.
Reportedly, the actress had recently announced that she wants to be a part The Kapil Sharma Show which actually led to the fight with the producers of 'Bhabi Ji Ghar Par Hai'.
Though, Shilpa has been claiming that that she is innocent, looks like things are just not working in favour of the actress. While, she is amidst this legal battle, she might loose on to The Kapil Sharma Show also.
Apparently, despite Shilpa's statement about being a part of the show, neither the show makers nor Kapil Sharma has released any official statement in this regard.
And now as per the recent buzz, Shilpa Shinde might not be able to work Kapil's show, at least for a while.
Reportedly, Cine & TV Artistes Association has intervened in Shilpa Shinde vs 'Bhabi Ji Ghar Par Hai' producers' legal battle, and has stated that Angoori Bhabhi can't take on any new show till this issue is resolved.
"The Cine & TV Artistes Association had categorically ordered Shilpa to return to the sets on Monday. They had done so after listening to both parties' problems. Since Shilpa already is bound by contract for Bhabi Ji, the governing association asked her to resume shooting for the show immediately. Now that Shilpa didn't turn up, she might have to face dire consequences. A legal proceeding is underway and till the time that issue is sorted, Shilpa won't be allowed to sign anything else. That also means that she might not be a part of The Kapil Sharma Show until and unless both the parties involved come to a solution," a source from CINTAA reportedly told a leading daily.
Well, Shilpa Shinde must be in a big confusion as of now. We wonder how she is going to deal with this mess.