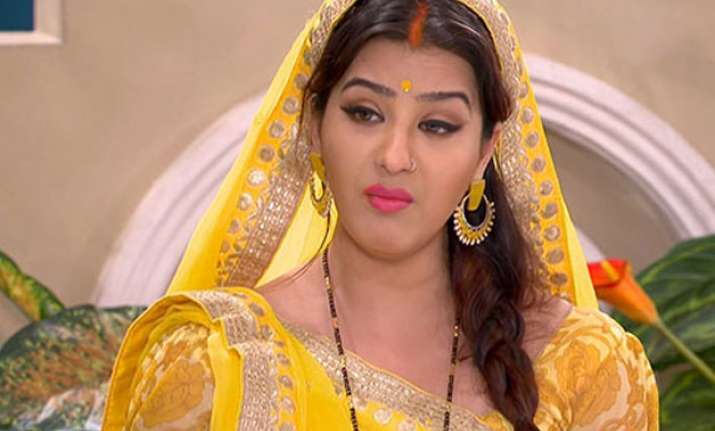 New Delhi: TV actress Shilpa Shinde who beautifully portrays the role of Angoori Bhabhi in 'Bhabhi Ji Ghar Par Hai' has decided to quit the show. She has blamed the channel for mentally torturing her and not revising her fees.
On the other hand, the production house has, reportedly, blamed Shilpa for throwing tantrums on the sets and termed some monetary issues as the reason behind her exit.
In an interview with a leading daily, Shilpa Shinde explained her side of story, which is rather a shocking one.
"I have been mentally tortured by the channel and the production house. They have threatened to sabotage my career if I take up work on rival channels. Initially, Rashami Desai was finalised for the part; I was roped in when she opted out abruptly. I have stood by them during the crisis and was hoping they would reciprocate in my time of need.
It has been a year and there is no tailor on the set. They couldn't pay the dress designer and I had no choice but to use my own clothes, which I even stitch on the set. Being a fashion-conscious actress, I can't be shabbily dressed on the show. As far as asking them to revise my money, it's my right. The show has completed a year and I am due for a fee revision," she said.
Shilpa, further, stated that channel kept her shooting schedule so tight that she didn't even get the time to see doctor when she was suffering from throat infection. The actress is very upset with show makers calling her unprofessional and has decided to take a legal action against the channel.
"I am extremely upset about the whole issue and especially with the fact that they have mentioned about me being unprofessional and one who throws tantrums. I have had a lot of issues but never did I crib about anything, but after such a statement, I am very upset and have stopped shooting. What is more disheartening is that no one supported me in this issue and commented back, not even my co-actors who know about me. I am now planning to take a legal action against them and will only come back to the show if they openly apologize to me for this defamation," she said.
It's definitely a bad news for all those 'Bhabhi Ji' fans who loved her too the core. Alas, for now, there will be no more 'sahi pakde hain' and 'laddu ke bhaiya'.