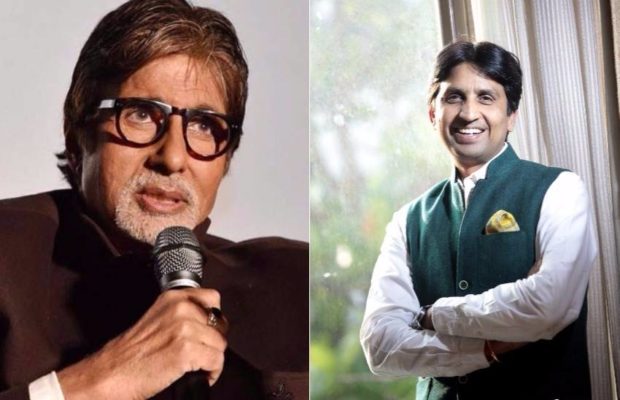 Amitabh Bachchan, who featured on Ram Gopal Varma's Sarkar 3, has slapped a legal notice to AAP leader Kumar Vishwas over use of father's poem. The superstar said that the politician used his late father and poet Harivansh Rai Bachchan's poem in a video. Now, he wants Kumar to remove the video and, also give an account of revenue generated from it.
Bachchan said the video, in which Vishwas is seen singing the poem, was a "copyright infringement" and should be removed from the popular video-sharing site, YouTube, within 24 hours.
"Sending earned Rs 32 as demanded. Pranam??," Vishwas tweeted in reply to Bachchan's tweets on this.In a statement, the Aam Aadmi Party member said he had received the notice, which called for the removal of the video and asked him to account for the revenue generated through it.
"The video will be removed," Vishwas said.
The video -- with Bachchan's poem Need ka Nirmaan Phir Phir -- is part of his programme Tarpan, in which the AAP-leader-cum-poet pays tribute to noted Hindi poets.
"This is a copyright infringement..! legal will take care of this," Bachchan tweeted on Wednesday, posting the tribute video.
this is a copyright infringement .. ! legal will take care of this

— Amitabh Bachchan (@SrBachchan) July 9, 2017
To this Vishwas replied, "Rcvd appreciation frm all poet's family but Notice frm you Sir. Deleting the tribute video to Babuji. Sending earned Rs 32 as demanded. Pranam??"
An associate of Vishwas said Rs 32 was the revenue generated from advertisements on YouTube.
Vishwas added that he had received appreciation from the families of other poets whose works had figured in the tribute series.
On the work front, Amitabh Bachchan will be seen next in 102 not out, where he will be sharing screen space with Rishi Kapoor.
(With PTI Inputs)
For more entertainment news, click here