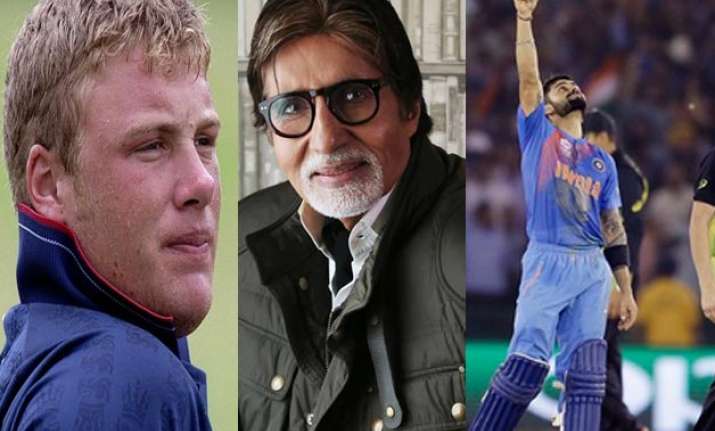 New Delhi: The epic win of India over Australia in the World Cup T20 tournament on Sunday night coloured the entire nation in a celebratory mood. Many took to streets to express their happiness on what seemed like a difficult win. Thanks to star batsman Virat Kohli's tremendous performance, India is now only two wins away from clutching the trophy again.
Yesterday, it was a big win for Team India and was definitely not a good day to mess up with cricket lovers. English all rounder Andrew Flintoff learnt in the hard way, that too from Bollywood superstar Amitabh Bachchan.
Andrew in his tweet praised Virat's spectacular performance in which the Delhi born cricketer remained unbeaten at 82 off 51 balls. But then, Flintoff mocked Kohli and compared him to Joe Root, an English batsman saying that at this rate Kohli will soon be as good as Root.
Here's what he tweeted:
This comparison did not go well with Big B. He replied to Andrew's tweet saying that 'Root' will be eradicated.
This is how Amitabh Bachchan answered Andrew Flintoff:
But, Andrew did not stop here. He replied to the 'Piku' star's tweet saying, 'Sorry who is this?' and unleashed the wrath of Twitteratti upon himself.
Fans of Kohli and Big B, trolled Flintoff saying that he should check his facts before asking who Amitabh Bachchan is.
Here are a few tweets:
Later in the night, Andrew maybe tired of the trolls, signed good night. Well, Andrew, you just don't joke about Indian cricketers, especially, on a day when they defeated cricketing giant Australia.