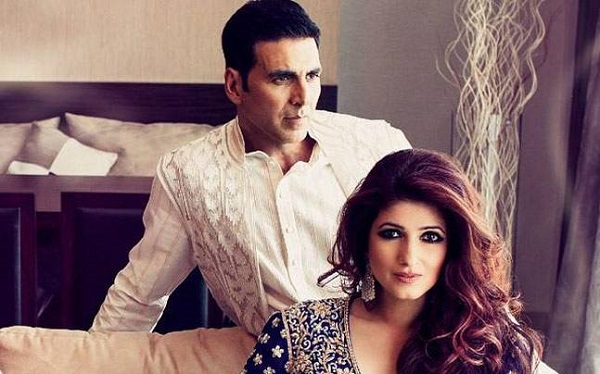 Akshay Kumar who got a year older yesterday shared his thoughts on his wife and kids with a popular daily. As for now, the actor has already taken off to Switzerland to celebrate his golden jubilee with wife Twinkle Khanna and kids Aarav and Nitara. We're sure that the trip is going to be super awesome for the actor. But while we wait for his pictures from the vacation, let's have a look at an interview where Akshay Kumar gets candid about his family and life. 
But before that, let's spare some moments to watch how his adorable daughter Nitara made daddy Akshay Kumar make different faces on the camera. He's a versatile actor, but all sorts of versatility can be seen in a few second video this time. 
Akshay was asked how it feels like to touch a golden milestone in his life. He said, "Am I allowed to say it feels as good as it did when I turned 21 (laughs)? I'm really enjoying the fact that I have not only reached 50 alive, but also feeling positive about my career, blessed for my health and over the moon with how I'm spending my big 50 on the Swiss Alps with my family."
Now when he's celebrating his birthday with wife and kids, how does he feel, the actor answers the question by saying, "Absolutely! This year might be my [life's] half century, but I'm actually celebrating by giving my son his dream snowboarding holiday, as much as I know I'll love it... I'm only doing this for my boy because I know what this kind of adventure with his family will mean to him. Actually, I even remember my 40th in Florida; my wife and I took Aarav to a theme park all day, and when we came home, we were all so knackered that we all fell asleep by 5.30pm on my birthday — no party, no celebration, just unconditional family time. I always want my birthday to be about making my children happy and that's all I would ever wish for, for they are all I want and need," 
He added, "I've promised my son more adventurous holidays. I've promised my wife that I'd chew my food more. I've promised my daughter I'll stay strong so I can carry her up every mountain her brother wants to climb, and I've promised my coach that I'm not going give up — turning 50 means 50 reps of everything, apparently,"  
Do you know what the best gift he has received so far is? It is the Harley Davidson his wife Twinkle Khanna gifted him. Apart from this he always cherish the time he gets to spend with his family. 
While speaking about his family, Akshay Kumar gets emotional. He said, "You can't take money or possessions to the grave — only memories and a lifetime of love and happiness. No gift will ever replace the time we spend together, my wife could buy me an island, but I'll still just want to walk on Juhu Beach (in Mumbai) holding her hand — something we do for free whenever we want, but to me that's what I call magic."
Akshay Kumar is a family man, and there's no doubt about that. Family reminded me of the tattoo Akshay Kumar is having on his back and shoulder. Khiladi Kumar has inked his wife Twinkle's pet name 'Tina' on his shoulders and son Aarav's name on his back.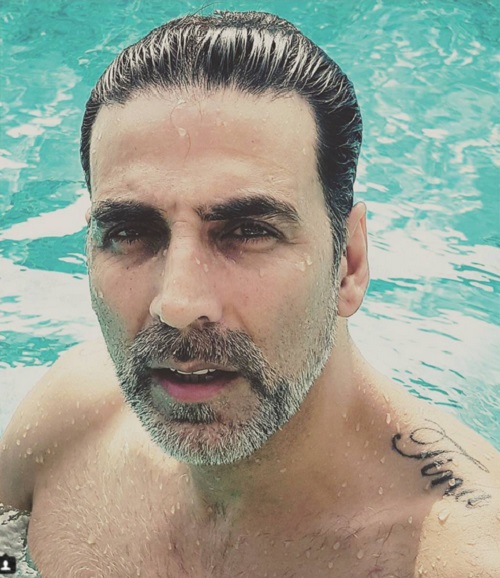 Akshay Kumar wife tattoo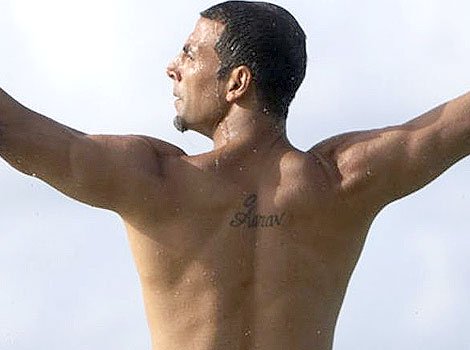 Akshay Kumar back tattoo