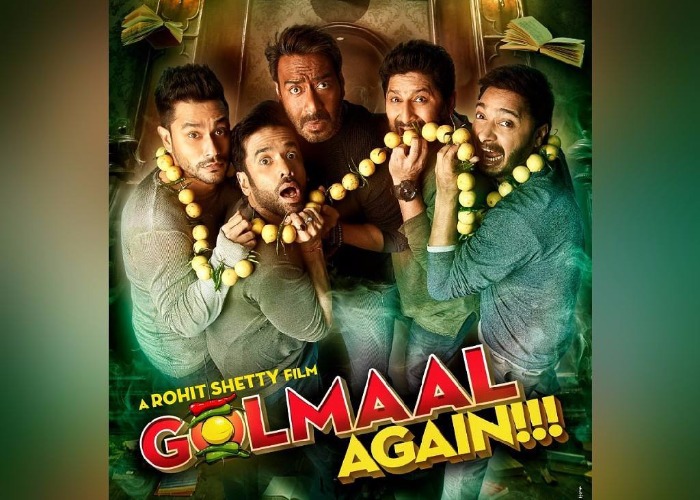 Golmaal franchise releases the trailer of its fourth instalment Golmaal Again after a gap of seven years. The Rohit Shetty film stars Ajay Devgn, Tabu, Parineeti Chopra, Tusshar Kapoor, Arshad Warsi, Shreyas Talpade and Kunal Khemu in the lead. The trailer, which was launched on 22nd September, has broken all the records. It has clocked in more than 20 million views on various platforms collectively. It was launched on Facebook, YouTube and Twitter. On YouTube alone, the trailer video mustered 15 million views. These numbers make it further obvious that Golmaal Again is one of the most anticipated films of the year. The trailer has hit the 20 million marks in just a span of 24 hours! 
Also, Golmaal Again trailer video is on #1 at YouTube trending videos. It seems like fans can't get enough of this fun-loaded Rohit Shetty film. The trademark style of Ajay Devgn riding between two cars and breaking fingers are rewinding the memories of the previous Golmaal series. When it's a Rohit Shetty movie, you're expected to see a lot of cars zooming and screeching on the roads. 
Another fact that Golmaal's fourth instalment is coming after a long gap of 7 years, is making the wait even harder. Filmmaker Rohit Shetty recently revealed the reason why it took him so long to make Golmaal Again. 
Speaking at the trailer launch of the film, the director said, "We were waiting for the right story. We didn't want to cheat the audience with a bad story under the 'Golmaal' brand. So we worked hard to crack this story and when it finally happened, we made the film."
Bollywood star Tabu, who is one of the new additions to the 'Golmaal' gang, revealed how she always wanted to be a part of the flick.
"This is a special film for me because whenever I watched the film, it was a laugh riot for me. Whenever I met Rohit at parties, I said that I want to be a part of this franchise. I was ready to even do a cameo. I would like to say, that this is one of the films where I did not hear the script before shooting because I knew they have something good for me... It was like a picnic," said the 'Haider' star.
Watch the Gomaal Again Trailer here: 
'Golmaal Again' stars Ajay Devgn, Parineeti Chopra, Arshad Warsi, Tusshar Kapoor, Shreyas Talpade and Kunal Kemmu and is all set to release this Diwali.
(With ANI Inputs)