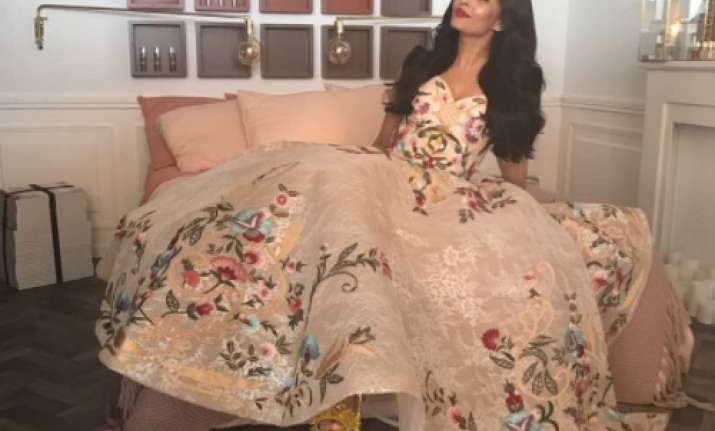 World's most beautiful women Aishwarya Rai Bachchan, after making her shining debut at Cannes film festival 15 years ago, is all set to live her life at Cannes for the sixteenth time. Aishwarya in her second Cannes look ruled the fest like a queen in her peachy floral embroidered gown.
When at Cannes, pose and pout 😘 #LifeAtCannes #AishwaryaAtCannes #CannesQueen pic.twitter.com/er7dGHvr9W

— L'Oréal Paris India (@LOrealParisIn) May 19, 2017
Earlier, in her first look, the Goddess of beauty Aishwarya Rai Bachchan looked breathtaking in her green floral and wavy pattern layered Yulia Yanina gown. 
The Ae Dil Hai Mushkil actress, Aishwarya simply redefined beauty in her nude make up, highlighted with rose blossom blended perfectly with orchid blossom lip colour. 
The goddess of beauty is all set to live her #LifeAtCannes!
Lips 💄: Tint Caresse in Rose Blossom blended with Orchid Blossom pic.twitter.com/3HVGbzlsno

— L'Oréal Paris India (@LOrealParisIn) May 19, 2017
As the first look of the diva is out and fans are eager to see her walking the red carpet.
Prior to the event Aishwarya also took her daughter Aaradhya for an outing in Cannes. The beauty queen arrived at Cannes along with her daughter on Thursday and is all set to walk the red carpet tonight as the brand ambassador of L'Oreal Paris.
Redefining beauty and grace for the sixteenth time! #AishwaryaAtCannes #LifeAtCannes #CannesFilmFestival #Cannes2017 #Cannes70 🌸🙌 pic.twitter.com/4N5PuUwyK8

— L'Oréal Paris India (@LOrealParisIn) May 19, 2017
Aishwarya, who first went to the Cannes Film Festival with Devdas back in 2002, will be showcasing Sanjay Leela Bhansali's film again at the 70th edition of the fest. She will be presenting the film on May 20 as part of L'Oréal Paris Open Air Cinema.
Recounting her first experience at the fest, Aishwarya said: "We attended the festival not just as artistes but as proud representatives of Indian cinema, and showcasing a film that meant so much to us. The kind of reception we got for the movie was truly overwhelming and I will cherish it all my life."
Meanwhile, Deepika Padukone already graced the 70th international film festival, Cannes, France on Wednesday. Deepika looked every bit the diva she is as she made her way to the red carpet as ambassador of global cosmetic giant L'Oreal Paris.
After Aishwarya, Sonam Kapoor will be at Cannes on May 21 and 22.