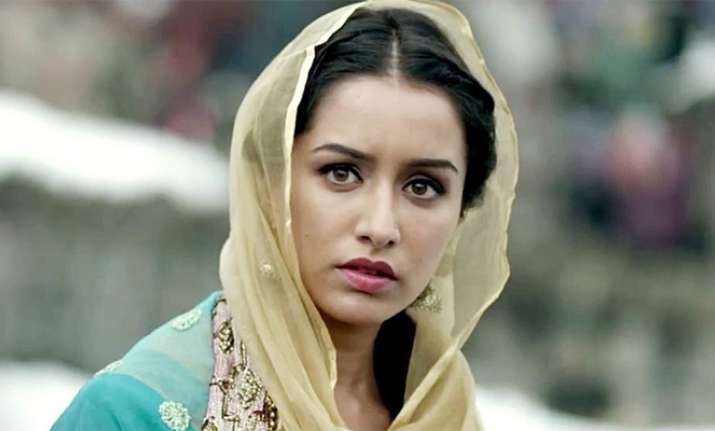 Ever since the inception of the Shraddha Kapoor starrer Haseena Parkar, there have been several news surrounding the gangster based film. After series of delay in release date, the Apoorva Lakhia directional venture is making headlines again. The film's lead actress Shraddha Kapoor has landed into legal trouble. The Half Girlfriend actress has found herself in the 'accused' list of a criminal complaint filed by fashion designers Aj Mistry and Thea Minhas, according to SpotboyE. The designers filed the complaint because Shraddha Kapoor allegedly did not promote fashion label 'AJTM' during Haseena Parkar's promotional activities in violation of an agreement.
The designers claimed that they delivered some 300 outfits which were used in Haseena Parkar and in return the makers promised good media coverage of their brand. However, they weren't given what they were promised for. 
"My clients had worked very hard for the project under their brand name AJTM, as it was their golden entry into Bollywood. After their personal meeting with Ms. Shraddha Kapoor, they put their heart and soul into this project titled Haseena Parkar", designers' lawyer Rizwan Siddiquee was quoted as saying to the leading daily. 
Furthermore, the lawyer stated it was unfortunate that the obligations as undertaken in the agreement were not performed, and his clients felt cheated. "Therefore, my said clients had no option but to file a criminal complaint against the Producer being Swiss Entertainment and Ms. Shraddha Kapoor," he added. 
The reports suggested that Haseena Parkar makers had promised and made an agreement to the designers that they would publicize their outfits during the film's promotional events. However, such publicity coverage never happened and, hence the designers were forced to take the legal move.
Haseena Parkar chronicles the journey of Haseena, Dawood Ibrahim's sister from teenage to the time when she was 40-year-old. Shraddha Kapoor said that her endeavour was to get as close to Haseena as possible in terms of look. 
The film will hit the cinemas on September 22 and, face the box-office battle with Sanjay Dutt and Aditi Rao Hyadri starrer Bhoomi.
For more entertainment news and updates, follow our Facebook page