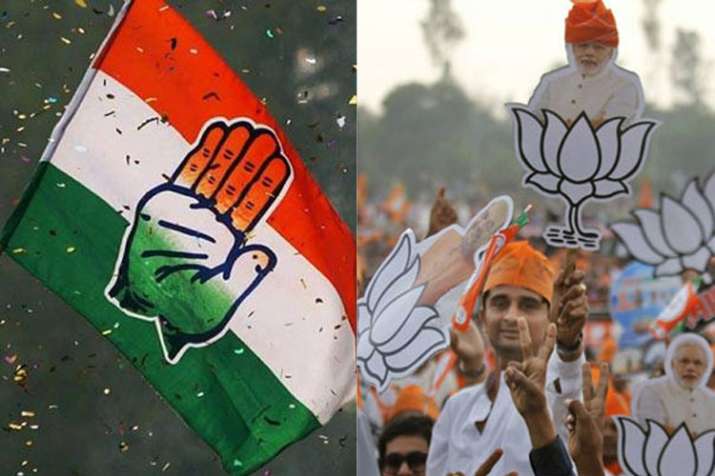 Lok Sabha elections 2019: Prime Minister Narendra Modi, last week, sounded the election bugle in Uttar Pradesh. Now, both the BJP and the Congress presidents will be in the state to feel the pulse of the people and party workers for the 2019 general elections. The state is politically important as it sends the largest number of MPs in the Lok Sabha, the lower house of the Indian Parliament.  
From July 4, Congress president Rahul Gandhi will be on a two-day visit to his parliamentary constituency Amethi. During the same time, BJP president Amit Shah will be in Varanasi, Mirzapur and Agra. 
Gandhi will visit the family of a Muslim farmer who died in May at a government procurement centre while waiting for four days in scorching heat to sell his produce. 
[You may also like to read] Monday Talk | 'Outsiders' in party need to be purified from 'Ganga Jal': BJP MP Shyama Charan Gupta
"The death of farmers showed apathetic attitude of state government. He died waiting for days to sell his produce. Rahulji will certainly visit his house and meet his family members," Congress MLC Deepak Singh said, adding that no BJP leader has visited the farmer's home. 
The BJP swept Uttar Pradesh in 2014, winning 73 of its 80 Lok Sabha seats. 
Shah will also be reviewing the performance of Chief Minister Yogi Adityanath's government amid talk of a reshuffle. 
On June 28, with a public rally in Maghar town in Sant Kabir Nagar district, Modi virtually kicked off the election campaign. He slammed the opposition and said some parties want unrest by creating doubts in the minds of the people for political gains. 
Catch all the latest news about Lok Sabha elections 2019 HERE
Again, on July 14-15, Modi is likely to visit UP when he will attend public meetings in Azamgarh and his constituency, Varanasi, besides laying the foundation stone of the Purvanchal expressway. 
Preparations for the Modi visit are underway in Azamgarh parliamentary constituency. It is represented by senior Samajwadi Party leader Mulayam Singh Yadav. He will, however, contest from Mainpuri this time. 
The PM had also taken a swipe at the Samajwadi Party and the Bahujan Samaj Party stating that those who always talk of 'samajwad' and 'bahujan' are "extremely selfish" and they don't see the welfare of society but only the welfare of themselves and their families. 
Lok Sabha elections are due to be held in the country in April or May 2019 to constitute the seventeenth Lok Sabha.
In the run-up to the next Indian general election, various organisations carried out opinion polls to gauge voting intentions in the country. Till now most of the polls show BJP winning.
The previous general election held in April and May of 2014.
(With PTI inputs)