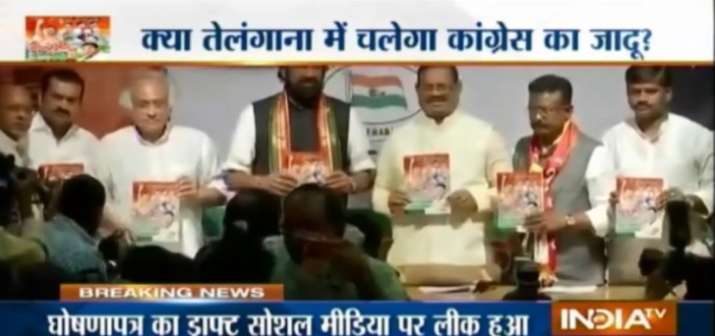 In poll-bound Telangana, the Congress party favoured the Muslim community in its draft manifesto. The grand old party had released a draft manifesto with poll promises to the Muslim community.
It promised many 'Muslim-only' schemes like free electricity to mosques, special opportunities in government contracts for the Muslim youths, residential schools, Rs 20 lakh aid to poor Muslim students etc.
However, the draft got leaked.
Meanwhile, the party denied any such step.
Commenting on the draft, the party's state unit on Tuesday said that all such reports are completely baseless and fabricated.
"The allegation of us having a biased manifesto is baseless. We are a secular country, there is no particular community that would be sided by any particular party, except the ruling party BJP," ANI quoted Telangana Pradesh Congress Committee spokesperson and treasurer, Guddu Narayana Reddy as saying.
Reporter of India TV informed that when later in the day the Congress party released its actual manifesto, it removed many points and at many places where Muslim word was written, the party replaced it with minority word.
Commenting on the incident Union Minister Arun Jaitley said that he can't believe that a political party can do such kind of divisive politics.
The Congress on Tuesday promised to give free power supply to all temples, mosques, churches and other places of worship, and judicial powers to the Wakf Board, if it came to power in Telangana.
The manifesto, unveiled on Tuesday, also talked about a sub-plan for minorities to allocate and budget in proportion to the population.
Scheduled Tribes would be given reservation quota proportionate to their population in the state, it said.
The manifesto said funds would be released for repair of temples, mosques, and churches by introducing a "proper system".
Transgenders would be given "constitutional rights", it said, adding, they would be given monthly pension of Rs 3,000.
The party promised to waive crop loans up to Rs two lakh in one go.
"Agriculture Department will be converted into Department of Farmers' welfare. Ex-gratia will be given to the families of farmers who committed suicide after formation of Telangana," it said.
Unemployment allowance of Rs 3,000 per month would be given to jobless youth, the Congress said.
Financial assistance of Rs 1,50,116 would be given for the marriage of poor girls, according to the manifesto.
Twenty per cent of the state's budget will be allocated for education, the party assured.
The manifesto said Lokayukta would be established and the chief minister, all ministers and other officials would be brought under its purview.
Telangana will go to polls on December 7 to elect the 119 members of the legislative assembly. The counting of votes will take place on December 11.
WATCH VIDEO: Aaj Ki Baat with Rajat Sharma | November 27, 2018
(With inputs from agencies)