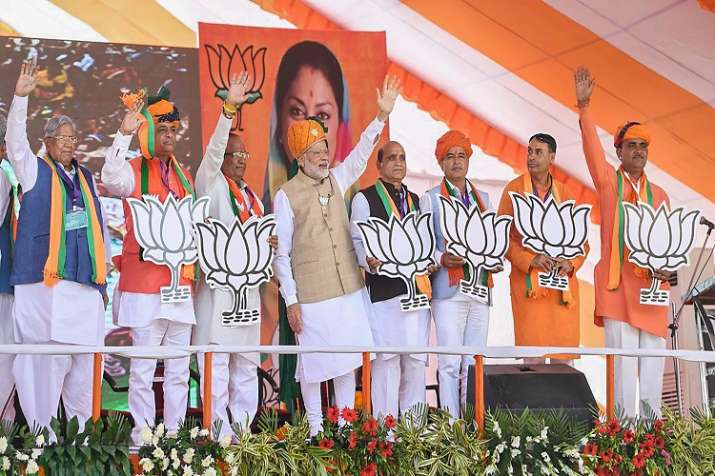 Lashing out at the Congress during the election rally in Rajasthan, Prime Minister Narendra Modi said that it was ignoring the tribal community.
"The Congress party ignored the tribal community, who was demanding a separate ministry, minister and budget. But the Congress was never concerned," he said.
"Our tribal people used to demand development policies but in vain. It was only when Atal Bihari Vajpayee ji became the Prime Minister of the country, a dedicated ministry for tribal affairs was created," stated PM Modi.
Stating that the tribal community made sacrifices during the freedom struggle and contributed to the nation-building immensely, the Prime Minister said that the history knew about this, but not the Congress.
"Tribal community has existed for thousands of years. Did they not make sacrifices during freedom struggle? Did they not contribute to the development of the nation? You know this. I know this. History knows this but the Congress doesn't know this. The Congress did not remember the tribal community," Prime Minister Modi said.
Taking a jibe at Congress chief Rahul Gandhi, Prime Minister said, "This 'Naamdar' (Rahul) does not have knowledge about the NCC. He doesn't know what a manifesto is. This 'Naamdar' does not know that he visited Kailash Mansarovar, but doesn't have any clue about it." "The Congress president does not even know the difference between 'moong' and 'chana' and yet he speaks about the welfare of farmers," he added.
"When Madam Sonia Gandhi's government was in power at the Centre, there were only four mobile manufacturing companies in India. Today, there are 125 units," Prime Minister Modi asserted. "The Congress makes promises in the run-up to the elections and forgets them once the polls are over," he added.
Earlier addressing a rally in Bhilwara, Prime Minister Modi, in a veiled attack on Congress president Rahul Gandhi for his often taken holidays, said that while he gave an account of every decision and trip undertaken by him, there were leaders who went "missing" for a week.
"Did you ever hear that I took a holiday? Did you ever hear I went somewhere for leisure or was missing for a week? I give an account of each and every decision I take and the work that I do," he said.
Lashing out at Congress over spreading caste politics, PM Modi said; "Congress is obsessed with caste politics. Even if they met Valmiki, poet Kabir Das and poet Ravi Das, they would have raised the same question". He reiterated that BJP has only one motto- 'Sabka Saath Sabka Vikas'.
In a veiled attack at the former UPA government, PM Modi said said that around 90,000 crore of money, which earlier went into the pockets of the corrupt people have been saved when his government came to power.
Campaigning for the imminent assembly polls in Rajasthan, the Prime Minister said that it was his government, which initiated a probe to put a check on the corruption in the country. "When we came to power, we began investigations and put a check on corruption. Nearly Rs. 90,000 crore of money which earlier went into the pockets of the corrupt has been saved," Prime Minister Modi said.
The Prime Minister also took a potshot at UPA chief Sonia Gandhi saying that she used to run a remote control government. "When madam (Sonia Gandhi) used to run the government with remote control, the girl that was not even born was widowed on government papers, given pensions. The family that did not exist was given ration card; the kid that was not even born was given a scholarship in schools," he asserted while addressing a rally in Kota.
Urging the people to exercise their franchise, Prime Minister Modi thanked them for voting the Bharatiya Janata Party (BJP) to power in 2014, Lok Sabha polls.
He further underlined various initiatives taken by the central and state government for the welfare of the people. Terming Kota as the "education hub", Prime Minister Modi said that Kota should be upgraded to Smart City.
Prime Minister also lauded Rajasthan Chief Minister Vasundhara Raje's development initiatives, saying that under her leadership, water supply has improved in the desert state for the last five years.
Meanwhile, addressing a poll rally in Rajasthan, Rahul Gandhi promised to waive farm loans in ten days if voted to power in the state and said the Congress chief minister will work for 18 hours a day to help youth get jobs.
Speaking at an election rally in Jaisalmer district's Pokhran constituency, he described Congress workers as 'sher' and 'babbar sher' and said they have to fight on booths but with gentleness unlike RSS or BJP workers.
Alleging that "Modi waived 3.5 lakh crore of top 15 industrialists", he said, "We will give loans of lakhs to crores of youths. We will give bank loans to youths to set up small business, factories and will ask them to give jobs to others". 
He also attacked the prime minister over the Rafale deal and other issues.
Targeting Chief Minister Vasundhra Raje, Gandhi said that she had in an advertisement talked about a school in Bharatpur and said the school had fans, furniture, drinking water, playground etc. but journalists went there and found that the school had nothing, no fan no drinking water.
He also told Congress workers not to speak ill about the prime minister or chief minister.
Earlier in the day, Gandhi visited the Ajmer dargah and Pushkar and offered prayers before addressing election rallies.
The 200-member Rajasthan Assembly is scheduled to go to polls on December 7. The counting of votes will take place on December 11.
WATCH VIDEO: