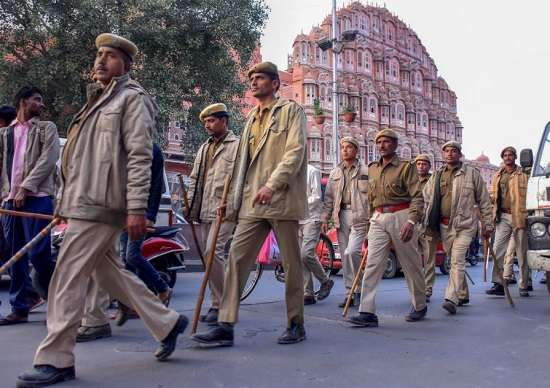 Rajasthan Assembly Election 2018 LIVE HIGHLIGHTS: Voting is underway on 199 seats for 200-seat Rajasthan Assembly elections. Over 72 per cent of the 4.74 crore registered voters had cast their vote by 5 pm in Rajasthan where elections were held Friday for 199 of the 200 assembly seats. Polling was set to end at 5 pm but officials said those already in the queue at the booths by then were being allowed to vote. The voting percentage till this time was 72.37, according to the Election Commission website. The exact percentage was expected later. Polling began at 51,687 booths across the state at 8 am. The police reported a few clashes among supporters, but said polling was largely peaceful. Paramilitary jawans opened fire in the air to disperse miscreants trying to force their way into a booth at a village in Alwar's Shahjahapur. In Bikaner's Kolayat, two groups clashed outside a polling booth and a vehicle was torched. In Sikar too there was a clash. Chief Minister Vasundhara Raje, Pradesh Congress Committee chief Sachin Pilot and other leaders were among those who exercised their franchise. Raje (Jhalrapatan), Pilot (Tonk), former chief minister Ashok Gehlot (Sardarpura) are among the 2,274 candidates in the fray.
Assembly Elections 2018: Full Coverage
Over 4.74 crore people are eligible to vote in Rajasthan, where polling will be held till 5 pm. VVPATs (voter verifiable paper audit trail) are being used in all the constituencies. Voters will also have NOTA (none of the above) option. With tight security arrangements at all 51,687 polling booths, 259 of them are being managed exclusively by women officials and security personnel. 
Rajasthan Assembly elections are seen as a straight fight between the Bharatiya Janata Party and the Congress on about 130 seats. In other constituencies, parties like the Bahujan Samaj Party (BSP)  and rebels who are contesting against official party candidates may queer the pitch.
HIGHLIGHTS:
5:51 pm: Two groups clash in Rajasthan's Pokhran.
5:26 pm: 71.64% polling recorded till 5 pm.
4:50 pm: 65% polling recorded till 4 pm in Rajasthan.
4:00 pm: 62%, 61.28%, 61.24% and 59% polling recorded in Banswara, Garhi, Kushalgarh and Jhalawar respectively till 3 pm.
3:55 pm: 52% voter turnout recorded in Tonk till 3 pm.
2:10 pm: Vehicles were set ablaze and vandalised in clash which broke out between two groups at polling booth at Subhash school in Sikar's Fatehpu. Voting remained affected for 30 minutes. Miscreants were later removed from spot by police and voting resumed. 
1:15 pm: 41.53 per cent voter turnout recorded till 1 PM in Rajasthan. Reports of technical issues in EVMs being reported from across the state.
12:35 pm: 
Rajasthan: 97-year-old Nagender Singh Chouhan and his 85-year-old wife Yuvraj Kuwar cast their votes at a polling station in Jhalawar. #RajasthanElections2018 pic.twitter.com/omyvnWauMS

— ANI (@ANI) December 7, 2018
12:01 pm: Erstwhile royals of Jodhpur, Gaj Singh and his wife cast their votes at polling booth no. 194 in Sardarpura constituency.
11:36 am: Sachin Pilot won't be able to become CM of Rajasthan. BJP's vote bank in Tonk is very strong, says BJP's Tonk candidate Yoonus Khan
11:22 am: About 21.89 per cent voter turn out recorded in Rajasthan till 11 am. Reports of EVM glitch from across the state.
10:58 am: Voters create ruckus at polling booth no. 253 and 254 in Ahor constituency of Jalore as voting has been halted following EVM malfunction.
10:39 am: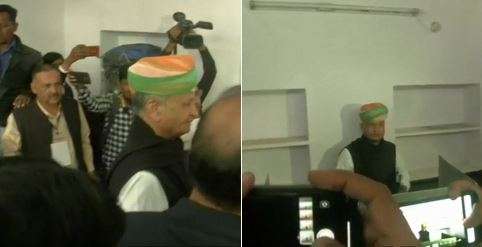 10:30 am: EVM is being replaced at polling booth no. 172 in Bikaner's Kisamidesar following a technical issue.
10:21 am: Union Minister Arjun Ram Meghwal standing in queue for last one hour to cast his vote in Bikaner. Glitch in EVM  has resulted in big queue outside the polling station.
9:38 am: A 90-year-old man arrives at polling booth no. 104 in Sardarpura constituency of Jodhpur district to caste his vote.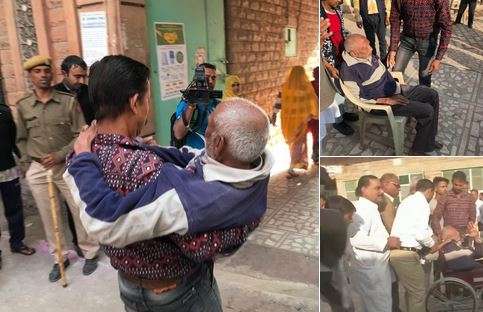 9:36 am: Voting begins on a slow note in Rajasthan. About 6.11 per cent voting reported till 9 am. 
9:35 am: In Jalore, voting is yet to begin in polling booth no. 253 and 254 following EVM malfunction
9:21 am:  Sachin Pilot, Congress on CM face from Congress: We will sit and discuss this after our party gets a majority in the election, says Rajasthan Congress chief Sachin Pilot when asked about who will be the CM face in the state.
9:07 am: WATCH VIDEO: Vasundhara Raje, Rajyavardhan Singh Rathore cast their votes in Jhalrapatan and Jaipur respectively
8:45 am: Union Minister Rajyavardhan Singh Rathore casts his votes at polling booth 252 in Vaishali Nagar, Jaipur. Every single vote counts. We have to cast our vote today by thinking who is actually taking the nation forward, says Rathore.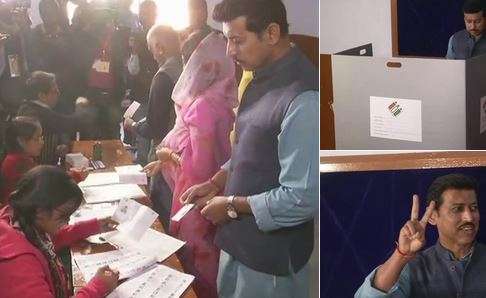 8:40 am: People will vote for development in Rajasthan. We have worked for Rajasthan's development, says Vasundhara Raje after casting her vote in Jhalrapatan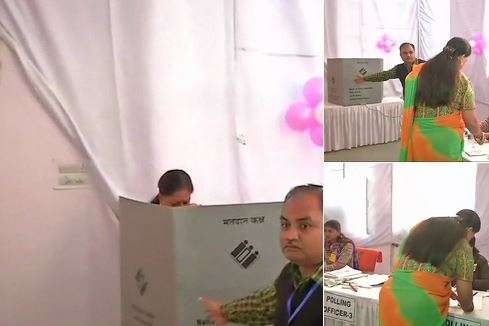 8:38 am: CM Vasundhara Raje votes in Jhalrapatan​. Congress has fielded Manvendra Singh, former Union Minister Jaswant Singh's son against Vasundhara.
8:32 am: Voting yet to begin on booth number 168 in Tonk. Voters angry. Rajasthan Congress president Sachin Pilot is contesting against BJP's Yoonus Khan from Tonk Assembly constituency.
8:28 am: Glitch in EVM stops voting in Jhalrapatan, CM Vasundhara Raje's constituency.
8:15 am: PM Narendra Modi urges Rajasthan voters to come out in large numbers to exercise their voting rights. 
राजस्थान में आज मतदान का दिन है। राज्य के सभी मतदाताओं से मेरा आग्रह है कि वे पूरे उत्साह के साथ लोकतंत्र के महापर्व में अवश्य भाग लें और भारी संख्या में मतदान करें।

— Narendra Modi (@narendramodi) December 7, 2018
8:05 am: Voting for Rajasthan Assembly elections begin on 199 seats.
8:00 am: Rajasthan Home Minister Gulab Chand Kataria offers prayers at Shiv temple in Udaipur before casting his vote.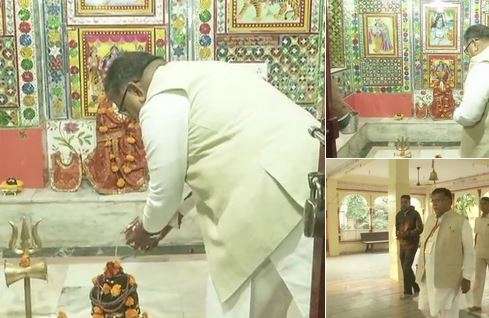 WATCH: Voting in Rajasthan, Telangana today
If the Congress wins, it is expected to pick between former chief minister Ashok Gehlot and state party president Sachin Pilot for the top post in the state.
In the current House, the BJP has 160 seats and the Congress 25.
Raje is contesting from Jhalrapatan constituency, considered her bastion.
This time she face BJP veteran Jaswant Singh's son Manvendra Singh who has defected to the Congress, complaining that his old party had hurt the pride of the Rajputs by ignoring his father in the last Lok Sabha election.
In Tonk, Sachin Pilot and Rajasthan Transport Minister and BJP candidate Yoonus Khan are face to face. Khan is the only Muslim candidate fielded by his party.
Ashok Gehlot is fighting for the Sardarpura seat.
The polling caps a hard-fought campaign between the Congress and the Bharatiya Janata Party.
Prime Minister Narendra Modi addressed 12 major rallies and Congress president Rahul Gandhi nine in the state. Both sides fielded their top leaders in the campaign.
Telangana and Rajasthan are the last states to go to the polls in the current round of assembly elections, which also covered Madhya Pradesh, Chhattisgarh and Mizoram.
The counting for all states is on December 11.
Election officials said 2,274 candidates are contesting in Rajasthan which has 4.74 crore registered voters. About 1.44 lakh security personnel have been deployed for polling day.
The state assembly has 200 seats, but election in Alwar district's Ramgarh constituency has been put off due to the death of Bahujan Samaj Party candidate Laxman Singh.
"More than two lakh electronic voting machines (EVMs) and verifiable paper audit trail (VVPAT) machines will be used in the elections," chief electoral officer Anand Kumar said Thursday.
He said it was for the first time that VVPAT machines are being used in Rajasthan.
The BJP has fielded candidates for all 199 seats and the Congress for 194. For the five remaining seats, the Congress is in alliance with other parties. The BSP fielded 190 candidates, the CPI (M) 28 and CPI 16.
Of the total 4,74, 37,761 registered voters, 2.27 crore are women and 20,20,156 are registered as first-time voters, Kumar told reporters.
In the run-up to the polling, the Election Commission received 3,784 complaints related to violation of code of conduct. Of them, 3,098 were found true, he said.
He said 13,182 booths are being called "critical".
"Micro observers" will be deployed at 4,982 booths, videographers at 3,948 and there will be webcasting from 3,138.
As many as 4,146 "vulnerable" villages have been identified. Central Reserve Police Force personnel will be stationed at 7,791 booths.
Nearly Rs 15 crore has been seized as unaccounted cash during the campaign period.
Liquor worth Rs 25 crore, drugs worth Rs 7.48 crore, gold and silver worth Rs 6.88 crore and vehicles worth Rs 11.89 crore were also seized. Over 4,000 illegal arms were seized after the model code of conduct came into force last month.
Rajasthan Director General of Police O P Galhotra said foolproof security arrangements are in place.
FULL VIDEO: