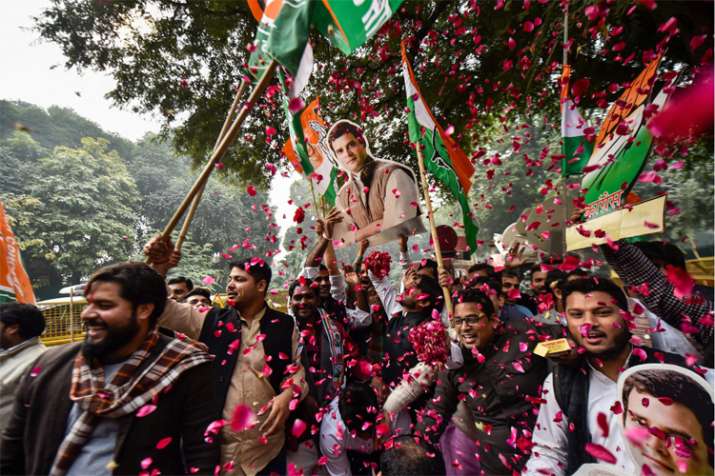 The Congress has managed to wrest power from the Bharatiya Janata Party (BJP) in Rajasthan overthrowing the Vasundhara Raje government. The Congress won 99 seats while the BJP bagged 73 out of the 199 seats which went to polls on December 7. The Bahujan Samaj Party won six, Bhartiya Tribal Party  two, the Rashtriya Loktantrik Party three, the CPI(M) two and the Rashtriya Lok Dal one seat and Independent 13 seats.
Assembly Elections 2018: Full Coverage 
As the BJP failed to get the majority mark, Chief Minister Vasundhara Raje tendered her resignation to Governor Kalyan Singh and said that she respects the decision of voters. 
The focus has now shifted on who would be the Congress choice for chief minister between two-time CM Ashok Gehlot and the party's state unit president Sachin Pilot. Sources said it was Gehlot who was ahead in the race.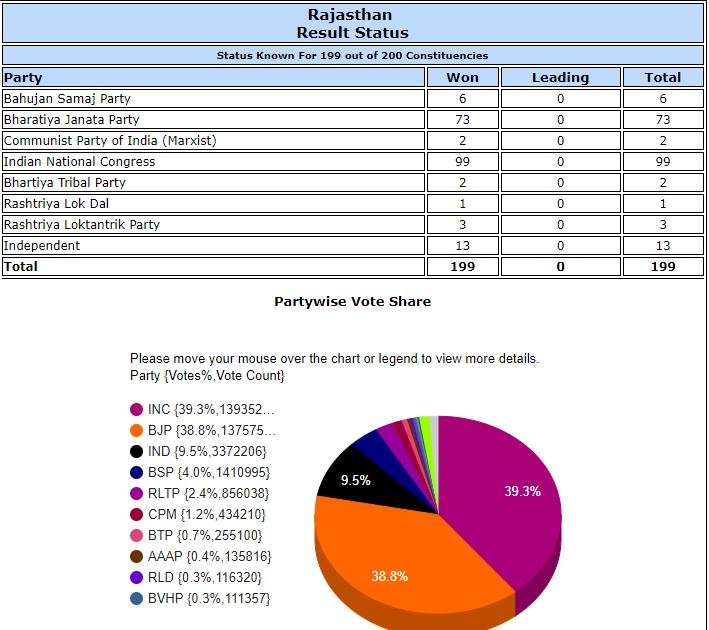 Here is the full list of Rajasthan Assembly election winners  
1) Adarsh Nagar -- Rafeek Khan of Congress
2) Ahore -- Chhagan Singh of BJP
3) Ajmer North -- Vasudev Devnani of BJP
4) Ajmer South -- Anita Bhadel of BJP
5) Alwar Rural -- Tikaram Juli of Congress
6) Alwar Urban -- Sanjay Sharma of BJP
7) Amber -- Satish Punia of BJP
8) Anta -- Pramod Bhaya of Congress
9) Anupgarh -- Santosh of BJP
10) Asind -- Jabbar Singh Sankhala of BJP
11) Aspur -- Gopichand Meena of BJP
12) Bagidora -- Mahendrajeet Singh Malviya of Congress
13) Bagru -- Gangadevi of Congress
14) Bali -- Pushpendra Singh of BJP
15) Bamanwas -- Indra of Congress
16) Bandikui -- Gajraj Khatana of Congress
17) Bansur -- Shakuntala Rawat of Congress
18) Banswara -- Arjun Singh Bamnia of Congress
19) Baran-atru -- Pana Chand Meghwal of Congress
20) Bari -- Girraj Singh of Congress
21) Bari sadri -- Lalit Kumar Ostwal of BJP
22) Barmer -- Mewa Ram Jain of Congress
23) Baseri -- Khiladi Lal Bairwa of Congress
24) Bassi -- Laxman Meena (Independent)
25) Bayana -- Amar Singh of Congress
26) Baytu -- Harish Chaudhary of Congress
27) Beawar -- Shankar Singh Rawat of BJP
28) Begun -- Bidhuri Rajendra Singh of Congress
29) Behror -- Baljeet Yadav (Independent)
30) Bhadra -- Balwan Punia of CPI(M)
31) Bharatpur -- Subhash Garg of RLD
32) Bhilwara -- Vitthal Shankar Awasthi of BJP
33) Bhim -- Sudarshan Singh Rawat of Congress
34) Bhinma -- Pooraram Choudhary of BJP
35) Bhopalgarh -- Pukhraj of Rashtriya Loktantrik Party
36) Bikaner East -- Siddhi Kumari of BJP
37) Bikaner West -- Bulaki Das Kalla of Congress
38) Bilara -- Heeraram of Congress
39) Bundi -- Ashok Dogra of BJP
40) Chaksu -- Ved Prakash Solanki of Congress
41) Chhabra -- Pratap Singh of BJP
42) Chittorgarh -- Chandrabhan Singh Aakya of BJP
43) Chohtan -- Padmaram of Congress
44) Chomu -- Ramlal Sharma of BJP
45) Chorasi -- Rajkumar Roat of Bharatiya Tribal Party
46) Churu -- Rajendra Rathore of BJP
47) Civil lines -- Pratap Singh Khachariyawas of Congress
48) Dag -- Kaluram of BJP
49) Dantaramgarh -- Virendra Singh of Congress
50) Dausa -- Murari Lal of Congress
51) Deedwana -- Chetan Singh Choudhary of Congress
52) Deeg-kumher -- Vishvendra Singh of Congress
53) Degana -- Vijaypal Mirdha of Congress
54) Deoli - uniara -- Harish Chandra Meena of Congress
55) Dhariyawad -- Gotam Lal of Congress
56) Dhod -- Parasram Mordia of Congress
57) Dholpur -- Shobharani Kushwah of BJP
58) Dudu -- Babulal Nagar (independent candidate)
59) Dungarpur -- Ganesh Ghogra of Congress
60) Fatehpur -- Hakam Ali Khan of Congress
61) Ganganagar -- Raj Kumar Gaur (independent candidate)
62) Gangapur -- Ramkesh (independent candidate)
63) Garhi -- Kailash Chandra Meena of BJP
64) Ghatol -- Harendra Ninama of BJP
65) Gogunda -- Pratap Lal Bheel (Gameti) of BJP
66) Gudhamalani -- Hemaram Choudhary of Congress
67) Hanumangarh -- Vinod Kumar of Congress
68) Hawa mahal -- Mahesh Joshi of Congress
69) Hindaun -- Bharosi Lal of Congress
70) Hindoli -- Ashok of Congress
71) Jahazpur -- Gopi Chand Meena of BJP
72) Jaisalmer -- Rooparam of Congress
73) Jaitaran -- Avinash of BJP
74) Jalore -- Jogeshwar Garg of BJP
75) Jamwa ramgarh -- Gopal Lal Meena of Congress
76) Jayal -- Manju Devi of Congress
77) Jhadol -- Babu Lal of BJP
78) Jhalrapatan -- Vasundhara Raje of BJP
79) Jhotwara -- Lalchand Kataria of Congress
80) Jhunjhunu -- Brijendra Singh Ola of Congress
81) Jodhpur -- Manisha Panwar of Congress
82) Kaman -- Zahida Khan of Congress
83) Kapasan -- Arjun Lal Jingar of BJP
84) Karanpur -- Gurmeet Singh Kooner of Congress
85) Karauli -- Lakhan Singh of BSP
86) Kathumar -- Babulal of Congress
87) Kekri -- Raghu Sharma of Congress
88) Keshoraipatan -- Chandrakanta Meghwal of BJP
89) Khajuwala -- Govind Ram of Congress
90) Khandar -- Ashok of Congress
91) Khandela -- Mahadeo Singh (independent candidate)
92) Khanpur -- Narendra Nagar of BJP
93) Kherwara -- Dayaram Parmar of Congress
94) Khetri -- Jitendra Singh of Congress
95) Khinwsar -- Hanuman Beniwal of Rashtriya Loktantrik Party
96) Kishan pole -- Amin Kagzi of Congress
97) Kishanganj -- Nirmala Sahariya of Congress
98) Kishangarh -- Suresh Tak (independent candidate)
99) Kishangarh bas -- Deepchand of BJP
100) Kolayat -- Bhanwar Singh Bhati of Congress
101) Kota North -- Shanti Kumar Dhariwal of Congress
102) Kota South -- Sandeep Sharma of BJP
103) Kotputli -- Rajendra Singh Yadav of Congress
104) Kumbhalgarh -- Surendra Singh Rathore of BJP
105) Kushalgarh -- Ramila Khadiya (independent candidate)
106) Lachhmangarh -- Govind Singh Dotasara of Congress
107) Ladnun -- Mukesh Kumar Bhakar of Congress
108) Ladpura -- Kalpana Devi of BJP
109) Lalsot -- Parsadi Lal of Congress
110) Lohawat -- Kisana Ram Vishnoi of Congress
111) Luni -- Mahendra Vishnoi of Congress
112) Lunkaransar -- Sumit Godara of BJP
113) Mahuwa -- Om Prakash Hudla (independent candidate)
114) Makrana -- Roopa Ram of BJP
115) Malpura -- Kanhiya Lal of BJP
116) Malviya Nagar -- Kalicharan Saraf of BJP
117) Mandal -- Ramlal Jat of Congress
118) Mandalgarh -- Gopal Lal Sharma of BJP
119) Mandawa -- Narendra Kumar of BJP
120) Manohar thana -- Govind Prasad of BJP
121) Marwar junction -- Khushveer Singh (independent candidate)
122) Masuda -- Rakesh Pareek of Congress
123) Mavli -- Dharmnarayan Joshi of BJP
124) Merta -- Indira Devi of Rashtriya Loktantrik Party
125) Mundawar -- Manjeet Dharampal Choudhary of BJP
126) Nadbai -- Joginder Singh Awana of BSP
127) Nagar -- Wajib Ali of BSP
128) Nagaur -- Mohan Ram Choudhary of BJP
129) Nasirabad -- Ramswaroop Lamba of BJP
130) Nathdwara -- CP Joshi of Congress
131) Nawalgarh -- Rajkumar Sharma of Congress
132) Nawan -- Mahendra Choudhary of Congress
133) Neem ka Thana -- Suresh Modi of Congress
134) Nimbahera -- Anjana Udailal of Congress
135) Niwai -- Prashant Bairwa of Congress
136) Nohar -- Mukesh Kumar Bhakar of Congress
137) Nokha -- Biharilal of BJP
138) Osian -- Divya Maderna of Congress
139) Pachpadra -- Madan Prajapat of Congress
140) Pali -- Gyanchand Parakh of BJP
141) Parbatsar -- Ramniwas Gawriya of Congress
142) Phalodi -- Pabba Ram of BJP
143) Phulera -- Nirmal Kumawat of BJP
144) Pilani -- JP Chandelia of Congress
145) Pilibanga -- Dharmendra Kumar of BJP
146) Pindwara abu -- Dharmendra Kumar of BJP
147) Pipalda -- Ramnarain Meena of Congress
148) Pokaran -- Shale Mohammad of Congress
149) Pratapgarh -- Ramlal of Congress
150) Pushkar -- Suresh Singh Rawat of BJP
151) Raisingh Nagar -- Balveer Singh Luthra of BJP
152) Rajakhera -- Rohit Bohra of Congress
153) Rajgarh laxmangarh -- Johari Lal Meena of Congress
154) Rajsamand -- Kiran Maheshwari of BJP
155) Ramganj mandi -- Madan Dilawar of BJP
156) Raniwara -- Narayan Singh Dewal of BJP
157) Ratangarh -- Abhinesh Maharshi of BJP
158) Reodar -- Jagasi Ram of BJP
159) Sadulpur -- Krishna Poonia of Congress
160) Sadulshahar -- Jagdish Chander of Congress
161) Sagwara -- Ramprasad of Bhartiya Tribal Party
162) Sahara -- Kailash Chandra Trivedi of Congress
163) Salumber -- Amrit Lal Meena of BJP
164) Sanchore -- Sukhram Vishnoi of Congress
165) Sanganer -- Ashok Lahoty of BJP
166) Sangaria -- Gurdeep Singh of BJP
167) Sangod -- Bharat Singh Kundanpur of Congress
168) Sapotra -- Ramesh Chand Meena of Congress
169) Sardarpura -- Ashok Gehlot of Congress
170) Sardarshahar -- Bhanwarlal Sharma of Congress
171) Sawai Madhopur -- Danish Abrar of Congress
172) Shahpura -- Kailash Chandra Meghwal of BJP
173) Shahpura -- Kailash Chandra Meghwal of BJP
174) Sheo -- Ameen Khan of Congress
175) Shergarh -- Meena Kanwar of Congress
176) Shree Dungargarh -- Girdharilal of CPI(M)
177) Sikar -- Rajendra Pareek of Congress
178) Sikrai -- Mamta Bhupesh of Congress
179) Sirohi -- Sanyam Lodha (independent candidate)
180) Siwana -- Hameer Singh Bhayal of BJP
181) Sojat -- Shobha Chauhan of BJP
182) Soorsagar -- Suryakanta Vyas of BJP
183) Srimadhopur -- Deependra Singh of Congress
184) Sujangarh -- Master Bhanwarlal Meghwal of Congress
185) Sumerpur -- Joraram Kumawat of BJP
186) Surajgarh -- Subhash Poonia of BJP
187) Suratgarh -- Rampratap Kasniyan of BJP
188) Taranagar -- Narendra Budaniya of Congress
189) Thanagazi -- Kanti Prasad (independent candidate)
190) Tijara -- Sandeep Kumar of Bahujan Samaj Party
191) Todabhim - Prithviraj of Congress
192) Tonk -- Sachin Pilot of Congress
193) Udaipur -- Gulab Chand Kataria of BJP
194) Udaipur Rural -- Phool Singh Meena of BJP
195) Udaipurwati -- Rajendrasingh Gudha of Bahujan Samaj Party
196) Vallabh Nagar -- Gajendra Singh Shaktawat of Congress
197) Vidhyadhar Nagar -- Narpat Singh Rajvi of BJP
198) Viratnagar -- Indraj Singh Gurjar of Congress
199) Weir -- Bhajan Lal Jatav of Congress