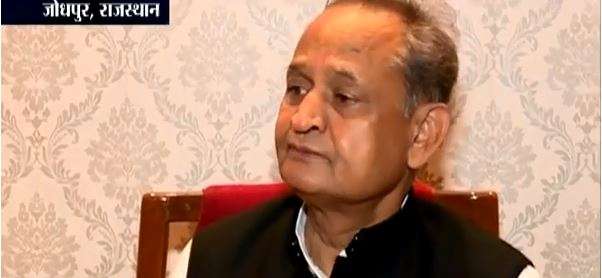 Former Chief Minister of Rajasthan Ashok Gehlot on Wednesday said that the country will see the magic of Congress party winning in the state. 
The legislative assembly elections in the state are scheduled to be held on 7 December. The polls will be held in a single phase. Counting of votes will take place on 11 December. In the last elections in 2013, BJP had won a majority.
"In the Rajasthan, the country will witness the magic of Congress party winning," he said in an interview to India TV.
Veteran Congress leader also attacked the present CM of the state.
"After becoming CM, Vasundhara Raje stopped all schemes of the previous Congress government. When we came to power, we had not stopped any schemes of the previous BJP government. There is a huge difference in the thinking between the Congress and the BJP."
He alleged that in 2014, an environment was created against the Manmohan Singh government. 
"In 2014, an environment was created via social media that Narendra Modi will bring down stars from the sky. Also, an atmosphere was created to defame the UPA government. PM Narendra Modi has failed on many fronts. Demonetisation turned black money into white," he stressed. 
Gehlot also praised the Congress president Rahul Gandhi.
"Under Rahul Gandhi, Congress party is fighting as one unit. He is a young leader and his politics is dedicated to the nation. He has a pro-poor and pro-farmer thinking," he said.
When he was asked that why the Congress party is not announcing the name of CM candidate in the state, Congress leader said, "After  Independence, till now, Congress party has never announced the names of chief minister candidates."
While talking about his role in the upcoming state polls Gehlot said, "In 1977, I had demanded a ticket for assembly polls from the party. I fought the election and lost. After that, I never asked anything from the party. Whatever party will decide for me, I will accept."
WATCH VIDEO: Ashok Gehlot targets Vasundhara Raje, says people in Rajasthan are not happy with her work