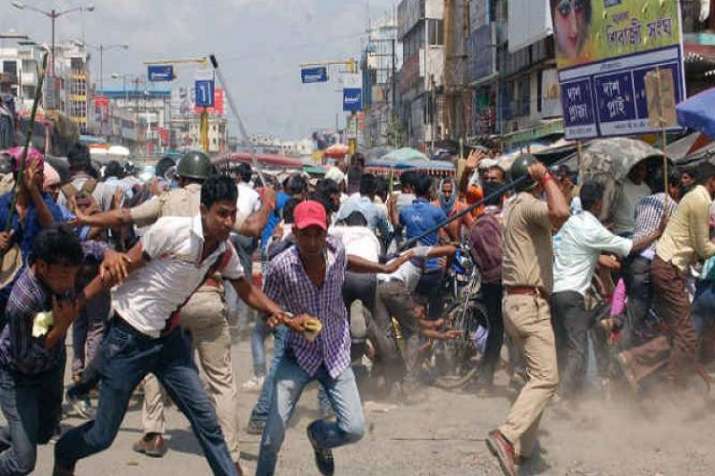 The West Bengal Communist Party of India (Marxist) and the Party of Democratic Socialism (PDS) on Tuesday said that they will move the High Court against the state government and the State Election Commission (SEC) for failing to conduct the recently concluded panchayat polls.
The court earlier ordered the West Bengal government and the SEC to make proper security arrangements to ensure the safety of the electorate and hold the election in a free and fair manner.
ALSO READ| West Bengal Panchayat Elections: Bombs and bullets overshadow ballots, leave 12 dead; 73% voter turnout recorded despite violence
"The SEC has failed to conduct the election in a proper manner. We highlighted the incidents of murder and vandalism on the polling day before the court. The court has asked us to file a petition with proper application. We will do that," the CPI-M counsel told reporters in Kolkata.
The PDS had also appealed before a Division Bench of High Court Chief Justice Jyotirmay Bhattacharya and Justice Arijit Banerjee to look into the incidents of violence across the state and said the bench asked them to submit a report on what took place.
"The state government and the SEC claimed before that court that they had made the necessary arrangements to ensure the security of the voters. But yesterday's (Monday) violence including murders, attacks, looting of ballot boxes at several places clearly show that the security arrangements were not adequate. We informed the Chief Justice about the same today. He listened to us and asked us to appeal before the bench with specific records of all the incidents," PDS General Secretary Samir Putatundu said.
The state BJP has, however, decided not to move court immediately but said it would be sending reports of attacks on its activists to the Prime Minister's Office (PMO).
"We are moving the court right now... Seventeen of our activists have died in Bengal during the election process. We are preparing a report to be sent to the PMO," state BJP chief Dilip Ghosh said.
Earlier on Monday, at least 13 people were killed and more than 50 were injured in widespread violence that swept across Bengal, centering the panchayat elections. Instances of violence such as bomb attack, booth capture, ballot boxes set on fire and attacks on journalists were reported from at least eight districts in the state.