Voting for 44 constituencies in West Bengal's fourth phase Assembly elections concluded on Saturday amid tight security. It was one of the most intense phases of the Bengal polls which witnessed violence at one of the polling stations in Cooch Behar, leaving 5 people dead. A total of 373 candidates across five districts - Cooch Behar, Alipurduar, South 24 Parganas, Howrah and Hooghly, were in the fray. Among the 44 constituencies, nine are in Howrah, 10 in Hooghly, 11 in South 24 Parganas, five in Alipurduar and nine in Cooch Behar. A total of 1,15,81,022 voters were eligible to participate in this phase, out of which 2,63,016 were first-time voters.
The smallest constituency is Bally with 1,76,001 electorates whereas Chunchura is the biggest constituency with 3,13,701 electorates. As many as 15,940 polling stations were used, including 12,361 main and 3,579 auxiliary stations.
West Bengal Elections 2021 Phase 4 | Highlights
07:00 pm: Polling ends for the fourth phase of West Bengal Assembly Elections 2021.
06:17 pm: One daughter of Bengal is attacking the other. If I broke the glass of my car myself then who broke the other two press vehicles? You all (media) were present there. Did press themselves break their own vehicles, asks BJP candidate from Chunchura, Locket Chatterjee.
05:40 pm: 75.93 per cent voter turnout has been recorded till 5:24 pm. Voting for the fourth phase of the State's Assembly elections is underway.
03:39 pm: 66.76 per cent voter turnout recorded till 3:39 pm.
02:19 pm: West Bengal: Sourav Ganguly today cast his vote at a polling booth in Barisha Shashibhusan Janakalyan Vidyapith, Behala, South 24 Paraganas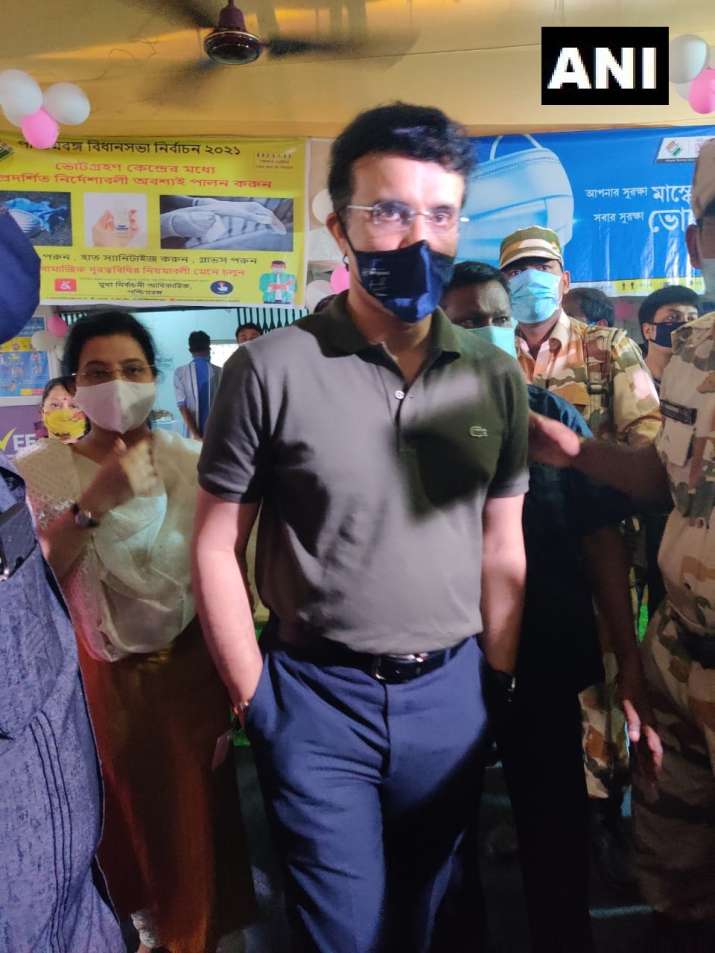 02:05 pm: A total of three people, including the main accused, arrested in connection with the incident where a Bihar Police official was beaten to death in Uttar Dinajpur of West Bengal
02:02 pm: West Bengal CM Mamata Banerjee to hold a protest rally in Cooch Behar tomorrow against today's firing incident in which four people died
01:49 pm: TMC to protest firing by CRPF at Sitalkuchi by wearing black badges on Sunday, says Mamata Banerjee at Baduria
01:46 pm: A delegation of Bharatiya Janata Party leaders to meet Election Commission in Kolkata today
01:42 pm: 52.89% voter turnout recorded till 1:37 pm
01:39 pm: Mamata Banerjee demands Union Home Minister's resignation over firing at Sitalkuchi, Cooch Behar
01:23 pm: The Election Commission has ordered the adjournment of polls at polling station number 126 in the Sitalkuchi Assembly constituency of West Bengal amid reports of violence. A spokesperson of the poll panel said the decision was based on an interim report filed by special observers. Detailed reports have been sought from them and the state Chief Electoral Officer by 5 pm
01:09 pm: West Bengal Chief Minister Mamata Banerjee to visit the spot in Cooch Behar tomorrow, where four people died today
12:54 pm: West Bengal: A five-member delegation of the All India Trinamool Congress will meet the Election Commission in Kolkata, today
12:38 pm: West Bengal CM Mamata Banerjee replies to Election Commission notice to her on her remarks on CAPFs. She states, "There has been no effort to incite/influence the electorate against CAPFs. It is clear I haven't violated Model Code of Conduct."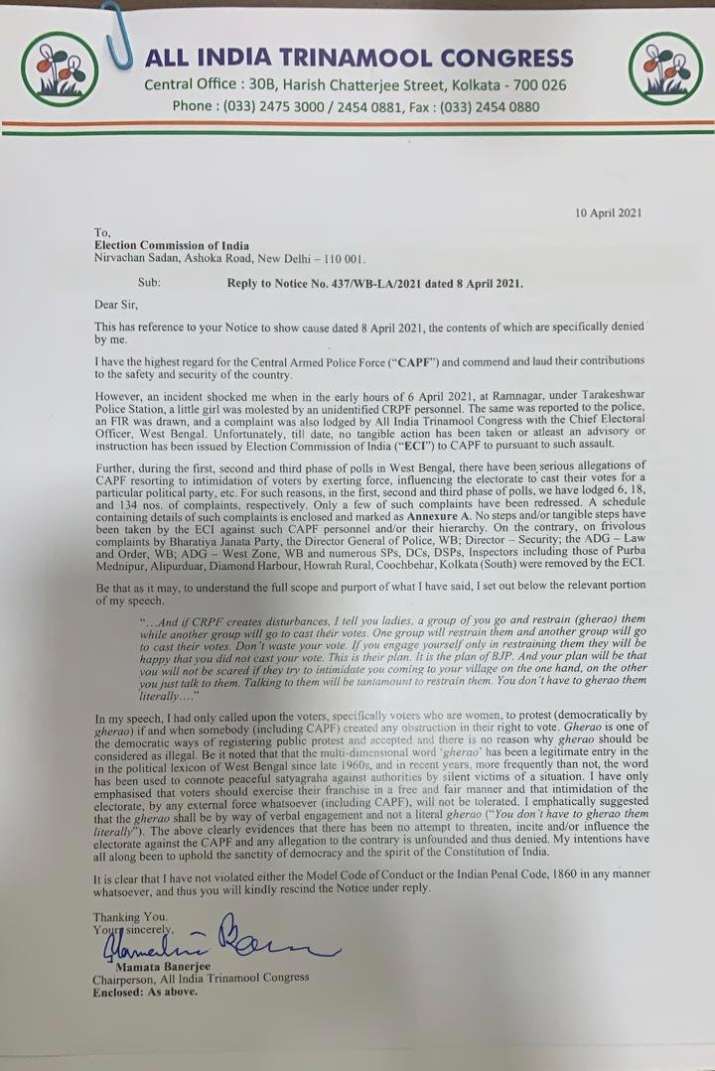 12:25 pm: 33.98 per cent voter turnout recorded till 11 am in 44 seats where polling is underway for fourth phase of West Bengal elections
12:01 pm: Four persons have been killed as CISF personnel allegedly opened fire after coming under attack from locals, who attempted to snatch their rifles, in West Bengal's Cooch Behar district. The incident took place in Sitalkuchi area when voting was underway, a senior police officer said.
11:56 am: Indian Secular Front chairman and candidate from Bhangar in South 24 Parganas district, Naushad Siddiqui and BJP candidate from the constituency, Soumi Hati greet each other
11:42 am: Bomb squad defuses country-made bombs found by police last night in Nanur, Birbhum district
11:25 am: 16.65% voter turnout recorded till 11:05 am
11:09 am: ITBP personnel, deployed on election duty, at polling booths in Rishra of Hooghly district help an elderly woman as she arrives to cast her vote for the fourth phase of West Bengal polls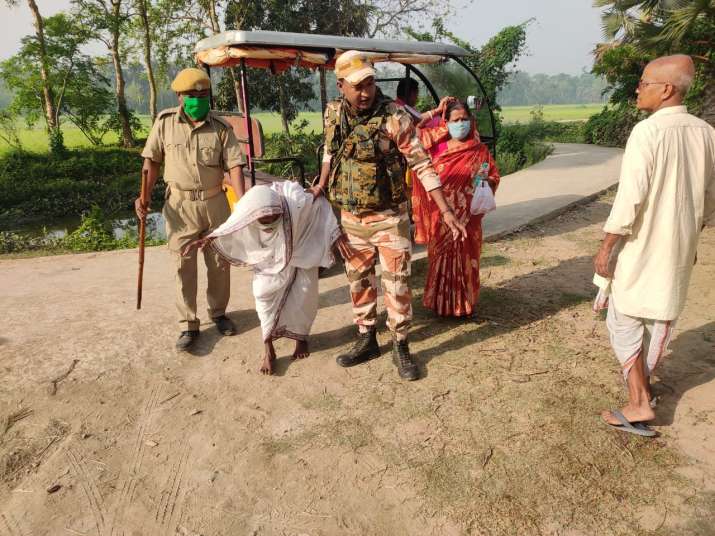 10:57 am: BJP leader Locket Chatterjee speaks to an Election Commission official over phone
10:39 am: First-time voter shot dead by unidentified persons outside a polling booth in West Bengal's Cooch Behar district. The Trinamool Congress alleged that the BJP was behind the killing, while the saffron party claimed that the deceased was its polling agent at the booth and pointed the accusing finger at the ruling party in the state. The youth, identified as Anand Burman, was dragged outside polling booth number 85 in the Pathantuli area of Sitalkuchi while voting was underway and shot dead
10:36 am: BJP leader Locket Chatterjee's car attacked by locals in Hooghly during West Bengal elections
10:21 am: WB: SHO of Kishanganj Police Station in Bihar, Ashwini Kumar beaten to death by a crowd in a village in Goalpokhar police station area of Uttar Dinajpur
10:04 am: Narendra Modi Ji is famous throughout the world. Prashant Kishor has done the work of putting the last nail in the coffin, finishing TMC: Coochbehar MP, Nisith Pramanik, West Bengal
09:59 am: Prashant Kishor's strategy will not work in Bengal, his strategy has failed. TMC has finished here. In Bengal, only Narendra Modi's strategy will work: BJP leader Rajib Banerjee, in Domjur
09:52 am: West Bengal elections: 15.85 per cent voter turnout recorded till 9 am in 44 seats where polling is underway for fourth phase
09:31 am: Prashant Kishor also knows that Modi Ji is the best and a 'sonar Bangla' will be made under his leadership. But to fool the people he got associated with TMC: BJP leader Locket Chatterjee, in Hoogly
09:22 am: Glad BJP's taking my clubhouse chat more seriously than the words of its leaders. On selective use of part of conversation, urge them to release full conversation: Prashant Kishor to ANI on leaked audio where he's saying "Modi, Mamata equally popular" among Bengal poll-related things
09:01 am: Clashes erupt between TMC and BJP workers in Cooch Behar
08:32 am: Security personnel helps woman voters get to the polling station in Alipurduar.
08:29 am: TMC candidate from Natabari constituency in Cooch Behar seen wearing a helmet.
08:13 am: Babul Supriyo helps BJP's polling agent to enter the booth
08:04 am: People stand in a queue outside Hatgacha Haridas Vidyapith (H.S), designated as a polling booth, in Bhangar of South 24 Parganas district
08:01 am: TMC writes to Election Commission alleging that "across several booths in Sitalkuchi, Natalbari, Tufanganj and Dinhata, BJP goons are creating a ruckus outside the booth and preventing TMC agents from entering the booth." TMC demands necessary actions from EC
07:49 am: Prime Minister Narendra Modi urges people to vote in record numbers. "As the 4th phase of the West Bengal elections begin, urging the people voting today to do so in record numbers. I would especially request the youth and women to vote in large numbers," tweets PM Modi
07:45 am: BJP candidate from Bhangar constituency in South 24 Parganas district, Soumi Hati casts her vote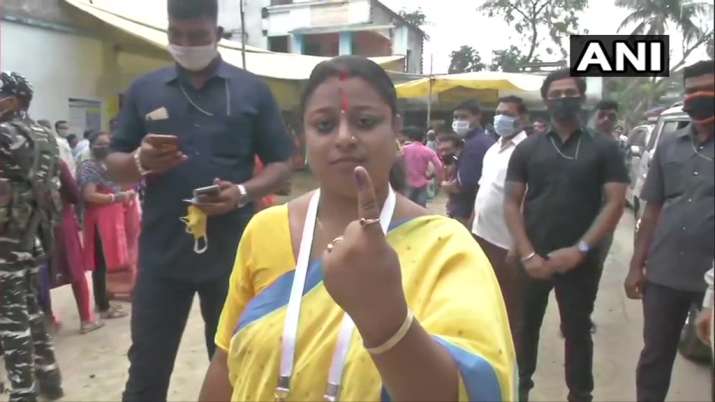 07:30 am: Voting process is underway
07:17 am: People queue up to cast their votes for the fourth phase of West Bengal elections 2021
7:00 am: Voting for the fourth phase begins on 44 seats across 5 districts
06:45 am: "I appeal to people to come to polling stations, cast votes," says  Payel Sarkar, BJP candidate from Behala East 
06:35 am: Voters queue up at polling station to cast their votes in Bhangar  constituency of South 24 Parganas
06:15 am: Election officials conduct mock poll at polling station in Alipurduar