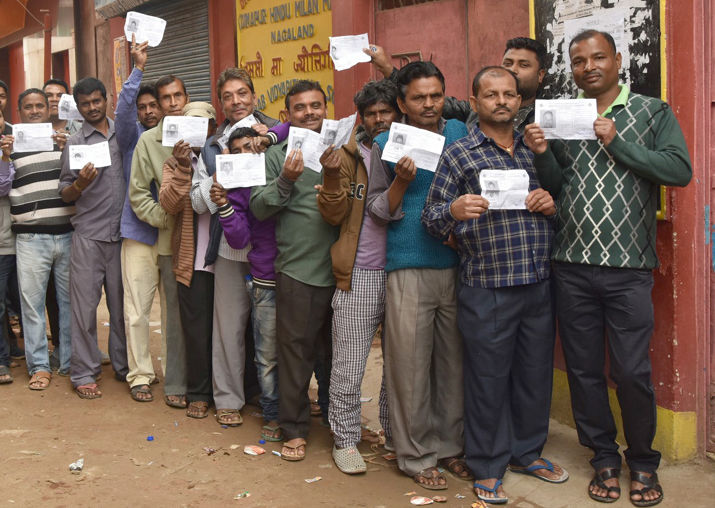 Counting of votes in Tripura, Meghalaya and Nagaland will be held on March 3. All three Assemblies have 60 seats each and the magic figure is 31.
In Tripura, elections were held on February 18. Over 92 per cent of state's 2,536,589 voters had exercised their franchise in peaceful elections, setting a new record in the electoral history of India.
In the 2013 and 2008 assembly polls, Tripura had registered 92 per cent and 91 per cent voting, respectively.
In Nagaland, where polling was held on February 27, over 75 per cent voting was recorded. In Meghalaya, 67 per cent of the 18.9 lakh voters exercised their franchise.
Elections in Meghalaya and Nagaland were held simultaneously.
While voting was peaceful in Meghalaya, a clash erupted between supporters of the ruling Naga People's Front and the BJP in Zunheboto district of Nagaland in which one person was shot dead and two persons injured. 
In 2013 Assembly elections, the total turnout in Nagaland was 90.57 per cent. 
In the 2013 elections, the total turnout in Meghalaya was 89 per cent.
While the tenure of Left-ruled Tripura Assembly ends on March 14, the tenure of Nagaland and Meghalaya Assemblies will end on March 13 and 6, respectively.
According to exit polls, the BJP and its allies are likely to outperform incumbent governments in Meghalaya and Nagaland whereas in Tripura, the CPI(M) is facing a tough fight from the saffron party.