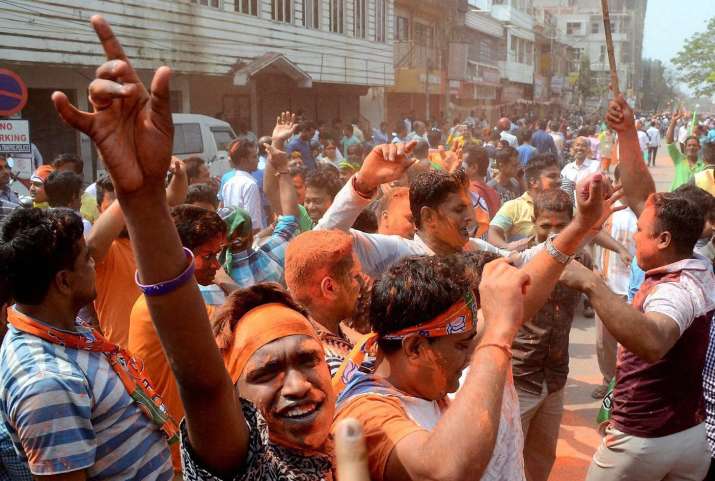 Bharatiya Janata Party on Saturday created history by leading on majority seats in the Left bastion Tripura. From one per cent votes two years ago, the Modi wave and Amit Shah magic pushed state BJP to lead comfortably on over two-third seats and dethrone Communist Party of India - Marxist (CPIM) after 25 years of rule.  (Follow full coverage on counting 3 North East states on India TV)
The BJP was leading in 32 seats while its ally Indigenous People's Front of Tripura (IPFT) was ahead in seven seats and secured victory on one. The ruling CPIM was ahead in 19 seats, according to the trends available. (Check constituency-wise result of Tripura Assembly here)
According to Election Commission data, Congress, which was the main opposition party in the state for 25 years, had managed to gain only 1.8 per cent vote share (31717) so far. 
LIVE Updates on Tripura Assembly Election Results 2018
The party credited the favourable results in Tripura to Prime Minister Narendra Modi and people of the state's desire for change.
"The prime minister had addressed four rallies in Tripura. He had worked very hard and continuously monitored our campaigning. The credit must go to him," BJP general secretary Ram Madhav said at a press conference today. 
He said people of Tripura has also positively responded to the BJP's call for defeating the CPI-M-led government, which has been ruling the state for more than two decades. 
Also read | Here's why Congress faces massive defeat in this northeast state
"People responded very well to our call 'Chalo Paltai' (Let's Change)," he said. The BJP leader also praised the CPI-M for its "spirited fight" during the election and said but the people wanted a new government. 
Elections in 59 seats, out of the 60-member Tripura Assembly, were held on February 18. The election in one seat was countermanded due to the death of the CPI-M candidate. 
In Nagaland, BJP-NDPP alliance remained in a close battle with ruling NPF, each leading on 27/28 alternatively. Congress failed to open an account in Nagaland as well. Only state Congress faired well was Meghalaya where it led on 20 seats in a 60 seat assembly. BJP was ahead just 2 while regional party NPP was leading on 19 seats till 1.20 pm.
(With inputs from PTI)