Follow us on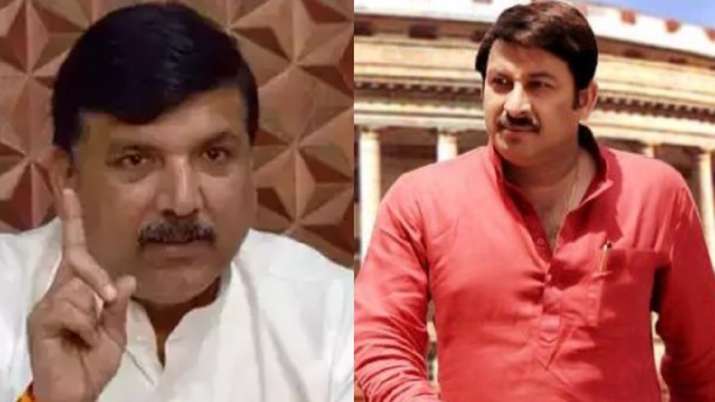 As polling in the Delhi assembly election is underway, AAP MP Sanjay Singh has hit out at the BJP saying even the God can't save party after its Delhi chief Manoj Tiwari's comment on incumbent chief minister Kejriwal's temple visit on election eve.
Amid the Delhi election heat, BJP's Manoj Tiwari took a jibe at Kejriwal over him visiting a temple in the national capital on election eve saying, "Did he (Kejriwal) go to offer prayers or to impure the Lord Hanumanji, questioning that he was taking his shoe off from one hand and offering prayers with the same... what did he do? When fake worshipers come, this is what happens. I asked the temple priest... he had to clean Hanumanji a lot of times."
Responding to BJP leader's charge, AAP leader Sanjay Singh accused the BJP of having such untouchable thoughts for a chief minister. Nothing can stoop below this level... you (BJP) are still living in an era where Dalits are not allowed to offer prayers in a temple... Even Lord Ram also can't save the BJP."
Voter turnout mounts as the day progresses
Delhi recorded 14.75 per cent voter turnout in the first three hours of polling on Saturday with long queues of voters being seen outside many booths as the day progressed.
Over 1.47 crore people are eligible to exercise their franchise in the polls that will decide the fate of 672 candidates in 70 assembly constituencies which are seeing a triangular contest among the ruling Aam Aadmi Party (AAP), opposition BJP and the Congress.
Poll officials said 14.75 per cent votes were cast in the first three hours of voting, which began at 8 am.
Polling will end at 6 pm, an official said.
Former vice president Hamid Ansari and BJP national secretary Ram Lal were among those who queued up outside the Nirman Bhavan polling station in the first hour of voting.
Chief Minister and AAP national convener Arvind Kejriwal, who is eyeing to repeat his party's 2015 assembly performance, voted at the Rajpur Transport Authority polling station in the Civil Lines area.
Kejriwal, who is contesting the polls from the New Delhi seat, was accompanied by his wife Sunita and son Pulkit. Before leaving for voting, he sought his parents blessings.
Minutes before polling began, Kejriwal tweeted, "Please go to cast vote. A special appeal to all the women - As your shoulder the responsibility at home, likewise, the responsibility of the country and Delhi is on your shoulders."
Union Home Minister Amit Shah, who led a very aggressive campaign and covered 60 assembly seats, appealed to voters to "free" the national capital from lies and vote-bank politics.
"By giving Delhi clean air, clean drinking water and every poor house, only the best capital of the world can make it a government with far-sighted thinking and strong intentions.
"I appeal to the people of Delhi to vote to free Delhi from lies and vote bank politics," Shah tweeted.
ALSO READ: Delhi votes today | Live updates
ALSO READ: Congress' Alka Lamba tries to slap Aam Admi Party worker | Watch