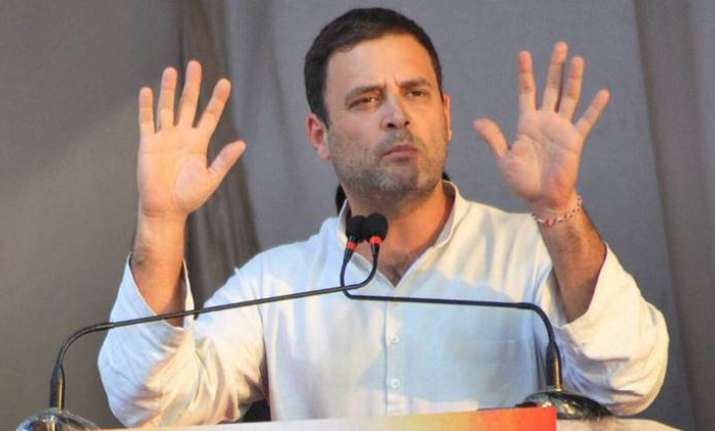 Congress president Rahul Gandhi on Tuesday charged that RSS was behind the policies and programmes of the NDA government, especially demonetisation. The Gandhi scion, who was interacting with professionals and the business community at the end of his four-day campaign in poll-bound Karnataka, said that NDA ministers were not operating independently as RSS men were planted in each ministry.
"In every single ministry in India, at the national level there is an OSD from RSS working with the minister...In every ministry in India there is a man from RSS who works with the minister. The minister is not operating on his own," Gandhi said.
"The approach is of capture, the approach here is an institution and let us capture it; as opposed to allowing an institution to serve the people of India and allowing the people of India to capture the institution," Gandhi added.
Gandhi further added that demonetisation idea originated from an RSS ideologue who had placed the idea into the prime minister's mind. "Do you know where the idea of note bandi (note ban) came from? Do you know who gave the idea of note bandi to the prime minister of India" It was not RBI, it was not Arun Jaitley (Finance Minister), it was not an officer in the Finance Ministry," the Gandhi scion said.
"It was a particular ideologue of the RSS. Now you imagine the RSS places an idea into the prime minister's mind and the prime minister launches that idea," he said.
He added that even a child would say it was not a good idea to "destroy" Rs 500 and Rs 1000 notes that allowed corrupt to convert their black money into white. But BJP and RSS who think only they know everything were taking such "disastrous decisions."
Gandhi, who has been targeting the Modi government on Goods and Services Tax (GST) and termed it "Gabbar Singh Tax", said if his party was voted to power at the Centre, it would reform the current GST and simplify it by trying to make it a single-slab tax and cap it at a "decent" level. He said that a "huge amount" of confusion related to GST would also be removed.