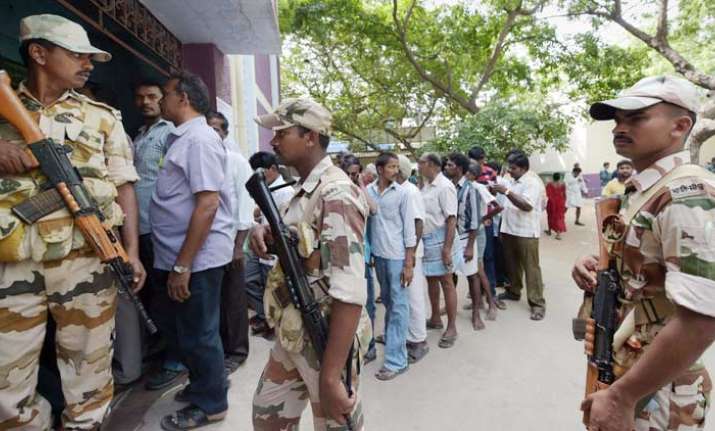 Voting is underway in Tamil Nadu's RK Nagar constituency, which fell vacant after the death of J Jayalalithaa. AIADMK presidium chairman E Madhusudhanan, opposition DMK's M Maruthuganesh and sidelined TTV Dhinakaran are locked in a triangular contest for the seat.
The bypoll has been dubbed as a report card of the 17-month-old AIADMK government, which itself underwent a tumultuous phase dominated by a rebellion and patch-up involving AIADMK coordinator O Panneerselvam. 
It is the first election being held in the 'post Jayalalithaa era', and necessitated following her death last December. 
Here are the highlights on RK Nagar bypoll voting: 
04:20 pm: 
Chennai: 57.16% voting in #RKNagarByPoll till 3 p.m.

— ANI (@ANI) December 21, 2017
2:00 pm: 41.6% polling registered till 1pm. This polling percentage is for 174 polling stations. Polling continues in 258 booths in RK Nagar.
12:00 pm: 23.74% voter turnout in 166 booths till 11am: CEO Rajesh Lakhoni
10:35 am: TTV Dhinakaran, contesting as an independent candidate, refutes BJP's allegation of bribing voters; says "people trust me, they are with me"
10:10 am: AIADMK candidate E. Madhusudhanan cast his vote, says "God and Amma's grace is with us" 
9:00 am: After one hour of voting, the polling percentage in RK Nagar is 7.32%, according to inputs from 173 booths, says Tamil Nadu Chief Electoral Officer Rajesh Lakhoni. All webcast 258 booths and 50 locations connected and working, says District Electoral Officer D. Karthikeyan.
8:23 am: "We will ensure free and fair elections, today. Have deployed additional forces" says Chennai City Police Commissioner A.K. Viswanathan
8:12 am: DMK candidate N Marudhu Ganesh cast his vote at polling booth no. 134 in Chennai, says "whether it is Rs 6000 or Rs 60,000, we are going to win; voters of RK Nagar will teach a lesson to AIADMK this time"
#TamilNadu People queue up to vote in the #RKNagarByPoll in Chennai; visuals from a polling booth set up at Chennai Girls Higher Secondary School in Tiruvottiyur pic.twitter.com/XATxJpgYIq

— ANI (@ANI) December 21, 2017
8:05 am: BJP candidate Karu Nagarajan arrives at a polling booth in Chennai to cast his vote in the RK Nagar bypoll
​Also read: Campaigning ends for RK Nagar by-poll in Tamil Nadu
8:03 am: DMK candidate N. Marudhu Ganesh reaches polling booth no. 134 in Chennai to cast his vote
8:00 am: Polling begins for RK Nagar Bypoll in Chennai, TamilNadu
7:55 am: ​Elaborate security arrangements have been made with around 15 companies of para-military forces and over 2,500 security personnel and several closed circuit television cameras, flying squads and static surveillance teams being deployed.
7:52 am: Over two lakh voters are eligible to decide the fate of 59 candidates in one of the smallest constituencies in Tamil Nadu.
7:50 am: The election to RK Nagar constituency has been delayed for a myriad of reason and on Wednesday a video of Jayalalithaa in hospital, released by a supporter of Dhinakaran, threatened to push it further. But the Election Commission ruled against it, directing the media houses to abstain from publishing or broadcasting the video. 
7:45 am: AIADMK coordinator O Panneerselvam and co-coordinator K Palaniswami, DMK working president M K Stalin and Dhinakaran had hit a blazing campaign trail to ensure victory for their respective candidates. 
7:40 am: Chief Minister K Palaniswami and deputy Chief Minister O Pannerselvam urged voters to elect Madhusudhnanan to take forward the work initiated by Jayalalithaa.  In a joint statement, the leaders recalled that the late leader served people with a "motherly" attitude and that she had many plans for the constituency as its MLA.  
Also read: Jayalalithaa's hospital video 'politicised to lowest level', says DMK leader Stalin
7:35 am: People of RK Nagar were aware of her developmental work for the constituency, which was being taken forward by the ruling AIADMK, they said, while pointing out that this was the first hustings faced by AIADMK in her absence.  "Madhusudhanan will aid the government in implementing every other welfare measure with the blessings of Amma", they added. Jayalalithaa is addressed as Amma, meaning mother in Tamil, by her supporters. 
7:30 am: Stalin, on his part, vowed to unravel the 'mystery' behind the late AIADMK supremo's demise and assured to put behind bars those 'found responsible' for her death in the event of DMK coming to power. 
7:25 am: The campaign saw old rivals Stalin and MDMK founder Vaiko share the stage for the first time in many years. The opposition is putting up a united show in a bid to snatch victory in this city segment. There were also allegations of money distribution, with DMK levelling charges against the ruling AIADMK.
Also read: DMK leader Stalin vows to unravel 'mystery' behind Jayalalithaa's death
7:20 am: Many opposition parties, including the Congress, Viduthalai Chiruthaigal Katchi (VCK) and the Left have backed DMK candidate N Maruthu Ganesh.  
7:15 am: Dhinakaran, who fell out of favour with Palaniswami and also lost the battle for the party's 'Two Leaves' symbol to the latter, is fighting as an independent and has expressed confidence that he can spring a surprise against the AIADMK's E Madhusudhanan, as well as the DMK.  With 59 candidates in the fray, the bypoll is virtually confined to old warhorse Madhusudhanan, DMK's greenhorn Maruthu Ganesh and Dhinakaran.
7:10 am: Meanwhile, elections are also being held today in Uttar Pradesh's Sikandra Assembly constituency, Pakke-Kasang and Likbali in Arunachal Pradesh and Sabang in West Bengal. The counting of votes in all bypolls will be held on December 24.