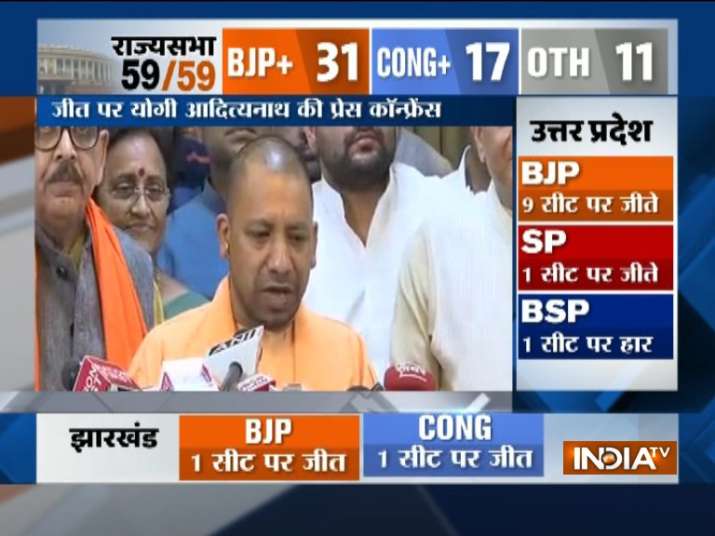 Counting of votes for 26 Rajya Sabha seats in seven states including crucial Uttar Pradesh ended late on Friday. States where counting was held are: Uttar Pradesh, West Bengal, Karnataka, Jharkhand, Chhattisgarh, Kerala and Telangana.
For 59 Rajya Sabha seats, 33 candidates from 10 states were already declared elected unopposed on March 15.
Prominent candidates in the fray included Finance Minister Arun Jaitley (from Uttar Pradesh), Union Law Minister Ravi Shankar Prasad (from Bihar) and Union Minister of Health and Family Welfare JP Nadda (from Himachal Pradesh).
Suspense continued on the 10th seat in Uttar Pradesh till the very last moment before it was declared that the BJP candidate emerged victorious clinching the ninth seat for BJP. 
Rajya Sabha Elections 2018: As it happened 
11:04 pm: Central leadership congratulates all the nine candidates, says Piyush Goyal
11:02 pm: Have performed well here, next destination is Karnataka, says Piyush Goyal
11:00 pm: Once again SP-BSP stand exposed before the people of Uttar Pradesh as an 'opportunistic' alliance: Yogi Adityanath
10:58 pm: CM Yogi addresses the media with Piyush Goyal.
10:50 pm: Celebrations break out at BJP Office in Lucknow. CM Yogi Adityanath, Piyush Goyal and other ministers present.
10:45 pm: Uttar Pradesh Chief Minister Yogi Adityanath to address a press conference shortly.
10:40 pm: Congratulations to all those elected to the Rajya Sabha from various states and best wishes for their Parliamentary career. I hope they effectively voice the aspirations of the states they will represent: PM Modi
10:20 pm: This is the victory of democracy & it is for the welfare of Uttar Pradesh: Mahendra Nath Pandey, BJP State President on Rajya Sabha Elections result
10:07 pm: With this, the BJP has won 9 seats, while SP's Jaya Bachchan managed to get one seat
10:05 pm: BJP's Anil Agarwal wins 10th seat in Uttar Pradesh giving a massive jolt to SP-BSP. 
9: 53 pm: BJP wins 8 seats, SP gets one seat, counting in progress for 10th seat
9:52 pm: BJP's Anil Agrawal gets 16 first preference votes, he also gets over 300 votes of second preference
9: 51 pm: SP's Jaya Bachchan wins with 38 votes, suspense continues over 10th seat in UP
8:37 pm: I am very happy to have received the maximum number of votes. Happy with the trust shown in me. It is an honor for me to serve Karnataka & serve my city Bengaluru: Rajeev Chandrashekhar, BJP after winning Rajya Sabha Elections from Karnataka
8:36 pm: It is an important responsibility. We'll take up debates & discussions very seriously. We'll live up to expectation of national & state leadership. We'll also live up to the expectations of people of state: Naseer Hussain, Congress after winning Rajya Sabha Election from Karnataka
8:35 pm: In Karnataka, Congress alliance wins 3 seats seats, BJP gets one
8:30 pm: BJP, Congress win one seat each in Jharkhand
8:13 pm: Two votes, one each from BJP and BSP,  found invalid in UP, according to sources.
8:02 pm: Amid reports of cross-voting from members of both ruling BJP and opposition parties, suspense continues for 10th seat of UP.
8:00 pm: Arun Jaitley wins from UP with maximum 39 votes
7:35 pm: TRS bags 3 seats in Telangana
7:30 pm: TMC bags 4 seats in West Bengal
7:24 pm: It is humbling and uplifting, it is a result of cooperation between different groups and MLAs: Abhishek Manu Singhvi
7:22 pm: Congress candidate  Abhishek Manu Singhvi wins Rajya Sabha elections from West Bengal
7:08 pm: Counting of votes begins in UP
6:35 pm: Counting of votes has not started as yet because Janata Dal had complained to EC about some discrepancy. Janata Dal has boycotted the voting now, so that will also enhance our chances of victory: G. Parameshwara, Karnataka Congress
6:28 pm: SP and BSP demand from Election Commission to declare votes of BJP's Nitin Agrawal and BSP's Anil Singh invalid alleging that they did not show their ballot paper to the polling agent. 
6:24 pm: ECI has received a complaint from Jharkhand Vikas Morcha for cancellation of vote of Prakash Ram, who cross- voted. Further view will be taken by the Commission after receiving Returning Officer's report: Election Commission of India
6 pm: BJP's Saroj Pandey wins from Chhattisgarh by beating Congress' Lekhram Sahu
5:54 pm: Uttar Pradesh- Election Commission has not given permission to begin the counting of votes for Rajya Sabha election due to some objections in ballot papers. Counting to begin only after EC gives clearance.
5:45 pm: Counting of votes yet to begin in Lucknow 
#UttarPradesh: Election Commission has not given permission to begin the counting of votes for Rajya Sabha election due to some objections in ballot papers. Counting to begin only after EC gives clearance.

— ANI UP (@ANINewsUP) March 23, 2018
# JD(S) boycotts poll, alleges Congress was favoured by the Returning Officer. It claimed that two Congress MLAs cross voted for BJP.
5 pm: Counting begins.
4 pm: Polling ends. Counting to be taken up at 5 pm
1 pm: UP: Raja Bhaiyya announces he is with Akhilesh Yadav. "I will definitely vote. I will vote for Samajwadi Party candidate (Jaya Bachchan). My vote is with Akhilesh Yadav. I don't support the BSP."
# UP: Sources say that the BJP may refrain two of its MLAs from from voting. If done, this would bring the required number of votes for getting elected to 36 for each candidate, thus dampening the chances of BSP getting its nominee elected to the Upper House.
12:01 pm: In a jolt to the Bahujan Samaj Party (BSP), its legislator Anil Singh voted for BJP candidates in the Rajya Sabha polls.
11:39 am: Independent MLA Amanmani Tripathi votes for the BJP. Tripathi was among others who had attended BJP's meeting on the eve of Rajya Sabha polls.
11:15 am:  Yashwant Singh, who had relinquished his UP Council membership from Samajwadi Party to vacate the seat for CM Yogi Adityanath, may be inducted into Council of Ministers. Singh is a confidant of Raja Bhaiyya. Raja Bhaiyya is a sitting MLA from Kunda Assembly seat in Pratapgarh district.
न मैं बदला हूँ, न मेरी राजनैतिक विचारधारा बदली है, 'मैं अखिलेश जी के साथ हूँ,' का ये अर्थ बिल्कुल नहीं कि मैं बसपा के साथ हूँ।

— Raja Bhaiya (@Raghuraj_Bhadri) March 23, 2018
10:34 am: BSP MLA Anil Singh says 'I have voted for BJP in Rajya Sabha elections, I don't know about the rest' .
Voting underway at Vidhan Soudha in Bengaluru for four #RajyaSabha seats from #Karnataka pic.twitter.com/dwKsAPwwDc

— ANI (@ANI) March 23, 2018
10:00 am: UP Deputy Chief Minister Keshav Prasad Maurya says 'BJP will win all the nine Rajya Sabha seats where we have fielded our candidates. Nine more BJP candidates will make entry to Rajya Sabha from Uttar Pradesh this time.' 
09:52 am: There will be no cross-voting, but yes BJP MLAs will cross-vote in our favour, says Samajwadi Party's Ram Gopal Yadav 
09:19 am: Vijay Mishra (Nishad Party MLA) and Anil Singh (BSP MLA) were present there (yesterday's meeting of BJP and its allies), which confirms their support: OP Rajbhar, UP Minister on Rajya Sabha elections 
09:00 am: Voting begins for 26 Rajya Sabha seats.
08:49 am: Samajwadi Party candidate Jaya Bachchan and BSP candidate Bhim Rao Ambedkar whom we are supporting will win the Rajya Sabha elections. Considering BJP's condition I'd say that its own MLAs are annoyed and some of them may even end up siding with the opposition, says Samajwadi Party's Rajendra Chaudhary
08:30 am: In Uttar Pradesh, BJP is virtually assured of 8 of the 10 seats amid suspense whether it can snatch an extra seat in the light of the newfound bonhomie between former arch rivals Samajwadi Party and Bahujan Samaj Party. 
08:20 am: Besides Finance Minister Arun Jaitley, the others in the fray are Ashok Bajpai, Vijay Pal Singh Tomar, Sakal Deep Rajbhar, Kanta Kardam, Anil Jain, Harnath Singh Yadav, GVL Narasimha Rao and Anil Kumar Agarwal. 
ALSO READ | Rajya Sabha polls 2018: 50% candidates have already won, here's the list
08:17 am: The Samajwadi Party has fielded Jaya Bachchan and the BSP Bhimrao Ambedkar. With 19 MLAs, the BSP is short of 18 first preference votes and with Naresh Agarwal's son Nitin, who is still an SP MLA, likely to cross-vote for the BJP, the task will become difficult for the candidate of the Mayawati-led party. 
08:15 am: The Allahabad High Court on Friday barred jailed Bahujan Samaj Party (BSP) leader Mukhtar Ansari from voting in the Rajya Sabha elections.
08:12 am:  Uttar Pradesh, the country's most populous state sends 31 MPs to the 245-member Rajya Sabha, and the BJP, which won a massive victory in the 2017 Assembly elections, is yet to get a lion's share of these. Presently, the BJP has 58 Rajya Sabha MPs. 
08:02 am: The BJP has filed 18 candidates for the biennial polls which include BJP's media wing national head Anil Baluni from Uttarakhand and BJP general secretary from Chhattisgarh, Saroj Pandey.
07:56 am: A bypoll will also be held for one seat in Kerala where M P Veerendra Kumar, the Left-backed candidate of Sharad Yadav faction of the JD(U), is pitted against Babu Prasad of the Congress. 
07:51 am: In Karnataka, five candidates are in the electoral arena for four seats. The state's ruling Congress has fielded three nominees, while there are one each of the BJP and JD(S). 
07:42 am: Polls will also be held for two seats in Jharkhand where three candidates are in the fray, including two of the state's ruling BJP and one of the Congress. 
07:36 am: In West Bengal, altogether six candidates, including Congress nominee Abhisek Manu Singhvi, are in the fray for the five Rajya Sabha seats. As per reports, the state's ruling Trinamool Congress has decided to back the eminent lawyer. 
07:33 am: Five candidates are in the fray in Karnataka for four seats. The state's ruling Congress has fielded three nominees, while there are one each of the BJP and JD(S). 
07:24 am: For the lone Chhattisgarh Rajya Sabha seat, one candidate each of the ruling BJP and main opposition Congress will cross swords.
07:19 am: Four candidates will try their luck from Telangana where polling will be held for three seats. 
07:18 am: The Rajya Sabha vacancies next month include 17 from BJP and 12 from the Congress.
07:14 am: Actor Rekha, cricketer Sachin Tendulkar, and social worker Anu Aga, the three nominated members will retire in April.
07:13 am: The BJP has also fielded Union Petroleum and Natural Gas Minister Dharmendra Pradhan and Union Social Justice and Empowerment Minister Thawar Chand Gehlot from Madhya Pradesh for another Rajya Sabha term.
07:02 am: Union Minister of State for Road Transport and Highways Mansukh L. Mandaviya and Minister of State for Agriculture and Farmers Welfare Parshottam Rupala will contest from Gujarat.