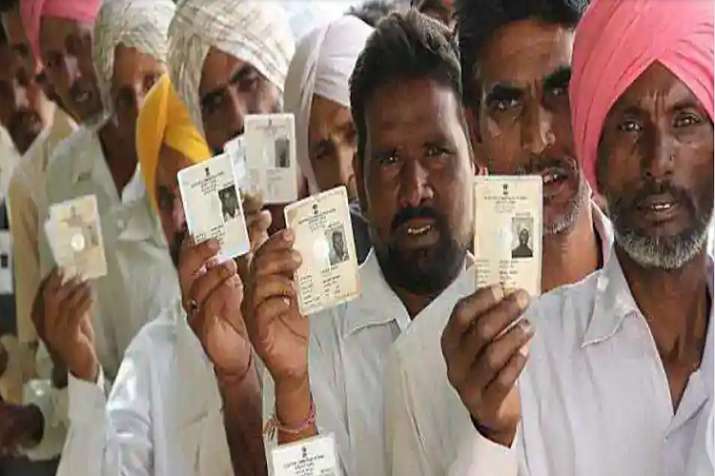 The counting of votes for the Punjab zila parishad and panchayat samitis is underway. Elaborate security arrangements have been made by the Jalandhar administration at 11 counting centres set up across the district. More than 900 police personnel have been deployed at the counting centres to avoid any kind of untoward incidents.
Polling to the zila parishads and panchayat samitis were held on Wednesday. A total of 354 zila parishad members and 2,900 panchayat samiti members are going to be elected in these polls. There are 22 zila parishads and 150 panchayat samitis in the state.
There are a total of 1,27,87,395 registered voters, comprising 60,99,053 women and 97 third-gender voters.
Out of 113 Zila Parishad seats—out of a total of 354 -- for which results have been declared, the Congress won 106, the BJP-Akali combine six and independents won one. The Aam Adami Party had not won a single seat.
Among prominent winners were former Shiromani Gurdwara Prabandhak Committee President Bibi Jagjir Kaur's daughter Ranjit Kaur; Housing Minister Tript Rajinder Singh Bajwa's son Ravi Nandan Singh Bajwa; Congress legislator Ramanjit Sikki's son-in-law Maninderjit Singh Mani; and former Congress legislator Kawaljit Singh Lally's son Mehtab Singh.
In Patiala, the home constituency of Chief Minister Amarinder Singh, the Congress has won 43 Panchayat Samiti seats and the Shiromani Akali Dal four.
The Akalis suffered a humiliating defeat in their home turf Muktsar as the Congress won 10 of the 13 Zila Parishad zones.
All six Zila Parishad seats in Ludhiana were won by the Congress.
The Congress won a majority in Gurdaspur by securing 154 of the total 213 Panchayat Samiti zones. In Zila Parishad, the Congress won 15 of the 25 seats and was leading in the remaining seats.
Out of the total 148 seats of the Panchayat Samiti in Bathinda, the Congress won 31, Akalis four and the AAP and independents three each. The counting for 107 seats is on.
HERE ARE THE LIVE UPDATES OF THE PUNJAB ZILA PARISHAD, PANCHAYAT SAMITI ELECTIONS
9:45 pm- Congress wins all six Zila Parishad seats in Ludhiana
9:40 pm- Congress wins 10 of the 13 Zila Parishad zones in Muktsar
9:35 pm- In Patiala, Congress wins 43 Panchayat Samiti seats, SAD wins 4 seats
9:30 pm- Congress wins 106 of 113 Zila Parishad seats (Out of a total of 354 seats) for which results have been declared. SAD-BJP combine wins 6, AAP wins 1 seat, independent 1.
06:10 pm: Congress wins 8 out of 10 seats of Zila Parishad. Counting underway in remaining 2 seats
06:05 pm: In Patiala Panchayat Samiti, Congress has won 91 out of 99 seats for which results have been declared. SAD has won 7 seats.
06:00 pm: Congress has won 43 of 75 seats of Amritsar  Zila Parishad. SAD has won 31 seats while BJP has emerged victorious in 1 seat. 
2:05 pm: Till now, Congress party has bagged 624 Block Samiti seats in Punjab while Akali Dal won 70. Counting underway
1:00 pm: Of the total 354 Zilla Parishad Seats, Congress won 46 and SAD 4.
12:50 pm: Congress registers victory on all 25 zones of Gurdaspur Block Samiti.
11:40 am: Congress leading from 360 out of 2972 panchayat block zamitis
11:30 am: In Patiala, Congress wins four panchayat samiti seats, SAD bags one
10:44 am: Akali Dal's Tejinder Singh wins Fatehabad Block Samiti seat from Tarn Taran. Counting underway.
10:40 am: Of the total 27 seats in Ludhiana Zone 1, Congress leading on 19. Counting underway.
10:33 am: Congress takes lead on 10 seats in Khanna block samiti. Counting underway.
10:15 am: SAD candidate Harvinder Kaur wins Bahidhali Zone 1 in Morinda.
10:12 am: Akali candidate Satnam Singh wins Nadala Block Samiti Zone 1 seat in Kapurthala district.
10:10 am: Of the total 25 seats in Jagraon, Congress leading in 18. Counting of votes going on.
08:50 am: Shiromani Akali Dal (SAD) president Sukhbir Singh Badal paid a visit to Golden Temple in Amritsar. Talking to reporters after offering prayers, Badal hit out at ruling Congress and Aam Aadmi Party. The SAD chief also accused Congress of booth capturing.
08:44 am:  10 counting centres have been set up in Mukhtsar for counting of votes. A total of 354 people will be elected to Zila Parishads, while 2,900 to Panchayat Samitis.
08:40 am: Elaborate security arrangements have been made at the counting centres.People with passes, Identity Cards are only allowed inside the premises.
The main contest is between the ruling party and the Sukhbir Singh Badal-led Shiromani Akali Dal (SAD) and Bharatiya Janata Party (BJP) alliance.
Former Deputy chief minister and some Akali workers were booked on the complaint of a Congress worker who alleged he was thrashed at Killianwali village in Muktsar district on Wednesday, police said.
Opposition Akali Dal, meanwhile, accused the Congress of resorting to "booth capturing, bogus voting and using muscle power", charges denied by the state's ruling party which claimed the polling was "free and fair". 
An average 58.10 per cent voting was witnessed during the polls, a spokesman of Punjab State Election Office said. The highest polling of 71.66 per cent was observed in Mansa district while the lowest was in Tarn Taran at 43.77 per cent, he said.
Among other places, voting percentage in Amritsar, Ludhiana, Muktsar, Bathinda was 52, 57, 58 and 55 per cent respectively, the official said. A total of 354 zila parishad members and 2,900 panchayat samiti members will be elected in these polls, officials said. There are 22 zila parishads and 150 panchayat samitis in the state. 
In Muktsar district, a case was registered against SAD president Sukhbir Singh Badal, police said. A case under relevant sections of the Indian Penal Code (IPC) including 341 (punishment for wrongful restraint), 323 (punishment for voluntarily causing hurt), 506 (punishment for criminal intimidation) was registered, Muktsar SSP Manjit Singh Dhesi said.
Sukhbir Singh Badal has been named in the FIR, the SSP said. The complainant identified as 55-year-old Jatinderpal Singh alleged he was thrashed by a group of Akali workers led by Badal, SSP Dhesi said.
Former chief minister Parkash Singh Badal, who visited polling booths in his area after casting his vote in Muktsar district, alleged a large number of Congress workers, brandishing swords, were involved in "booth capturing".
"Booth capturing is taking place and as an MLA, I will not tolerate this in my area. Police was not performing its duty. SSP does not take my phone call. What kind of elections were these, where booths were captured and nomination papers of Akalis rejected," Parkash Singh Badal asked.
Akali leader Bikram Sigh Majithia alleged 62 polling booths in Ferozepur, Muktsar, Bathinda, Moga, Sangrur, Patiala, Mohali, Faridkot etc were captured by Congress workers. "Congress men resorted to bogus voting, large scale violence and threatening the presiding officers," alleged Majithia.
Akali leaders claimed Congress workers hit Akali workers and others who dared to resist and resorted to firing in Dullewal village in Bathinda district where a girl was injured. Bathinda DSP Gurpreet Singh said there was no incident of firing in Dullewal. The girl was injured when hit by a vehicle, said the DSP.
In Bathinda, former minister and Akali leader Sikandar Singh Maluka along with party workers blocked Bhagta-Bathinda road alleging Congress workers were involved in booth capturing at Kangar, Bhai Rupa and Salabatpura.
DSP Gurpreet rejected the accusations but said there was an incident at Dyalpur Mirza polling booth where some people were involved in booth capturing and a video of which went viral on social media. He said a probe was ordered.
Majithia claimed Congress workers indulged in bogus voting. He claimed one returning officer was caught on video stamping ballot papers in favour of Congress.
In Dera Bassi, the ballot papers received by the presiding officer were already stamped in favour of Congress, Majithia alleged. Majithia said his party would approach the Punjab and Haryana High court over the alleged poll rigging.
Clashes between Congress and Akali workers were reported from areas in Ferozepur, Muktsar, Bathinda, and Amritsar. Rejecting the accusations of the Akali Dal, Punjab Congress chief Sunil Jakhar claimed polling was "peaceful, free and fair".
They (Akalis) are trying to find an excuse to explain their defeat which they anticipate like they witnessed in the Gurdaspur Lok Sabha bypoll, Shahkot Assembly bypoll and municipal corporation elections. Akalis were routed and this is what is going to happen in zila parishad and panchayat samiti polls," Jakhar claimed. The Aam Aadmi Party also accused Congress of "murdering democracy" by indulging in booth capturing.
In Ferozepur, unidentified persons fired in the air at Basti Ajij Wali area and broke the window panes of an SAD worker's car, police said. A 44-year old man died when returning home after casting vote at a polling booth in Fatehgarh Sahib district, officials said.
A total of 17,268 polling booths were set up, 35 observers appointed and around 50,000 police personnel deployed for the polls. Thirty three candidates were elected unopposed to various zila parishads and 369 nominees to panchayat samitis.
(With agency inputs)