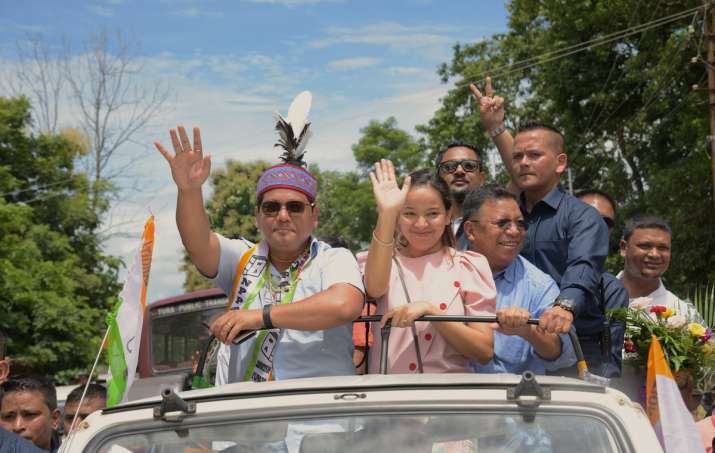 Meghalaya Chief Minister Conrad K Sangma won the South Tura by-boll on Monday and defeated Congress candidate Charlotte W Momin by over 8,400 votes. With this, Sangma's  National People's Party has levelled its tally at 20 with the opposition Congress in the 60-member Meghalaya Assembly.​
The NPP is heading a six-party Meghalaya Democratic Alliance (MDA) government in the state.
While the NPP president secured a total of 13,656 votes of the 22,200 plus total votes polled in South Tura, his closest rival of the Congress, Charlotte W Momin, managed to get 8,421 votes, Chief Electoral Officer (CEO) F R Kharkongor said today.
Besides the NPP, the MDA also has the support of the BJP (2), NCP (1) along with the regional parties - United Democratic Party (7), the Peoples Democratic Front (4), the Hill State Peoples Democratic Party (2) and 2 Independents.
In the Ranikor Assembly seat, the United Democratic Party candidate Pious Marwein is leading over NPP candidate Martin M Danggo by over 3,390 votes.
Danggo, who was elected on a Congress ticket for the fifth time in March, resigned in June this year to join the ruling NPP. 
Thank you #SouthTura #MDAPartners #WellWishers and all others for your contribution in my victory. I am indebted to the people of #SouthTura #GaroHills #Meghalaya and promise that I will do my best to represent the voice and aspirations of the people of my State. @nppmeghalaya pic.twitter.com/lbU2OWp7sV

— Conrad Sangma (@SangmaConrad) August 27, 2018
(With PTI inputs)