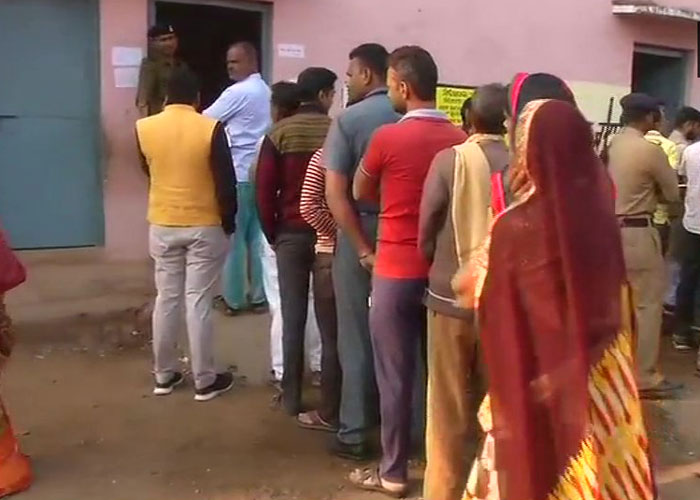 Bypolls to Mungaoli and Kolaras Assembly constituencies in Madhya Pradesh today recorded 77 per cent and 70 per cent voter turnout respectively.
An Election Commission official said minor clashes between political workers were reported from some areas.
While Ashoknagar District Collector K V S Choudary said 77.05 per cent polling was recorded in Mungaoli, Shivpuri Collector Tarun Rathi told PTI that the turn-out in Kolaras was 70.4 per cent.
Outcome of the two by-elections would be watched keenly as a possible pointer to people's mood ahead of the Assembly elections in the BJP-ruled state, due later this year.
The Congress has fielded Mahendra Singh Yadav from Kolaras and Brijendra Singh Yadav from Mungaoli, while the BJP has fielded Baisahab Yadav from Mungaoli and Devendra Jain from Kolaras.
Overall, 13 candidates are in the fray in Mungaoli and 22 in Kolaras. Counting of votes would take place on February 28.
The bypolls were necessitated due to the death of Congress's Mungaoli MLA Mahendra Singh Kalukheda and its Kolaras MLA Ram Singh Yadav. Both seats are in the Guna Lok Sabha constituency, represented by Jyotiraditya Scindia. 
As it happened:
#MadhyaPradesh: 77.05% voting turnout recorded in Mungaoli by-polls

— ANI (@ANI) February 24, 2018
3:00 am: 47 per cent voting turnout in Mungaoli, 44 per cent in Kolaras till 1 pm
1:45 pm: Bypolls in Mungaoli and Kolaras Assembly seats in Madhya Pradesh recorded 41 per cent and 35 per cent voter turnout, respectively, till 12.30 pm. 
11:02 am: The votes will be counted on February 28 and the results will be declared the same day, the Election Commission said. 
10:45 am: 16 per cent voter turnout recorded in Kolaras and 17 per cent voter turnout recorded in Mungaoli till 10 am.
10:42 am: Some 3,000 poll officials are conducting the process at 575 polling stations, the Election Commission said.
10:30 am: The bypolls were necessitated due to the death of Congress MLAs Mahendra Singh Kalukheda (Mungaoli) and Ram Singh Yadav (Kolaras). 
09:34 am: During mock poll, 15 VVPATs in Kolaras and 17 VVPATs in Mungaoli were found to be malfunctioning which were replaced later. Voting is currently continuing smoothly at all polling stations: Saleena Singh
09:30 am: I have been standing in queue for the past one hour, voting has not started since the EVM is not working, a local said.
09:22 am: "An error was reported in the EVM machine in the beginning at booth number 57 of Kolaras, but it was rectified and polling began soon after," the official said. 
09:20 am:  A total of 22 candidates are in fray in Kolaras while 13 are trying their luck in Mungaoli. 
09:00 am: Voting for bypolls in the Mungaoli and Kolaras Assembly seats of Madhya Pradesh begins.