Follow us on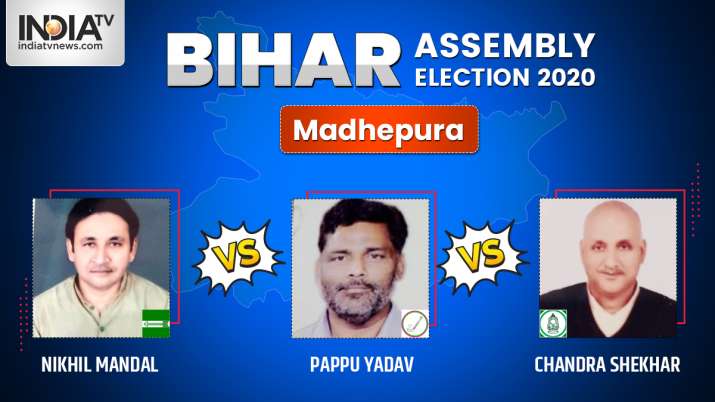 Madhepura Assembly Election Result 2020: Rashtriya Janata Dal (RJD) leader Chandrashekhar defeated JDU's Nikhil Mandal in Madhepura. Jan Adhikar Party's Pappu Yadav was a distant third in the contest. Madhepura is one of the 243 legislative assembly seats in Bihar. The Madhepura constituency comprises of Madhepura district of Bihar: Community Development Blocks Ghamharia, Ghailadh, Madhera; Gram Panchayats Belo, Nadhu, Jitapur, Bhatkhora, Tamot Parsa and Parwa Navtok of Murliganj Community Development Block. 
Click here for Bihar Election Result LIVE coverage
Yadav is also the chief ministerial face of the newly-formed Progressive Democratic Alliance (PDA). He has always been critical of Bihar Chief Minister Nitish Kumar. In his manifesto, he has promised to make Bihar a corruption-free state in six months. Be it a murder case conviction or fighting the bigwigs, the 52-year-old has travelled across the political landscape in Bihar. Back in 2015, Chandra Shekhar had defeated BJP's Vijay Kumar by 37,642 votes. However, the RJD had lost all parliamentary seats in Madhepura in the 2019 Lok Sabha elections. So it won't be a cakewalk. According to the 2019 voter list, the assembly seat had a total number of 3,19,658 voters in Madhepura constituency. 
HIGHLIGHTS
9:00 pm: RJD's Chandrashekhar defeats JDU's Nikhil Mandal
6:00 pm: RJD's Chandrakshekhar has overtaken JDU's Nikhil Mandal. RJD candidate has secured 39,505 votes so far while JDU face is behind with 32,954 votes.
11:50 am: According to EC figures, JDU's Nikhil Mandal is ahead with 7,228 votes. RJD's Chandra Shekhar has secured 4,371 votes so far. JAP's Pappu Yadav is third with 1,598 votes. 
9:30 am: JDU's Nikhil Mandal ahead in Madhepura, Pappu Yadav trailing
8.00 am: Counting begins for 243 legislative assembly seats in Bihar. Who will win in Madhepura?