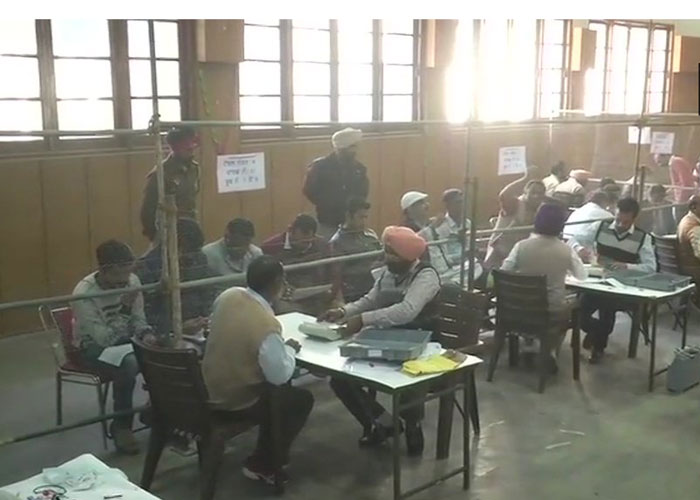 Punjab Congress has won the Ludhiana Municipal Corporation polls. Ruling Congress bagged 62 seats, whereas Akali Dal and BJP secured victory on 21 seats, while AAP could manage only 1 seat.
The elections were being seen as a triangular fight between the ruling Congress, the Shiromani Akali Dal-Bharatiya Janata Party (SAD-BJP) alliance and the Aam Aadmi Party-Lok Insaf Party alliance.
The polling for the largest civic body of Punjab took place on February 24. A total of 494 candidates contested for the 95 municipal wards.
AS IT HAPPENED:
12:57 pm: Punjab Congress sweeps Ludhiana Municipal corporation elections amidst allegations of poll rigging. Congress gets 62 seats whereas Akali dal n BJP bags 21 seats. AAP gets just 1 seat.
11:30 am: Congress has established a comfortable lead in more than 60 wards.
10:35 am: The vote counting is taking place at nine centres under tight vigil.
10:10 am: Congress leading on 58 wards, BJP on 11 and Shiromani Akali Dal on 10. 
#Punjab: Counting of votes for #Ludhiana Municipal Corporation Election underway. The polls were held on 24th February followed by re-polling in 2 booths yesterday. pic.twitter.com/P2Za3czmX1

— ANI (@ANI) February 27, 2018
10:07 am: As many as 494 candidates were in the fray for the elections. 
09:56 am: Nearly 10.50 lakh voters were eligible to cast their votes to elect their representatives in the 95 wards.
09:30 am: Civic issues like water supply, lack of cleanliness, pollution, bad roads and infrastructure and poor sewerage are the main issues for common people in the election.
09:21 am: The Congress, which runs the government in Punjab since March 2017, had won the municipal elections in the municipal corporations of Amritsar, Jalandhar and Patiala in December. It had also emerged victorious in 20 out of 29 Municipal Councils and Nagar Panchayats.